As we prepare to put the wraps on 2012, healthcare investors are likely pleased with how the year has shaped up.
Despite election year posturing and Supreme Court uncertainty, the S&P Healthcare ETF (NYSEARCA:XLV) has posted a 20% return in 2012, outpacing the 16% return for the S&P 500 ETF (NYSEARCA:SPY). Biotech has fared even better, returning 35%.
The strength caught some flat footed.
Those expecting healthcare stocks would slink lower after the Supreme Court upheld reform found an overly crowded trade. Instead, investors clamored to add back underweighted positions, assuming clarity trumps uncertainty.
As we move into 2013, far fewer questions remain unanswered than a year ago. As a result, most investors are again looking at healthcare stocks as a key pillar of portfolios.
So to help us prepare our wish list as we head into 2013, my team at E.B. Capital Markets, LLC crunched the data in search of large cap healthcare stocks with the best history of upside for the three months ending February 28th.
Both Aetna (NYSE:AET) and Becton Dickinson (NYSE:BDX) were among the six large cap healthcare stocks posting gains in nine of the past 10 years during the period.
Aetna is in reform's cross hair.
The company serves 22 million members, with a concentration in the East and Southwest. Despite reform mandates restricting insurer profitability, analysts expect earnings will grow 7% to $5.51 in 2013, giving Aetna a forward PE of 8.3x.
In November, Aetna acquired Coventry in a $7.3 billion deal announced in August. The acquisition significantly boosts Aetna's reach into government-funded programs, including Medicaid. While the deal is unlikely to add significantly to 2013 earnings, Aetna expects it will boost 2014 and 2015 earnings by $0.45 and $0.90 per share, respectively.
The combined company has $50 billion in pro forma revenue and will kick off $2.4 billion in pro forma cash flow. All that cash will help the company's Medicaid and accountable care businesses expand.
While Medicaid and ACOs offer revenue upside, additional profit growth will come from reducing wasteful spending. Such waste, including unnecessary procedures and fraud, may account for up to 30% of total healthcare costs.
In order to eliminate wasteful spending, the company will need to focus on minimizing readmission and reducing unnecessary tests and procedures. If Aetna can leverage technology and partnerships with providers, its medical care ratio ("MCR") should remain profit friendly.
One key to cutting cost of care will come from consolidating providers. Hospitals have already been hard at work doing this, spending the past decade gobbling up private practices. From 2001 through 2011, the number of private practices dropped below 30% from 70%.
The migration to leverage care costs through consolidation is spreading rapidly to insurers with reform's creation of Accountable Care Organizations ("ACO"). As Aetna and the industry embrace this model, the potential exists to maintain similar profit margins across a much larger membership pool.
Broadly, investors are warming up to reform as insurers refocus business plans to target the Medicaid growth. Aetna gets 38% of its sales from large groups, which are unlikely to be broadly affected by reform.
More important to Aetna is the 16% and 10%, respectively, of sales it generates from the small business/individual and Medicaid markets. Both offer significant market share opportunity post-reform. Combined, Aetna gets 31% of its revenue from Medicare and Medicaid, and that's likely to increase over the next few years.
The membership expansion and cost initiatives have Aetna guiding for low double digit operating EPS growth over time, as reflect in its December investor presentation. That's far better than the 5% EPS growth United Healthcare (NYSE:UNH) and Wellpoint (WLP) are estimated to generate next year.
According to data from the Seasonal Investor database, over the past decade, Aetna shares have climbed an average and median 11.72% and 10.90% from the start of December through the end of February, suggesting investors should use down days to boost positions.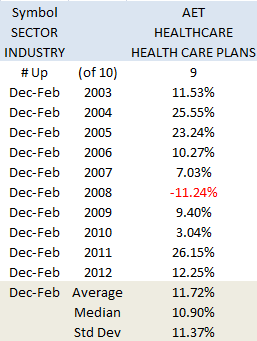 Now, let's turn our attention to Becton Dickinson, where earnings are expected to rise 9% next year to $6.15, giving Becton a forward PE ratio of 12.7x, which is just about its 5 year PE low.
Last quarter, sales were up 1.2% in the United States, while international sales fell 2.6%. However, the weight of currency conversion masked solid underlying business trends. If we consider constant currency instead, international sales increased 7.1%, driving worldwide growth of 4.3%.
Part of the company's currency headache is due to its global expansion. Emerging markets have grown to represent 23% of sales, up from 17% in 2009. And emerging market sales are accelerating, with revenue up 11% in 2012. International sales represented $4.42 billion in trailing 12 month sales through September. For comparison, sales in the United States totaled $3.28 billion.
The company's medical segment was a strong performer last quarter. Diabetes care revenue rose 9%, thanks to rising demand for Nano and PentaPoint pen needles. Globally, the segment generated $1.05 billion in sales, up 5.9% ex-currency. Strength is also coming from its diagnostics business, where pre-analytical systems and safety engineered products are selling strongly. Global sales in this segment were up 5.1% ex-currency to $645 million.
Offsetting the strength from those segments, the company's Biosciences business slumped amid lower research funding and uncertainty. Globally, Biosciences sales of $273 million fell 0.7% ex-currency as weak demand for pricey instruments from government and academic sources in the States was partially offset by stronger demand overseas. While the headwind into the fiscal cuts scheduled for 2013 is likely to continue, healthcare research and development trends should put the segment back on a path to growth by 2014.
Becton has also made a series of acquisitions over the past 18 months. The small, bolt-on deals strategically fill in product gaps and combined, added about 1% to revenue. Investors should expect the company will do similar deals going forward.
The new product pipeline has also helped support sales. During its November 2011 analyst day, the company expressed its belief that its product pipeline is the most robust in its history. Since November, the company has launched 10 new products, and the company expects to launch another 10 in FY13. Those new products accounted for 10% of FY12 sales, up from new products accounting for 8% in 2011.
In addition to the company upping its dividend by 10% to 0.49 per share in November, short sellers seem overly pessimistic. Despite the relatively cheap valuation, they're sitting on nine days to cover, suggesting any positive news will help support share prices. As for seasonality, Becton has finished February higher than it begins December in nine of the past 10 years, producing an average 8.36% return.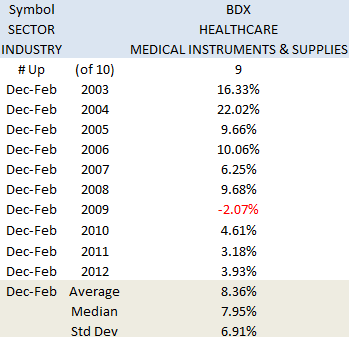 For investors considering bulking up on healthcare stocks heading into the new year, both Aetna and Becton Dickinson may reward shareholders, suggesting investors can be building exposure throughout this month.
Disclosure: I have no positions in any stocks mentioned, and no plans to initiate any positions within the next 72 hours. I wrote this article myself, and it expresses my own opinions. I am not receiving compensation for it (other than from Seeking Alpha). I have no business relationship with any company whose stock is mentioned in this article.