Background
In mid-August 2011, I created three Dividend Growth [DG] model portfolios based on a U.K. research study's findings regarding subgroups of DG stocks that historically outperformed. The study's results suggested that stocks not belonging to the highest quartile in terms of market capitalization performed better. It also favored high dividend growth, though not the highest quartile, and higher yielders over lower yielders. These conditions were combined to create my DG-SmallCap model, which was last rebalanced on December 2, 2011.

The table above highlights the performance of the three DG model portfolios (as of November 30, 2012), as well as a high-yield, low-payout model that was initiated on January 1, 2012. Since inception, the original three models have all outperformed the S&P 500 (NYSEARCA:SPY) with lower beta. I'm particularly surprised that the DG-SmallCap and Dividend Aristocrat+ models had almost identical return, beta, and volatility, despite investing in different types and sizes of firms. But, it has only been 1.5 years, so we'll see how that plays out over time. For disclosure, my focus is on total return through dividend growth stocks, but also to have the portfolio provide a decent yield of around 4%.
The Screening Process
The screening process relies on David Fish's CCC list, so as always, a big thank you to him for putting it together each month! I have tried to make the process as objective as possible; readers should be able to replicate the results. The number in parentheses indicates the number of stocks remaining after each filter step.
I began with the November 30 CCC list, selecting the champions, contenders, and challengers with 8 or more years of dividend increases [375 stocks in total]. I chose a threshold higher than 5 years [Challenger status] as I feel that smaller cap firms have less of a safety net with respect to their operations, relative to the larger, more mature blue chips. I wanted firms with a fairly long, consistent history of dividend growth. [375]
I sorted this list by Market Cap, and removed stocks with a market cap less than $250MM. In the original DG-SmallCap portfolio, I was concerned that I was unfamiliar with most of the stocks produced by the filtering process, as many were very small firms with limited information or brand. While this could be a source of alpha, it can also be a source of volatility and risk, especially without doing more in-depth research. Removing these stocks should reduce volatility and produce a list with more familiar stocks, adding to investor comfort and the ability to find information. [337]
Next, I deleted the top 25% by market cap, since this portfolio focuses on smaller cap stocks, which the U.K. research found to outperform larger caps. [252]
I sorted this list by current yield, and proceeded to remove stocks with a yield of less than 2%. The U.K. research found that higher yielding stocks tend to outperform, and also, the purpose of this portfolio is to provide investors with a decent income stream as well as growth. Individual readers could choose a higher cut-off, but ultimately, I reviewed survivors starting with higher yielders anyway. [172]
From this list, I

removed

11 stocks because they were overdue for a dividend increase. [161]
Lastly, I removed stocks with a 5-year DGR under 4.0%, as I am seeking stocks with higher dividend growth rates. [126]
Screened Group Characteristics
The 126 stocks that survived the screening process had an average yield of 3.6% (close to the 4% that many DG investors look for), and 1-, 3-, and 5-year DGRs of 10.9%, 9.4%, and 12.1% respectively. For comparison, the entire CCC universe had an average yield of 3.1%, and the DGRs were comparable.
Next, I sorted the list by industry type and then added a column for the sector, as I use a formula to determine how many stocks to purchase in each sector. After classifying each stock, I re-sorted the list by sector and by yield. The table below shows the group characteristics.

I calculated the percentages for each sector based on market cap and by representation. Note that banks made up 23% of the list, but only 14% by market cap. Since small firms tend to be more volatile, I chose to favor larger caps by using a 2-to-1 [market cap % to count %] average weighting for each sector. I multiplied the average weightings by a factor until I reached a total of 40 stocks; this column also shows how many stocks from each sector to select. Relative to the S&P weightings, the portfolio is lighter on health care and technology, and heavier on industrials, materials, and especially utilities. Time will tell if having 15% in utilities hinders total return; it did not in the first year of the model. Dividend-focused investors should be comforted by the lower volatility though.
Stock Selection
To decide which stocks to select from the screened list, I added 5 columns (Yield Rank, 5-yr DGR, Payout, 2012 EPS Growth, and 1-yr DGR) and assigned point values to help me compare the stocks. More points are better!
| | | | | | |
| --- | --- | --- | --- | --- | --- |
| | 4 pts | 3 pts | 2 pts | 1 pt | 0 pts |
| Yield | >5% | 3.8% to 5% | 3.25% to 3.8% | <3.25% | n/a; already removed lowest yielders |
| Payout | <35% | <45% | <55% | <65% | 65%+ |
| NY Earnings Growth Rate | 10%+ | 7% to <10% | 3% to 7% | 0% to <3% | Negative |
| DGR 1-yr | 12%+ | 8% to 12% | 4% to 8% | 2% to 4% | <2% |
| DGR 5-yr | 20%+ | 15% to 20% | 10% to 15% | 5% to 10% | n/a |
With this information, I proceeded to select stocks from each sector, starting with those that had the highest yield and highest DGR. If the payout score was a zero, I verified that cash flow covered the dividend at least 3 of the last 4 quarters, and removed the stock if it did not pass that test. Before final acceptance, there were two additional checks to see if the average trading volume was under 50,000/day (liquidity requirement) or if the stock's performance was 20% below the S&P's for four consecutive weeks ("-20% stop-loss rule"). If either criteria was met, the stock was removed from consideration.
I repeated this process until the quota for that sector was reached. This time around, many of the energy MLPs did not satisfy the cash flow coverage requirement. There were also a couple stocks in utilities, industrials, energy, and financials that had triggered the stop-loss rule in the last year, and have not raised their dividend since that event, so they were passed over. The final list of 40 stocks is presented in the picture below. The portfolio has an average yield of 3.95%, and its 1-, 3-, and 5-yr DGRs are comparable to the screened universe at 10.1%, 9.4%, and 12.6%, respectively. The average 1-yr and 5-yr EPS estimates are 9.1% and 7.0%, and the beta of the portfolio is 0.84.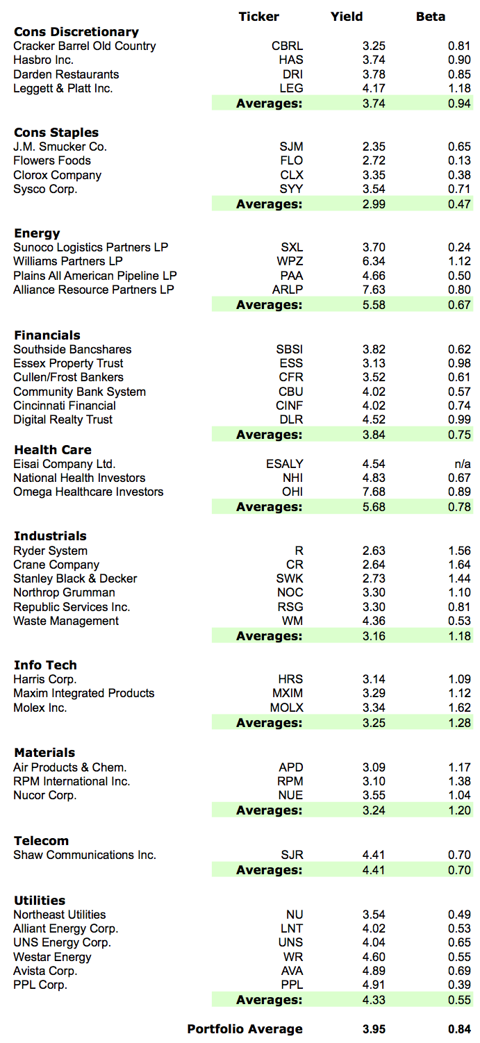 Portfolio Mix
In the rebalance for the DG-HYLP (high yield, low payout) model, I included a Yield-Payout matrix that showed most stocks concentrating in the high-yield/low-to-medium payout region of the table. For comparison, the DG-IncomeGrowth stocks mostly occupy the high-yield/high-to-medium payout region, providing higher portfolio yield, but less protection in terms of dividend coverage by earnings. The DG-SmallCap model generally follows the same pattern, though it has more medium-yielders across all payout levels. REITs, MLPs, and utilities dominate the high-yield, high-payout category.
High Payout (>60%)

Medium Payout
(45% to 60%)

Low Payout
(< 45%)

Medium Yield
(2.1% to 3.5%)

Crane Co. (NYSE:CR)

Flowers Foods (NYSE:FLO)

RPM Intl (NYSE:RPM)

Essex Property Trust (NYSE:ESS)

Maxim Integrated Products (NASDAQ:MXIM)

Clorox Corp (NYSE:CLX)

J.M. Smucker (NYSE:SJM)

Stanley Black & Decker (NYSE:SWK)

Air Products & Chem (NYSE:APD)

Cracker Barrel (NASDAQ:CBRL)

Republic Services (NYSE:RSG)

Molex (NASDAQ:MOLX)

Northrop Grumman (NYSE:NOC)

Harris Corp (NYSE:HRS)

Ryder Systems (NYSE:R)

High Yield (3.5%+)

Northeast Utilities (NU)

Nucor Corp (NYSE:NUE)

Alliant Energy (NYSE:LNT)

Cincinnati Financial (NASDAQ:CINF)

UNS Energy (NYSE:UNS)

Leggett & Platt (NYSE:LEG)

Waste Mgmt (NYSE:WM)

Digital Realty Trust (NYSE:DLR)

Eisai Company Ltd (OTCPK:ESALY)

Westar Energy (NYSE:WR)

Plains All American Pipeline (NYSE:PAA)

National Health Investors (NYSE:NHI)

Avista Corp (NYSE:AVA)

Williams Partners LP (NYSE:WPZ)

Alliance Resource Partners (NASDAQ:ARLP)

Omega Healthcare Investors (NYSE:OHI)

Cullen/Frost Bankers (NYSE:CFR)

Sysco (NYSE:SYY)

Sunoco Logistics Partners LP (NYSE:SXL)

Hasbro (NASDAQ:HAS)

Darden Restaurants (NYSE:DRI)

Community Bank System (NYSE:CBU)

Shaw Comm (NYSE:SJR)

PPL Corp (NYSE:PPL)

Southside Bancshares (NASDAQ:SBSI)
Next Steps
I have updated the virtual portfolio with the new holdings as of the closing prices on December 7, 2012. The total account value was $379,381.88, so approximately $9,475 was invested in each of the 40 stocks after commissions (~$537). I will continue to track this portfolio and report on its performance relative to the S&P, S&P Dividend ETF (NYSEARCA:SDY), and the other DG model portfolios. The next full rebalance will occur in one year, unless there are major market movements that necessitate the need for action. If any stocks cut their dividend, get bought out, or exhibit the -20% stop-loss rule, they will be removed and replaced with another stock from the same sector based on the screening process.
I welcome feedback on this screening and selection process, as I continue to refine it based on comments, observations, and new learning. I hope SA members find the process and the recommended list useful for identifying potential candidates for their portfolios. I view this work as action research, an attempt to test out the recommendations from prior research and the comments that followed from it. I use this model as a benchmark for comparison and to generate investment ideas. I always recommend doing additional research on a firm before purchasing its stock. The models are based solely on historical data, and knowing more about future prospects would be beneficial. Personally, I tend to prefer mid-to-larger cap DG stocks, but there are some names on this list that I own or have become interested in.
Disclosure: I am long NHI, CBU, ARLP. I wrote this article myself, and it expresses my own opinions. I am not receiving compensation for it (other than from Seeking Alpha). I have no business relationship with any company whose stock is mentioned in this article.