Actionable Items:
Highest Positive Spread: Cohen & Steers Total Return Realty (NYSE:RFI)
Focus Stock: Advent Claymore Convertible Securities and Income (NYSE:AVK)
Last Week's Focus Stock: ING Emerging Market High Dividend Equity (NYSE:IHD)
CEF Weekly Fund Type Performance: The CEF index leader of the week (12/14/12) was WrldEqFnds at 0.8%. WrldEqFnds advanced 1.0% in the past week with tension over the "fiscal cliff". LoanPartFnds was up 0.6%. This would be despite the facts that the Federal Reserve rates would likely be lower if unemployment is above 6.5% and inflation was below 2.0-2.5%.
The rest of the declines would be below -0.2% and all the way down to -2.3%. Both White House and Republicans may be considering both a tax on NatlMuniBndFnds and SingleStMuniFnds municipal interest to those of higher-income households. NatlMuniBndFnds and SingleStMuniFnds were off 2.3% and 2.1%, respectively.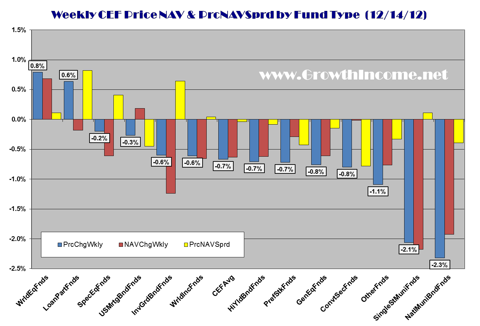 The PrcNAVSprd for LoanPartFnds was a positive 0.8%--a price appreciation of 0.6% and a negative 0.2% for NAV. ConvtSecFnds was a negative 0.8%--a negative 0.8% for the price appreciation and 0.0% for NAV. (A positive PrcNAVSprd is negative, a negative spread is positive.)
Highest Focus Stock for the Week: Cohen & Steers Total Return Realty price increased 4.9% with a change of a negative 0.5% for the NAV. This would indicate a positive PrcNAVSprd of 5.4%. (Prices change relative to NAV change-negative at best). The quarterly distribution was $0.22 and the capital gains distribution was $0.53. The ex-dividend was on December 19 and dividend payment on December 31. For the comparable distribution it was $0.22 on December 2011. The closing price was 5.5% premium to discount.
Lowest Spread and Focus Stock for the Week: Advent Claymore Convertible Securities and Income Fund share price declined -2.3% and its price advance was 0.7% from NAV; its PrcNAVSprd declined 3.0%. Its monthly stock ex-dividend was on Wednesday, December 12th, and it has passed.
Auction Market Preferred Shares ("AMPS") was tendered also on Wednesday. AVK's represents approximately 99.4% of its outstanding AMPS. AVK initially intends to maintain the total amount of outstanding leverage approximately equal to the aggregate liquidation preference of such AVK's AMPS prior to the tender offer.
The monthly annualized distribution was 7.1% and its discount was 9.9%. The unrated convertible debt was 67% of its portfolios. The average UNII is -$0.1645 on distributions.
Last Week's Focus Stock: Last week we had ING Emerging Market High Dividend Equity . The stock was up 2.2%.
Disclosure:
I am long RFI, IHD. I wrote this article myself, and it expresses my own opinions. I am not receiving compensation for it. I have no business relationship with any company whose stock is mentioned in this article.