Gold will go higher in 2013. Despite the recent admission by the Fed of its intention to continue QE-Infinity (in some form or aberration) gold did however weaken falling once again below $1700.00 per ounce. This has fueled additional speculation that the gold trade is over. Worry not. This is more a "buy the rumor, sell the news" reaction to the Fed, and not an indication of gold's long term direction.
While many an investor and trader find the lower price troublesome there is too much information available as affirmation for expectations of higher gold prices.
Futuresmag.com reported recently that "Gold's 12-year rally, the longest in at least nine decades, is poised to continue in 2013 as central bank stimulus spurs investors from John Paulson to George Soros to accumulate the highest combined bullion holdings ever.
The metal will rise every quarter next year and average $1,925 an ounce in the final three months, or 11 percent more than now, according to the median of 16 analyst estimates compiled by Bloomberg. Paulson & Co. has a $3.67 billion bet through the SPDR Gold Trust, the biggest gold-backed exchange- traded product, and Soros Fund Management LLC increased its holdings by 49 percent in the third quarter, U.S. Securities and Exchange Commission filings show."
Forbes reported that "the People's Bank of China is not nearly so concerned with providing vendor financing to China's U.S. customers. What they are accumulating is gold."
Jim Wyckoff over at Kitco News published a chart which I agree with and succinctly displays a macro-outlook for near and long-term gold prices.
Barclays Capital released its forecast for gold to average a price of $1,815 an ounce in 2013.
While the Barclay's forecast does represent a reduction in its forecast of average price by 2.4% it still implies much higher prices for gold (in order to average $1815 it has to trade higher than $1815). This will provide multiple trading opportunities for skilled active traders. For investors it should shore up conviction to take the current lower prices as buying opportunities.
The six month chart of the SPDR Gold Shares Trust (NYSE: GLD) remains in an uptrend. It is indeed testing the lower end of its recent trading range but it is conclusively in an uptrend.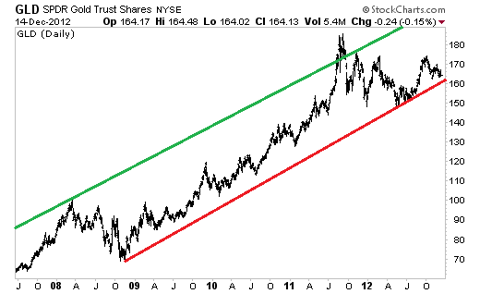 Going back five years we see confirmation of the up trend and affirmation of the downside. GLD is in fact testing the conviction of gold longs.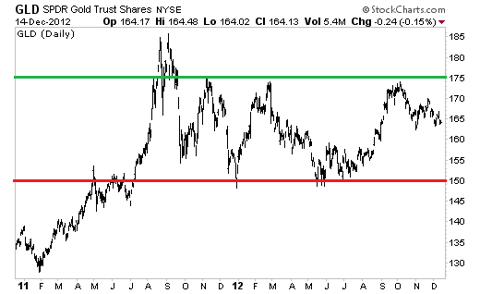 Investors should limit their fears to a decline to about $150.00 per share. That would be a drop of about 10% from current levels. This is the worst case scenario in the near term. For traders tight stops should be used to close risky trades if the ETF breaks below about $160.00 which would kick the door open for an immediate drop to $150.00.
However if GLD can hold above $160.00 it should then trade to the top of its recent range. The true impediment will be at approximately $175.00 per share. This is a psychological threshold that investors need to be aware of. Traders will be looking to take profits at that level, triggering a self-fulfilling selloff.
Disclosure: I have no positions in any stocks mentioned, and no plans to initiate any positions within the next 72 hours. I wrote this article myself, and it expresses my own opinions. I am not receiving compensation for it (other than from Seeking Alpha). I have no business relationship with any company whose stock is mentioned in this article.