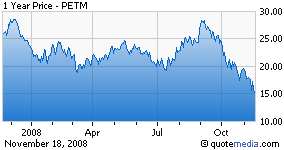 PetSmart (NASDAQ:PETM) is expected to report Q3 earnings after market close Wednesday, November 19, with a conference call scheduled for 4:30 pm ET.
Guidance
Analysts are looking for a profit of 26c on revenue of $1.24B. The consensus range is 23c to 30c for EPS, and revenue of $1.2B to $1.26B, according to First Call. In August, PetSmart forecast Q3 EPS 25c to 29c. The company also forecast FY08 EPS $1.51 to $1.59 vs. First Call consensus of $1.48, high single digit to low double digit sales growth and same-store sales growth in the mid-single digits. With the economy in its current state and weighing on consumers, pet owners are cutting back on toys, food and medical care. That, and a shaky stock market, have chased investors away from shares of the retail giant, according to an October 7 Barron's Online article.
Analyst Views
Jefferies analyst Arthur Henderson believes this trend will continue. He says that pet owners are shopping at discount stores for supplies. Thomas Weisel's Matt Nemer believes price increases for the company's services are likely too small to offset lower demand and noted that up to 40% of the company's merchandise is "highly discretionary". Additionally, he noted in his November 4 report that competition is increasing from Wal-Mart (NYSE:WMT) and costumers may choose the competitor for cheaper food and convenience.