General Electric Company (NYSE:GE) is a turn-around story with a compelling 3.1% yield. The company has aggressively moved into growing business segments. The company has rebounded since the 2008 market downturn. The stock currently provides a safe 3.1% yield with potential share appreciation. If GE continues its turn-around story, the stock will be in a growing number of income portfolios. A 3.1% yield is a high yield income versus a 1.6% U.S. 10-Year Treasury Bond yield. GE is in a "show me" transformation period. I want results and proof they have turned the ship around.

GE"s 3.1% Dividend Yield
GE currently pays $0.17 per share, quarterly, which is well below the July 2009 level. With shares trading at $21.62 as of December 14, 2012, GE offers a dividend yield of 3.1%.
GE's next dividend, payable in January 2013, will be $0.19 ($0.76 annually, yield of 3.51%), up 12% from $0.17 per share last paid in October 2012. This is GE's fifth increase in the past three years and reflects the company's commitment to restoring shareholder value.
In addition, on December 14, 2012, GE's Board authorized an additional $10 billion in share repurchases in addition to $4.9 billion in remaining prior authorizations, and extended the buyback window from to December 31, 2015.
GE's dividend payment dates are always in January, April, July and October. Dividends in the graph below reflect a 2-for-1 stock split effective May 9, 1997 and a 3-for-1 split effective May 5, 2000.
From January 1996 through April 2009, GE regularly paid and gradually increased quarterly dividends. Then, in July 2009, during the mortgage and banking crisis, GE lowered its quarterly dividend from $0.31 to $0.10 per share. Subsequently, in October 2010, GE raised dividends to $0.12 per share and has gradually started ramping payments.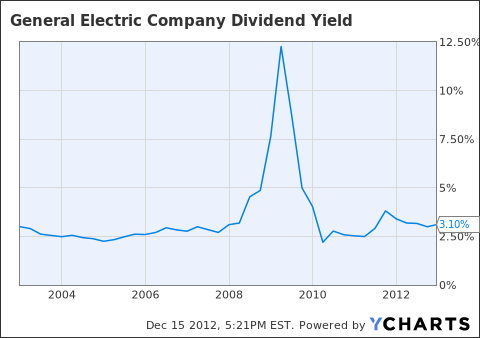 GE Dividend Yield data by YCharts
GE Transformational Change
The General Electric Company was formed in 1892 by the merger of Thomas Edison's Edison General Electric Company and Charles Coffin's Thomson-Houston Company, both of which focused on practical applications of electricity to everyday life and industry.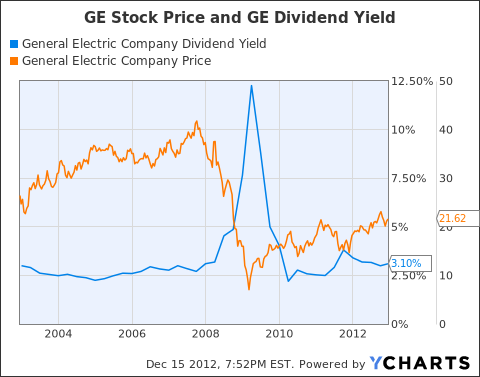 GE Dividend Yield data by YCharts
Since its founding 120 years ago, the company has grown into one of America's largest and most respected conglomerates, with leadership positions in most of the sectors that it serves. GE's businesses are - currently -- primarily focused on four sectors: Energy, Technology Infrastructure, Home and Business Solutions and GE Capital.
Its Energy division provides energy, oil and gas, industrial, process control, sensing and digital solutions and services. The Technology Infrastructure division focuses on health care, transportation and aviation. GE's Home and Business Solutions division develops appliances, lighting and consumer electronics. And GE Capital provides financing solutions for a wide range of retail, commercial and real estate needs.
GE now has operations in over 100 countries with more than 300,000 employees worldwide, and a strong reputation for quality, reliability and technological innovation.
Financials
The table below shows GE's consolidated Income Statement over the past five quarters.

For its third quarter ended September 30, 2012, total revenues were up 2.8% to $36.35 billion from $35.36 billion in the year-ago quarter.
Total costs and expenses were up 2.3%, at a slightly lower pace than revenue growth. As a result, earnings from continuing operations were up 4.2% in the quarter to $3.47 billion from $3.3 billion a year ago. Net earnings benefited from a small profit from discontinued operations, and came in at $3.5 billion, up 7.4% from $3.27 billion in the year-ago quarter. Earnings per share were up 50% to $0.33 per share from $0.22 in the year-ago quarter. As a percentage of revenue, net profit margin was 9.7% in the quarter, up 0.5% from 9.2% in the year-ago quarter, primarily due to lower operating expenses.
More specifically, as the table and graph below show, revenues for the company's two primary reporting lines (excluding "Other income"), revenue from GE's Goods and Services division was up 6.1% over the year ago quarter while GE Capital saw a 5.5% decline, dropping quarter after quarter.

Goods and Services revenues rose in 4Q11 and the graph below depicts seasonality in revenues. Accordingly, revenues are expected to come in significantly higher when 4Q12 results are reported.
The table below shows net margin trends (net earning as a % of total revenue) over the past five quarters, and highlights both the seasonality and the range of net margins (with a low of 8.5% and a high of 9.7%).
Investors should recognize that it is very difficult for a large company like GE to deliver 7.4% earnings growth, and accordingly temper their expectations with this stock. The good news is that GE is a key player in global economic expansion, with high demand for everything from its medical equipment to lighting and financing solutions, and likely will continue to deliver consistent earnings and profit increases, not adjusting for foreign exchange effects that are hard to anticipate.

The table below shows revenues for each segment.

Energy Infrastructure and GE Capital together accounted for 65% of the company's revenue. Energy Infrastructure saw robust 12% year-over-year growth, Transportation revenues grew 9% and Home & Business Solutions grew 1%, while all other businesses saw declines, led by GE Capital with a 5% drop. GE Capital is, however, gradually building up its balance sheet to pre-2009 levels but with better risk management and controls.
The table and graph below show earnings contributions by segment, with trends that more or less mirror revenue contributions, with the exception of Transportation which brought in higher earnings (5%) than Home & Business Solutions (1%).

The table above also shows year over year earnings growth across all segments, with Energy Infrastructure and GE Capital leading with double digits in the billion+ club. Every segment, except Home & Business Solutions, had double-digit profit margins, underscoring the healthy fundamentals of each of these business segments.
Overall, 3Q12 was GE's tenth sequential quarter of strong revenue and earnings growth. Margins improvements in the quarter were tied to cost controls that are on track to deliver $2.8 billion in savings in 2012.
GE ended the quarter with cash and marketable securities of $134.2 billion, financing receivables (from its GE Capital business) of $262.6 billion and total assets of $698.9 billion. GE had borrowings of $431.5 billion, which were down 5% through 2012 but still represented a fairly high proportion, 62%, of assets. GE plans to gradually whittle down its debt as the global economic environment stabilizes and drives higher cash flows. Shareholders equity of $122.6 billion was 54% of GE's market capitalization as of December 14, 2012.

Finally, operating activities for the first nine months of 2012 generated $10.7 billion in cash, 63% more than the $6.5 billion generated in the year ago quarter.
Summary
GE is an exceptionally respected industry leader with a deep, integrated presence in each of the markets it serves, with a brand that is a commercial and household name and widely respected. The company's global presence gives investors excellent international exposure to growing global economies, with the convenience and tax benefits of investing in a U.S. based company.
GE also offers an attractive dividend yield which is moving from 3% to the 3.5% range with the higher dividend in January 2013, and will likely move higher, closer to the 5% range, in a couple of years. Because of its deep sector wise and international diversification, GE shares also offer a fair degree of immunity from localized market volatility.
At the end of the day, I need confirmation GE management and their business model is on the right course. I want stocks that outperform the indices. Excuses are not acceptable to my personal holdings.
As of December 14, 2012, shares trade at a moderately high price-to-earnings ratio of 17x and offer significant upside potential with limited downside, and could be excellent candidates for a short put to establish new positions and covered calls to lock in income because of their low volatility. Year to date, GE shares are up 17.8% but much of this represents a return to normalcy from the debacle in 2009.
Disclosure: I have no positions in any stocks mentioned, and no plans to initiate any positions within the next 72 hours. I wrote this article myself, and it expresses my own opinions. I am not receiving compensation for it (other than from Seeking Alpha). I have no business relationship with any company whose stock is mentioned in this article.