The last time I wrote regarding silver, back in November, silver futures were in the 32.25 region. I noted that "I am looking at a potential move up to the 34.40 region" before we see further downside movement towards the 29 region. On the 29th of November, silver hit 34.49 (missed by 9 cents), and then began the downside consolidation I expected. While my expectation was for silver to drop to the 29 region, I am not sure, at this time, if it will get that low. But, if we do begin to move down, there is even an outside chance we may drop as low as the 22/24 region before the parabolic rise takes us over $60.
But, before we begin the discussion of where silver is headed, I must digress. I am still quite amazed at how market participants still see the Fed as only a bullish catalyst to all markets, and especially the precious metals. Furthermore, for those that view news as potentially "causing" sentiment, you should be sitting back in your chair and scratching your heads in wonderment, as the Fed's announcement of more bond buying, in your view, should have caused the metals to go screaming higher. But that is not what happened, was it?
So how many of you are now shaken to the core that silver actually lost ground since the announcement? If you are not, then you have abandoned all intellectually honest perspective. How can you reasonably view the sell-off in silver in the face of what would be exceptionally bullish news? If you really open your eyes now, you may be able to view the markets in a more reasonable manner, and you should seriously be questioning the old paradigms.
In the past, I have written extensively about the fact that it is not Fed action or inaction that is the true mover of markets, but it is sentiment that moves markets. I am not sure if you remember an article I published back April of 2012 in which I noted that the exact same statements made by the Fed seemingly caused 10% reactions in silver in both directions. Of course, I questioned, at that time, how it was possible for the exact same statement by the Fed to cause silver to rise 15% one time, and also cause it to decline 11% another time.
While, earlier this year, I believed that we were set up for the parabolic rally that I still expect in the metals, they never provided us with the break out signal I was pointing out needed to be seen in all my prior writings. Rather, we have simply been consolidating, and are still awaiting that break out signal. But, one thing is for certain, and that it is not the Fed that will "cause" the break out when sentiment is not ready for such a break out to occur. That should have been made abundantly clear this past week if you are being intellectually honest.
Furthermore, I noted last week, in my Trading Room, how bullish the recent COT reports have seemed, especially in gold, yet the Fed statement could not ignite that bullish fuse. Clearly, this has to make one wonder about the current very bullish set up we see in the metals. And, truthfully, if a break out is not seen within the next two weeks, I think we may see metals headed to much lower retracement levels, which would be huge buying opportunities.
Currently, it seems that silver is potentially nearing a local bottom, and is in my higher blue target box for what can be a very bullish set up. Therefore, I would expect that a rally can take hold in the near term. If the rally is accompanied by strong buying volume, silver can catapult to the 40 region very, very quickly. However, if silver is not able to rally on strong volume and break out over the 34.50 level, then it is setting up for a move down that would take it to at least the 29 region again, with the outside potential for a complete break down to the 22/24 region. The manner in which silver moves up over the next two weeks will be very telling.
Furthermore, if silver does decline rather than break out, the manner in which silver declines will be the key in determining from which of these two lower levels we will see the parabolic rally we have been expecting since earlier this year, which will take silver well over $60.
So, for now, we are at a very key inflection point.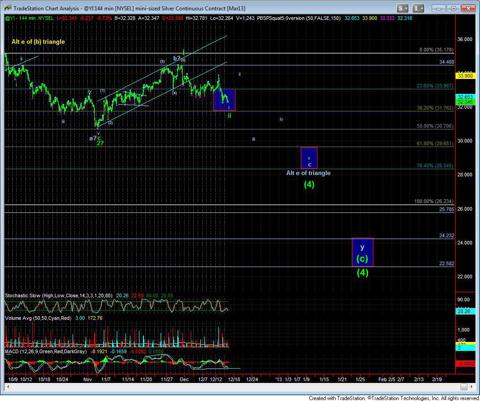 Disclosure: I am long SLV. I wrote this article myself, and it expresses my own opinions. I am not receiving compensation for it (other than from Seeking Alpha). I have no business relationship with any company whose stock is mentioned in this article.
Additional disclosure: I also have protective intermediate term SLV puts