Long-term capital gain tax rates are going up next year, although we do not yet know by how much nor for whom [1]. This is particularly important to preferred stock investors since preferred stock market prices have increased so much over the last couple of years.
As the Federal Reserve's monetary policies have pushed interest rates down, many savers have fled bank CDs and other similar instruments and turned to high quality preferred stocks. Bank CDs and investment grade corporate bonds are paying about 1.2% and 3.6%, respectively, while high quality preferred stocks are yielding about 6% [2].
And at the same time that the Fed's policies have decimated savers, many investors holding European assets have shifted their positions to high quality preferreds here.
These two events, occurring simultaneously, have conspired to push up U.S.-issued preferred stock prices. Most preferred stock market prices have increased by about 10% over the last two years or so, leaving most preferred stock investors with significant, but unrealized, capital gains on their shares.
If you haven't looked at your preferred stock portfolio lately, you would be well served to do so before the end of the year.
Dilemma
The dilemma facing those choosing to sell their preferred stock shares and cash in their gains at the current lower tax rate is - What do I then buy with the proceeds?
Most would want to replace their shares with another preferred stock that preserves their dividend income (i.e. one that offers a dividend rate that is at least as high as the shares just sold). And you would not want to pay such a high price for the new shares as to completely wipe out the capital gain you just realized.
You need to find a preferred stock of similar quality that (A) offers a dividend rate that is at least that of the shares you sell and (B) is available to be purchased for a lower market price.
Example: Public Storage
Public Storage (NYSE:PSA) preferreds provide an excellent example since they are so widely held.
Public Storage has eleven traditional preferred stocks currently trading although four of these issues (PSA-A, -D, -S and -Z) have been called for December 27, 2012. The remaining seven offer dividend rates (coupon) from PSA-O's 6.875% at the high end, down to PSA-V's 5.375% at the low end.
Check out the price increase for PSA-O (6.875%) since its April 7, 2010 introduction.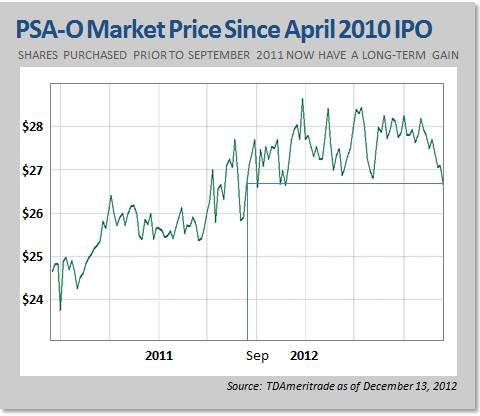 If you purchased PSA-O shares prior to September 2011 (with a couple of exceptions), you are currently sitting on an unrealized long-term capital gain.
Driven by savers vacating their CD positions and European investors seeking safety in U.S.-issued preferreds, the price history of most call-protected preferred stocks looks very similar to the above chart over the last couple of years [3].
What To Buy?
If you choose to sell your shares and collect your gains this year rather than next, you will avoid any increase in capital gains tax that may be waiting for you after January 1. But unless you reinvest the proceeds, your dividend income ends when you sell the shares. So again, the question becomes - What to buy?
To answer that question, let's continue with our PSA-O example [4].
Of the 988 preferred stocks and exchange-traded debt securities (ETDs) currently trading on U.S. stock exchanges, there are four specific issues, all call-protected traditional preferred stocks with investment grade ratings, that would leave PSA-O shareholders in a better financial position (even though PSB-R has the same dividend rate as PSA-O, its lower current market price produces a $0.26 per share cash gain to the investor).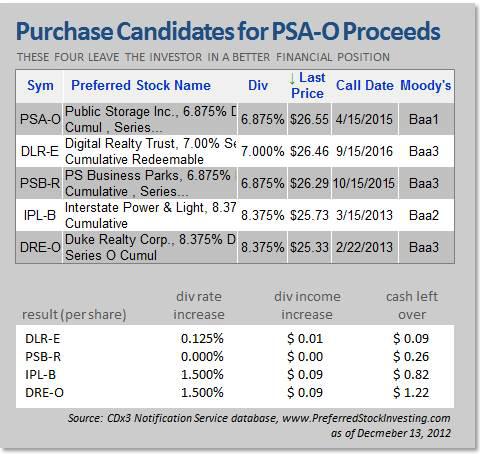 You can see PSA-O at the top of this list for comparison. At 6.875%, PSA-O pays a quarterly dividend of $0.43 per share.
Selling PSA-O today (December 13, 2012 prices shown here) would provide proceeds of $26.55 per share.
With the proceeds from the PSA-O sale, you could purchase DLR-E from Digital Realty (NYSE:DLR), PSB-R from PS Business Parks (NYSE:PSB), IPL-B from Interstate Power owned by Alliant Energy (NYSE:LNT) or DRE-O from Duke Realty (NYSE:DRE). Each of these is selling for a lower market price than the $26.55 earned from the PSA-O sale [5].
Results
The extent to which any of these four candidates makes sense for you is, of course, a personal judgment that only you can make; there are pros and cons with each. But this example shows that you can use the unrealized capital gain on one of your preferred stocks to purchase another candidate such that you protect or even increase your dividend income plus realize an increase in your cash position.
And don't forget about the lower tax bill on the sale of your PSA-O shares compared to what you may be facing if you wait to sell after December 31, 2012 (consult your tax advisor).
With today's higher prices for high quality preferred stocks, many shareholders have been considering selling their shares and cashing in their gains. If you are considering selling, know that doing so prior to the end of 2012 may be in your best interest given the likelihood of a capital gain tax increase going forward (be sure to check out the Bloomberg News article referenced in footnote 1 below).
We should know the new long-term capital gain rates shortly as well as to whom the new rates are going to be applied.
Be prepared. Look over your preferred stock portfolio and identify candidates that you may want to sell prior to the end of the year. And be sure to identify which preferred stocks are likely to make beneficial purchase candidates with the proceeds as the above PSA-O example illustrates. There are many such opportunities currently available to those who do so over the next couple of weeks.
Footnotes:
1. For an excellent article regarding the pending 2013 capital gains and other tax changes see "Wealthy Prepare for First Increase Since 1993: Taxes," Bloomberg News, December 12, 2012.
2. Sources: average annual high quality U.S.-issued preferred stock yield from the CDx3 Notification Service database at PreferredStockInvesting.com; U.S. bank CD average APY from bankrate.com; investment grade corporate bond average annual yield from federalreserve.com. "High quality" preferred stocks are those that meet the ten preferred stock selection criteria from my book, Preferred Stock Investing (such as having cumulative dividends and investment grade ratings).
3. The price history of bank-issued trust preferred stocks (TRUPS) is different than that seen for other types of preferreds over the last two years due to domestic and international regulatory changes that affect these securities. See "The Hidden Risk Of Buying Today's Trust Preferred Stocks" for more information.
4. Finding the four purchase candidates that deliver the benefits described here (those that will protect or increase your dividend income plus leave you with cash left over) was performed using the "Stock Check" feature of the CDx3 Notification Service database. DISCLAIMER: The CDx3 Notification Service is my preferred stock email alert and research newsletter service including data for all preferred stocks and exchange-traded debt securities traded on U.S. stock exchanges.
5. Notice that the market price of all four of these purchase candidates is above their $25 par value and two of our candidates reach their call dates in early 2013. Preferred stock investors generally avoid paying more than par since it is the security's par value that shareholders will receive in the event that the issuing company redeems (calls) the shares. However, the capital gain realized by your sell side preferred stock (PSA-O in this example) would offset any potential capital loss caused by a future redemption of your buy side preferred stock; you are "reimbursed" in advance using this approach.
Disclosure: I have no positions in any stocks mentioned, and no plans to initiate any positions within the next 72 hours. I wrote this article myself, and it expresses my own opinions. I am not receiving compensation for it (other than from Seeking Alpha). I have no business relationship with any company whose stock is mentioned in this article.
Disclaimer: Securities identified within this article are for illustration purposes only and are not to be taken are recommendations.