Introduction
When one talks about a company like Nokia (NYSE:NOK), which has seen the heights of being the largest cell phone manufacturer in the world and the lows of becoming fragmented, and struggling for traction in the market, it's not hard to predict that sooner or later the Finnish giant will find its feet; and when it does, rest assured, it will head straight back to where it once was. In this article, I present a case for the much hyped recovery of Nokia as a cell phone manufacturer and service-providing company.
Company Profile
The Finnish company was founded in 1865 and supplies Nokia Siemens Networks, mapping services, cell phone devices and services. Most of Nokia's fame is to be attributed to its cell phone division and more recently to its comprehensive mapping services - NAVTEQ. In order to buck the trend of the past decade, Nokia has invested heavily (somewhere around $40 billion) to regain its market share in the cell phone market, which is close to four times what the market-leading Apple spent in the same period. For a long while, rumor has had it that its $6 billion worth of patents are the company's final line of defense, yet it still remains the world's twenty-second most powerful brand. Surely, something has gone amiss.
Financial and Stock Evaluation
In 2012, Nokia undoubtedly made things worse for itself, as was apparent in the company's Q2 performance, in which its revenue experienced an 18.5%, year-on-year drop. For Q3 2012, the slump in revenue continued, as it experienced a further 19.3%, year-on-year decline when compared to Q3 2011. Keeping in mind that the Lumia 900 was relatively new in Q3, and was in competition with the market leaders, the continued decline in revenue is extremely disappointing. While Nokia's EPS improved for the first time in six consecutive quarters, it still stands at a negative $0.34. The company continues to bleed money; in Q3 2012, it had a net income of negative $1.26 billion. Nokia's cash flow has worsened in both absolute and relative terms. Free cash flow and operating cash flow deteriorated by 67.6% and 87.9%, respectively. Unless the company gets positive sales and profits from its flagship Lumia 920, the company will soon be in an alarming financial condition.
As of December 14, 2012, Nokia's market capitalization is $13.7 billion, and the stock is being traded at $3.76. Its fifty-two-week range is from $1.63 to $5.87. TTM P/E ratio is −2.4, with TTM operating and net margins at −11.5% and −13.6%, respectively. The annualized cash dividend provided is $0.1768, which makes a dividend yield of 4.70. Stunted growth has caused Nokia's metrics to provide a dismal outlook, and this is also reflected on the company's stock performance. While the company has a debt-to-equity ratio of 0.5, it cannot maintain its philosophy of heavy investment in R&D without equivalent profitability results, as the company continues to lose money.
Nokia seems to be struggling on all fronts, even when compared to its competitors Ericsson (NASDAQ:ERIC) and Research in Motion (RIMM). Nokia's price-based performance against competitors and market indices S&P 500 and the Dow Jones Industrial Average is illustrated in the graph below.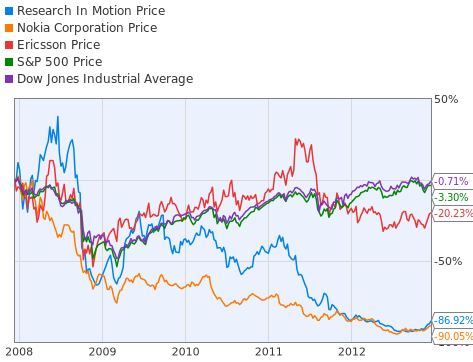 Unsurprisingly, over the past five years Nokia has fared worse than all of its rivals and also the market averages. From an investor's viewpoint, Ericsson offers a much more stable stock performance in the telecommunications sector.
What Does the Future Hold?
Much hype surrounds Nokia's new flagship phone, the Lumia 920, for which an approximated 2.5 million orders have been received in the last twenty days. Demand has overshadowed supply, while the phone remains the top seller in China and France, and strong sales have been reported in Germany. Analysts have also commented that this shortfall may have been artificially created by Nokia in order to build a desirable market image of the new product, a device that has seen sellouts in Europe and the US, as the out-of-stock situation on Amazon suggests. However, this may be more of a supply issue at Nokia's end than a surprising global appetite for the new phone. The Lumia's previous shortfalls, i.e., display and camera, have been addressed in the new phone, and it is expected to compete with the iPhone 5 and Samsung Galaxy S3.
Nokia's Asha line is often ignored during analysis, but it is a resurgent force in developing countries, where Nokia's competitors do not have a foothold. The company elevated its share in the basic-phone market to 35% last quarter, largely driven by sales in emerging markets such as India and China. This not only provides diversified revenue, but a strong market segment that can be introduced to smartphones; Nokia is already introducing smartphone-like features in its Asha line, with increasing sales that go against the international trend of switching away from feature phones.
Regardless of the hardware specifications of the new phone, most of its success will depend on the Windows operating system it is running. If the software is not up to the mark set by Android and iOS, which currently hold 85% of the smartphone market, accepting big money from Microsoft to back the Windows Phone would prove to have been another bad decision for Nokia. At a time when its software competitors Android and iOS are hitting saturation with their new software, Windows Phone 8 has the opportunity to capture some market with its different feel and usage. The Achilles heel for Windows phones is the App market, which is much less developed than PlayStore and AppStore.
Make or Break for Investors
Nokia's Lumia range is finally developing a presence for itself, with a phone that is not handicapped like its predecessor. But will it be enough for the Finnish giant's fortunes to be overturned - I don't think so. One would have to be overly optimistic to presume that Nokia's fate will change in 2013. Nokia's financial and stock metrics are extremely disappointing, with future prospects equally unconvincing.
The new product's "backorders" are simply becoming a case of speculation for the stock's future. Only short-term investors have a chance, if any at all, of making money off the stock this way; in the long-term however, Nokia's fortunes continue to be muted.
Bottom Line
The new Nokia Lumia 920 might be very impressive, but it will not pull the company's fortunes out of their misery, nor will it witness exquisite success due to the operating system it is running. Nokia's relative weakness in the smartphone market will continue, despite the much-hyped Lumia 920. Investors should not paint a false dawn over the potential of this development, as the Windows Phone 8 is unproven and untested. Waiting it out for new developments is recommended for Nokia trading.
Disclosure: I have no positions in any stocks mentioned, and no plans to initiate any positions within the next 72 hours. I wrote this article myself, and it expresses my own opinions. I am not receiving compensation for it (other than from Seeking Alpha). I have no business relationship with any company whose stock is mentioned in this article.