In 1983 my grandma and grandpa purchased a brand new Oldsmobile Cutlass Supreme. My grandma continued to drive the Oldsmobile until 2004 when she no longer was physically capable of driving a car. At the time she passed the car down to my cousin, it had an age of 21 years. Currently, the average age of motor vehicles on roads throughout the U.S. is the highest since WWII. Part of the increase in age is due to delayed purchases as a result of the financial crisis. However, a much larger portion of the increase is directly related to a shift in the age demographic of the U.S. population. The shift is towards an older population and as this population segment grows, so will the age of most their durable goods.
The consumer durable goods category includes items such as vehicles, home furnishings and appliances, and other items such as jewelry and sporting goods. As the chart below illustrates, the average age of all consumer durable goods (green dotted line) has been on an upward trend since the 1980's. The average age, as calculated by the Bureau of Economic Analysis (BEA) in the chart below is not the actual age of the good but is a value and should be treated more like an index. You can see from the chart that the home furnishings and equipment segment has a higher average age than consumer durable goods as a whole. This makes sense since most people hold on to a couch much longer than a racquet they will end up breaking out of frustration during a tennis match. With regard to the article, the main point is that the chart clearly shows the narrowing of the spread between the average-age of autos (red line) and the average age of all consumer durable goods.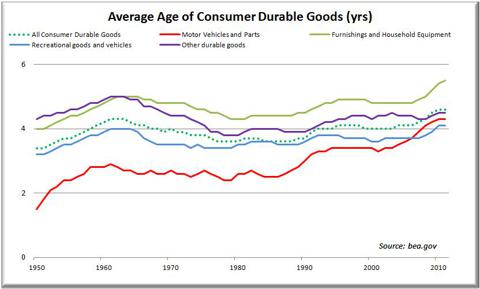 As I stated earlier, the BEA calculation of the average age of consumer durable goods is not an actual age calculation. According to Polk research, as of July 1st, 2011 the average age of autos was 10.8 years old. This compares to an average age of 8.4 years old in 1995. More importantly, there has never been a year-over-year decline in the average during this time period. Although the financial crisis and its aftermath has caused many U.S. consumers to delay big ticket purchases like autos, these data are clearly signaling a trend.
In 1950 the 65 and older age group made up only 8.2% of the total U.S. population. It has since increased to 14.2% in 2011 and is projected to exceed 20% by the year 2050. The chart below shows the average annual expenditure for select age groups on vehicle purchases. The largest disparity in annual expenditure on vehicles is between the age group of 35-44 and the 65 and older age group when the average annual expenditure drops by nearly 50%. When a couple reaches their late 30's and early 40's households are upsizing family vehicles to make room for growing children and all the gear and groceries that come along with it. When a couple reaches the age of 65, as long as their vehicle is running and functioning well, they are more than likely content.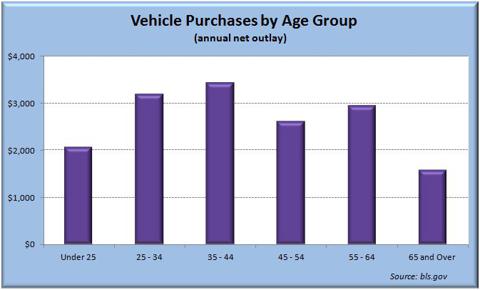 The number of vehicles per U.S. citizen 16 years of age and older has remained around a one-for-one ratio since 2000. The chart below shows the total U.S. auto sales since 2000 as well as a two year moving average trend line. The post-2008 crisis trend line has been steadily climbing and will continue to do so as long as interest rates remain low and the unemployment rate continues to decline. However, new vehicle sales as a percentage of the population will more than likely not reach pre-recession levels as the U.S. demographic shift continues to take hold.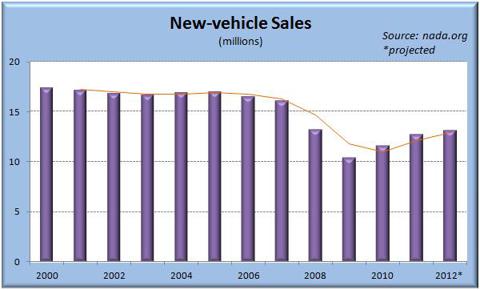 Not all consumer durable goods categories see a decrease in expenditures when the age group reaches 65 years and older. One category that may seem obvious is health care. As of 2011, the 65 and over age group spent $4,769 annually on average compared to $2,631 for all ages under 65 years old. Within the broad health care category, health insurance accounted for roughly 65% of the annual expenditure. Another interesting category for spending that stands out is reading. Although the annual expenditure is a meager $157 for the 65 and older age group, it is significantly higher than the $96 average expenditure for all other age groups. As you do your last minute Christmas shopping this next week and as you re-allocate your portfolio next year, keep in mind that according to a 2009 cnet.com survey, over 50% of Amazon's Kindle (NASDAQ:AMZN) users are over the age of 50.
Many analysts are calling for a continued significant increase in auto sales due to pent up demand as a result of the financial crisis. The primary indicator they are using is the average age of autos on the road today relative to the historical age level. I will not disagree that there is plenty of pent up demand, but I do believe that they need to adjust their sales projection models for the demographic shift that is underway within the U.S. Primarily domestic auto companies such as Ford (NYSE:F) and General Motors (NYSE:GM) may need to look at increasing their international presence to offset any slow growth domestic sales. One segment of the auto industry that will benefit from this phenomenon will be the auto repair and parts companies like Auto Zone (NYSE:AZO) and Advance Auto Parts (NYSE:AAP) since the auto will need to be maintained and repaired as it continues to age.
Andrew Carnegie once said, "As I grow older, I pay less attention to what men say. I just watch what they do." As the 65 and older segment begins to play a larger role within the U.S. economy, investors should be keeping a closer eye on what they do.
Disclosure: I have no positions in any stocks mentioned, and no plans to initiate any positions within the next 72 hours. I wrote this article myself, and it expresses my own opinions. I am not receiving compensation for it. I have no business relationship with any company whose stock is mentioned in this article.