Introduction
Following the April 2010 Macondo disaster, a 6-month moratorium on deepwater drilling was imposed by US authorities which was lifted in Oct 2010. Today, deepwater drillers including Seadrill Ltd (NYSE:SDRL), operate around 31 deepwater rigs in that region, which is about 94% of the pre-moratorium level of 33 rigs. With 48 units operating worldwide, one of the newest fleets amongst its competitors, and a higher debt load than most of its peers, investors are right to wonder what the future holds for SDRL.
Tracking Financials
Q3/2012 results were less than stellar compared to the last quarter. The company saw a decline in EDITDA of $60m, from $643m in Q2 2012 to $575m in the latest quarter. This quarter also saw a decline in Operating profit of $70 million, which contributed to a decline in Net Income from $483 million in Q2 2012 to $216 million in Q3 2012, and a reduction in EPS from $1.12 last quarter to $0.40 in Q3 2012.
While the financials do seem to be dismal compared to last quarter, on a same-quarter basis, SDRL has performed better this year than last year, seeing an improvement in Operating revenues, Net income and EPS. The company also reported cash flows totaling $518 million, the highest in three consecutive quarters. Investors will however be happy to see the company not only declare a regular dividend of $0.85 per share, but also to commit to distribute an accelerated dividend of $0.85 per share for Q4 2012 in December 2012. This move is meant to pre-empt any potential negative impact from the U.S fiscal-cliff.
The deepwater drilling business is very competitive, yet SDRL has managed its assets well, reporting acceptably better overall utilization rates this quarter than Q2 2012, and an enviable list of backlogs. SDRL's closest competitor RIG, operating over 124 rigs globally, has also reported strong backlogs, with over $15b of deals in year-to-date contracts, including $10.2 billion in Q3 2012.
Diamond Offshore Drilling (NYSE:DO), another major competitor, on the other hand has also reported a less than stellar Q3/2012, with its 10-Q filing noting:
"Contract drilling revenue for the third quarter of 2012 was negatively impacted ……. 350-day decrease in revenue earning days for our fleet, as well as a decrease in average daily revenue earned by our deepwater and mid-water floater fleets, compared to the third quarter of 2011".
On a year-over-year change basis, SDRL has managed the highest increase in its backlog (57.8%), compared to RIG (26.3%) and DO (7.48%). However, the company still struggles with a higher Debt/Equity ratio (1.5) compared to RIG (0.8) and DO (0.3).
Stock Performance
Based on Morningstar data at the time of this writing, SDRL has been trading in a 52-week range of between $31.37 and $36.77. From a purely technical perspective, looking at the 5-year chart below, SDRL's stock performance has been relatively good, even breaking past it's 52-week highs. Since the correction it has had in 2009, the stock has had a largely upward momentum, climbing steadily.

A slight downward trend is clearly noticeable in early 2010, but that is attributable to the post-Macondo fallout. SDRL seems to have recovered since then, and has been on an uptrend since. Even during the Macondo era, SDRL never dipped significantly below its 90-day Simple Moving Average, which says a lot about its performance. Since mid-2010 however, the stock has been enjoying new heights, never once revisiting any of its previous averages -- either 30, 90 or 200-day.

Zooming in over the last 6 months however, we can see that some signs of a pullback are evident, where the stock dropped below its 90-day SMA in July this year, and seems to be close to its 30-day SMA at the time of writing this report. Technical-minded investors will watch carefully to see if SDRL finds support at this level. If it does, we could see the stock making new highs.
On a price-percentage-change basis too, as indicated by the chart below, SDRL has done exceptionally well compared to its competitors Diamond Offshore Drilling, Transocean (NYSE:RIG) and Noble (NYSE:NE).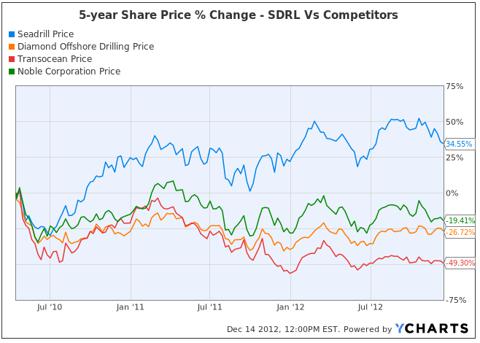 Unlike the competition, not only has SDRL's stock seen new highs, compared to 5 years ago, but it has also clearly outperformed all three of the competitors by achieving positive price change momentum.
What Does the Future Hold?
Although SDRL has a TTM P/E ratio of 17.9, the market clearly does not seem to give it credence for major growth in the near future with its much lower forward P/E ratio of 11.2. However, yield watchers will be delighted with its current dividend yield of 8% and projected future yield of 9.23%. Its competitive advantage is the fact that it boasts one of the newest fleet of rigs compared to any of its industry peers. As of today, it has 18 builds that are under construction, which are scheduled to be delivered over the next 2 to 3 years.
The company has also secured contracts with potential revenue of 820 mil for 7 jack-up rigs. Last month (Nov 2012), the company signed a new contract with Husky Energy (HSE) for one of its under-construction rigs (West Mira ) to operate in Canadian off-shore waters. Over the next 5 years, West Mira is projected to add approximately $1.12 billion to SDRL's revenue stream. This deal is in addition to an existing deal with the same client, which underlies the confidence that clients have in their future with SDRL. The spin-off of assets to Seadrill Partners is also expected to be an accretive move for shareholder value in future.
Make or Break For Investors?
As a service provider, SDRL's fortunes are tied to those of its clients - the major oil prospectors and exploration companies like Shell (NYSE:RDS.A), ExxonMobil (NYSE:XOM), BP and Total (NYSE:TOT). Although the company has a solid backlog of $21+b in contracts, investors need to watch the trend for day-rates for deepwater rigs.
Outlook for deepwater exploration in the US is positive however, in the event that there is an excess supply of global oil production, or in the event of a major global crises impacting oil production - in the Middle East, for instance -- drilling activity could be impacted and investors will see the company's revenue decline. Investors must also watch how the company deals with debt reduction, as any upward moves in interest rates could pose a drag to its financials.
The discounted earnings plus equity model, developed by EFS Investment Partners and applied to Seadrill, suggests the following: currently SDRL stock is fairly valued.
Bottom line Given this analysis, I would rate Seadrill as a MODERATE BUY.
Disclosure: I have no positions in any stocks mentioned, and no plans to initiate any positions within the next 72 hours. I wrote this article myself, and it expresses my own opinions. I am not receiving compensation for it (other than from Seeking Alpha). I have no business relationship with any company whose stock is mentioned in this article.