Real Estate Investment Trusts (REITs) manage commercial properties such as malls, stores, office parks and apartment buildings that generate high yields. They may invest in a region or across the US and some have diversified with overseas properties. REITs report earnings per share like other corporations and also report a larger income figure, FFO (Funds From Operations), that includes non-cash items such as depreciation. FFO is used to determine dividend payments. It is common that not the entire dividend is taxed as ordinary income.
The Dow Jones REIT Index (DJR) had a strong performance until early 2007 when it peaked at 356. Then it was hit hard by the recession, dropping to 86 in less than 2 years. But REIT stocks had a substantial rebound with limited volatility, even though many reduced dividends, partly because of attractive yields. Most REITs use high leverage to finance properties and low interest rates will help keep interest expense, a major cost, low.
Dow Jones Equity REIT Index - 10 years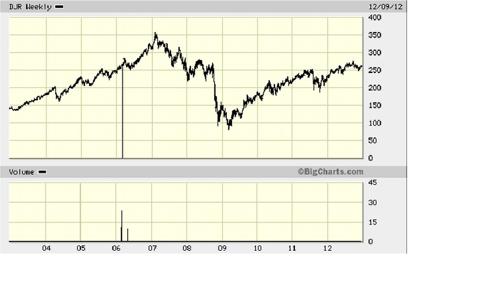 Below are 8 REITs which survived the recession and offer attractive yields. Economic recovery should bring higher dividends. The right column gives the percentage of dividends that were taxable in 2011.
| | | | |
| --- | --- | --- | --- |
| Company | Price | Yield | Taxable |
| Omega Healthcare Investors (NYSE:OHI) | $22.73 | 7.7% | 63.8% |
| Senior Housing Properties (NYSE:SNH) | $22.88 | 6.8% | 65.6% |
| EPR Inc (NYSE:EPR) | $45.43 | 6.6% | 72.5% |
| Sun Communities (NYSE:SUI) | $38.46 | 6.6% | 23.5% |
| Campus Crest Communities (NYSE:CCG) | $11.80 | 5.4% | 15.3% |
| Highwoods Properties (NYSE:HIW) | $32.49 | 5.2% | 67.5% |
| HCP Inc (NYSE:HCP) | $44.19 | 4.5% | 48.2% |
| Home Properties (NYSE:HME) | $59.60 | 4.4% | 62.8% |
(1) Omega Healthcare Investors provides financing and capital to the long-term healthcare industry with a focus on skilled nursing facilities located in the US. The company has mortgages on 432 skilled nursing facilities, assisted living facilities and other specialty hospitals located in 35 states and operate 51 third-party healthcare operating companies.
(2) Senior Housing Properties is a REIT owning 369 properties in 38 states and Washington, DC. There are 249 senior living communities with almost 30,000 living units and 2 rehabilitation hospitals with 364 beds, 108 properties leased to medical providers with 7.6 million square feet and 10 wellness centers.
(3) EPR Properties invests in entertainment and related properties in the US and Canada. Properties include 107 megaplex movie theaters (99% occupied), entertainment retail centers, recreational properties and specialty properties in 34 states with over 200 tenants.
(4) Sun Communities leases parcels of land for placement of manufactured homes and recreational vehicles. Additionally, it sells and leases homes to residents in its communities primarily in the Midwestern, southern, and southeastern US. There are 159 properties, including 141 manufactured housing communities, 8 RV communities and 10 properties.
(5) Campus Crest Communities is an owner and manager of high-quality student housing properties located close to campuses in 33 student housing properties containing approximately 6,300 apartment units and 17,000 beds.
(6) Highwoods Properties owns or has interests in 338 in-service office, industrial and retail properties with 35 million square feet and owns 581 acres of development land. Properties are located in Florida, Georgia, Missouri, North Carolina, Pennsylvania, South Carolina, Tennessee and Virginia.
(7) HCP, Inc. is an integrated REIT that invests primarily in the healthcare industry in the US. Assets are diversified among 5 distinct sectors: senior housing, post-acute/skilled nursing, life science, medical office and hospitals. It is the only REIT that earned the Dividend Aristocrat status.
(8) Home Properties invests in apartment communities in the eastern US, operating 125 communities with 38,000 apartments in the northeast, Mid-Atlantic and southeast Florida. HME renovates units following move-outs to generate higher rental income.
REIT stocks have done well in the last 10 years because they are generally thought of as yields plays. Yields have plunged from double digits 10 years ago, but these 8 REITs are still offering attractive yields even though most cut dividends during the last recession (much of the cuts were restored). Dividend tax information for 2012 will be reported next month.
The fiscal cliff dominates market thinking after being ignored for more than a year. Just the threat of going over the cliff has already caused businesses to cut back expansion plans, and 2013 could get off to a rocky start. These REITs own buildings and property, long-term assets financed by mortgages (long-term liabilities). REITs are built to get through difficult times (as they have in the past). Investors looking for ways to increase after tax income should consider high yields from REITs for taxable and retirement accounts in a low yield environment. Better yet, REITs can be included for income and long-term growth.
Disclosure: I am long HME and EPR. I wrote this article myself, and it expresses my own opinions. I am not receiving compensation for it (other than from Seeking Alpha). I have no business relationship with any company whose stock is mentioned in this article.