Linn Energy LLC (LINE) is an independent natural gas and oil company, which develops and acquires properties in the Mid-Continent region and Western U.S. Linn is the 12th largest U.S. energy producer, with a market capitalization of roughly $7.5 billion. Linn has also been very active in acquisitions, having made 54 since 2003, for a total of about $10 billion. Just this year, the company acquired two separate oil fields from BP (NYSE:BP).
Linn currently pays a 7.9% yield, or $2.90 per share. The company's cash flow has grown tremendously as a result of the previously mentioned acquisitions. In fact, since going public, Linn has increased its dividend by a very nice 15% annually, on average.
Linn has a very strong balance sheet, which has enabled it to be very active with its acquisitions, while some other energy companies have had to raise cash through asset sales. Linn also does a fantastic job of managing price risk, hedging virtually all of its expected production through 2017.
Performance
Linn has performed very well for its investors. One of the most impressive pieces of information I came across while researching the company was the fact that $10,000 invested in Linn Energy only five years ago would be worth $25,672 today. This is even more impressive when you consider that the average company in the sector actually lost shareholder value over the time period, and a $10,000 investment in the average energy producer would be worth only $9,639 today. The only significant low point in its history was the stock's depressed levels during the financial crisis. I, for one, am jealous of those who got in at the lows around $10.80. Even with the stock at those low levels, the company never cut the dividend, paying out well over 20% at one point!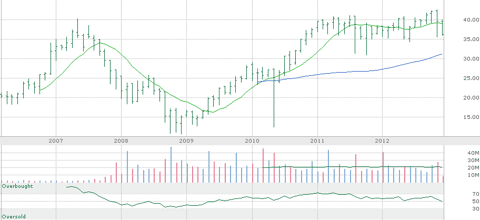 As mentioned before, during the same time period, the company also raised its dividend by 15% annually, on average. The company's original quarterly dividend of 32 cents a share in 2006 has since increased to 72.5 cents. I think it is pretty safe to assume that this type of performance will help investors keep up with inflation and then some.
Valuation
Linn trades at a significant premium of 25.7 times 2012 earnings. Although this sounds expensive, bear in mind that analysts expect the company to grow its earnings as a result of all of its recent acquisitions. Earnings per share are expected to rise from $1.41 in 2012 to $1.81 and $2.15 in 2013 and 2014, respectively. This means that the company trades at 20 times 2013 and 16.8 times 2014 earnings, so the company is valued relatively cheaply for the amount of growth expected. All in all, I believe the company to be fairly valued given both its projected growth, as well as its outstanding record of increasing cash payouts to shareholders.
Conclusion
Linn Energy is a solid, relatively low-risk addition to any dividend portfolio based on its large and well-hedged asset portfolio, its expanding business operations, and solid record of dividend increases as well as increases in share price. In fact, the analysts covering Linn have an average target price of $44.29, which represents a 22.4% upside over current pricing, which would be a very nice share price gain in a high-yielding stock. In addition, the company has somewhat sold off as of late, falling about 10% in the past two weeks alone, signaling an oversold condition. Linn is a company that is aggressively growing itself through acquisitions, which should continue to increase its distributable cash flow for years to come, as well as create value in the form of a higher share price. In the meantime, however, the company pays investors very nicely while they wait.
Disclosure: I am long LINE. I wrote this article myself, and it expresses my own opinions. I am not receiving compensation for it (other than from Seeking Alpha). I have no business relationship with any company whose stock is mentioned in this article.