Phillips 66 (NYSE:PSX) is a holding company engaging in producing natural gas liquids, NGL, and petrochemicals. PSX operates 15 refineries with a total throughput capacity of 2,485 m/d. Its DCP midstream joint venture holds 61 natural gas processing facilities, 12 NGL fractionation plants, and a natural gas pipeline system with 62,000 miles of pipeline. Its CPChem chemical joint venture operates facilities in the United States and the Middle East, and primarily produces olefins and polyolefins. While PSX had attractive ventures in DCP midstream and CPChem, its main revenue is still from the refining and marketing segment, which is currently producing strong earnings in a healthy operating environment. By divesting underperforming assets on the East Coast and initiating improvement plans, PSX is expected to improve its overall competitive position and continue to generate strong cash flow.
Recent Developments
With the latest announcement, PSX intends to redirect some of its transportation assets to form a master limited partnership, and it also unveiled a $3.7 billion capital program for next year, up 6% from 2012's estimate. As reported by the Houston Business Journal, "the company expects to file a registration statement for the initial public offering in the second quarter of 2013 and sell a minority stake in the MLP in an IPO in the second half of the year. Phillips 66 estimates $300 million to $400 million will be raised in the IPO." "We expect to use the master limited partnership as an efficient vehicle to fund growth investments in the transportation and midstream sectors," said Chief Executive Greg Garland. However, it is still unknown which parts of PSX's refining and marketing segments will be contributed to the MLP.
As reported by Dow Jones Business News, PSX has identified sources of additional advantaged crudes and is taking steps to move these lower cost feedstocks to its refineries. PSX expects its margins to strengthen as it increases its ability to serve the growing international refined products markets. Other initiatives to improve margins include increasing clean product yields in refining, as well as controlling costs. Overall, PSX is targeting cost reductions over $200 million before-tax by the end of 2013. As said by Mr. Garland, "Our ability to capture advantaged feedstocks, coupled with the growing international demand for refined products, enables us to maintain high utilization rates and reduce costs per unit."
Analysts' Call and Earnings Estimate
On Dec. 14, 2012, analysts at Oppenheimer boosted the price target and earnings estimates for PSX after a positive investors meeting. Oppenheimer gives PSX an "Outperform" rating with a target price of $60.00.
Analysts are increasing estimated EPS to $1.67 for the current quarter from $1.12, which was estimated 90 days ago. The full year EPS for 2012 is expected to be $7.72, which is higher as compared to an EPS of $6.23 90 days ago. The estimated EPS for 2013 is also increased from $5.40 (90 days ago) to the current $6.23, as seen from the table below.

Click to enlarge
Source: Yahoo! Finance
Fundamental Overview and Technical Analysis
With the data obtained from Morningstar, PSX's key stats will be compared to its peers in the oil & gas refining & marketing industry. PSX has higher operating margins of 4.1%, TTM, and net margin of 2.9%, TTM, comparing to the industry averages of 3.7% and 2.7%, TTM, respectively. PSX is generating stronger ROE of 23.1, as compared to the average of 17.6. PSX also has a lower debt-to-equity of 0.4, as compared to the average of 1.6. PSX is currently under-valued with a P/E of 6.26, which is lower than the average of 10.3. The P/B of 1.6 and P/S of 0.2 are all lower than the averages of 1.9 and 0.3.
PSX closed at $53.47 with a 2.41% gain on Dec 14, 2012. The volume of 5.12M was 12% more than the 30 day average of 4.57M. PSX had been trading in the range of $28.75-$54.32 in the past 52 weeks. The MACD (12, 26, 9) indicator started to show a bullish sign on Nov. 21; however, MACD difference had been converging and did not change in the past 2 trading days. The momentum indicator, RSI (14), is showing an increasing buy momentum at 65.41. PSX is currently trading above its 50-day MA of $48.13 and 200-day MA of $39.43. The next resistance will be $54.95, its R1 pivot point, followed by $57.54, the R2 pivot point, as seen from the chart below.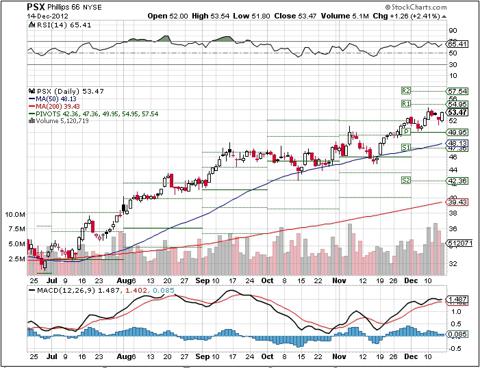 Click to enlarge
Source: StockCharts.com
Options Play
With improved asset utilization and competitive position, the long-term outlook for PSX is positive. For bullish investors, a credit put spread will be reviewed below, which will allow investors to acquire PSX stock at a discounted price while gaining some upside potential.
Short May 18, 2013 put at the strike price of $46.00 for the credit of $2.25
Buy May 18, 2013 put at the strike price of $43.00 for the cost of $1.45
The maximum profit is $0.80, and the maximum risk/margin requirement is $2.2 ($3 loss - $0.80 credit received). If PSX closes above $46.00 on May 18, 2013, 36.36% return on margin will be gained. If PSX falls below $46.00 upon options expiration, PSX stock will be acquired at $45.2, which is 15.47% lower than the current price of $53.47. The projected annual dividend yield will be 2.21% based on the acquisition cost of $45.2 and projected dividend of $0.25 per quarter.
Note: All the prices are quoted from the closing of December 14, 2012 and all calculations are before fees and expenses. Investors and traders are recommended to do their own due diligence and research before making any trading/investing decisions.
Disclosure: I have no positions in any stocks mentioned, but may initiate a long position in PSX over the next 72 hours. I wrote this article myself, and it expresses my own opinions. I am not receiving compensation for it (other than from Seeking Alpha). I have no business relationship with any company whose stock is mentioned in this article.