One sector often touted for its safety and high dividends is utilities. Most utilities are government regulated, have stable cash flows and have slow growing, but consent earnings. Power generation is a high capex business, and power plants often need upgrading due to new regulations. Many local governments only begrudgedly allow rate hikes.
Safe and high dividends are what draw income investors to utilities. However, one current utility's dividend is high, but hardly safe. This company is Exelon (NYSE:EXC). Another fellow contributor feels that a dividend cut is priced in, however, they still recommend buying Exelon. I do not share this view. Exelon's dividend is in danger. Not only do earnings not cover the payout, but neither does FCF. Exelon has been using debt or cash on hand to help pay its dividend. This is not sustainable.
My first chart will show how Exelon's dividend is currently much larger than its earnings:
(click images to enlarge)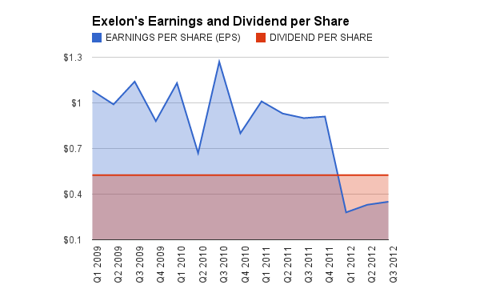 We can see that until 2012, Exelon generated sufficient earnings to cover its dividend. However, earnings have nose dived recently, and so for this year, the payout ratio using earnings has risen to well over 100% to about 165%. This should be a first indication that the current payout is not sustainable.
Now, let us take a look at cash flows for Exelon. I consider free cash flow one of the best metrics to use when looking at a dividend's safety. Cash is cash, and sometimes earnings are affected by non-cash charges. Has Exelon experienced this? Let us take a look:
We can see that Exelon does indeed have much healthier cash flows than earnings. Only once in the last four years has Exelon's cash flows failed to cover the dividend payments. However, Exelon cannot use ALL its cash on dividends. Remember that utilities must reinvest capital to maintain cash flows. Power plants age and deteriorate, they need maintenance and eventually replacement. Fortunately, most companies plan out these Capital Expenditures over many years, Exelon included. Let us take a look at how Exelon's free cash flow looks when we add capex and dividend payments together:
Now we can see why Exelon has not raised its dividend since 2008: it cannot afford to. Capex plus dividend payments have been 104% of free cash flow since 2008, or put in absolute terms: total capex plus dividends since 2008 have been $21.45 billion, while free cash flow has been $20.75 billion. This is a deficit of $700 million. Exelon has probably needed to add to its debt over the years to make up for this shortfall. Below is the year to year increase (decrease) in debt for Exelon. Please note that this does not include any acquisition related debt:
We can see that Exelon has needed to increase its debt by about $1.02 billion, which is remarkably similar to the $700 million free cash flow deficit. We can most likely infer that this extra debt has been used to help pay for capex and dividends.
Paying out 104% of free cash flow is not sustainable. Nor is issuing debt to cover the shortfall.
Another risk to Exelon's dividend is the maintenance of investment-grade rating on its debt. This was alluded to by Exelon CEO Christopher M. Crane during Q3 conference call:
"It is, of course, also possible that the power prices will not recover as completely or as rapidly as our fundamental views suggest. In that regard, with the actions we've taken, we have time to see how things play out. But if they do not play out favorably in the next 6 months, revisiting our dividend policy will be in the range of options for preserving our investment-grade rating that management and the board will need to consider."
For those looking for income and safety in the utility sector, there are other large cap dividend paying utilities out there. Some examples include: Duke Energy (NYSE:DUK), PPL (NYSE:PPL) and Consolidated Edison (NYSE:ED). All three have dividends of over 4.3% and payout ratios under 100% of earnings:
DUK Dividend Yield data by YCharts
Exelon currently trades for $29.66 and has a 7.1% yield. Exelon's dividend has been frozen at $0.525 per quarter since 2008. The share price has declined sharply since the CEO hinted at the possible dividend reduction.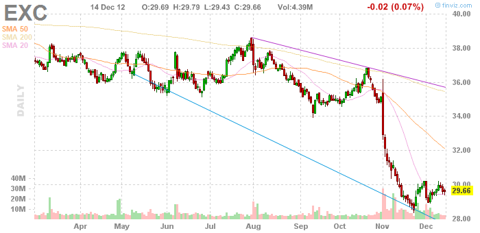 Exelon is without a doubt a stock I would avoid at the moment.
Disclosure: I have no positions in any stocks mentioned, and no plans to initiate any positions within the next 72 hours. I wrote this article myself, and it expresses my own opinions. I am not receiving compensation for it (other than from Seeking Alpha). I have no business relationship with any company whose stock is mentioned in this article.