A recent article from the Wall Street Journal, Build Your Own Hedge Fund, outlined how the ease of access of modern financial instruments can be utilized to mimic the returns of top performance hedge funds.
"Researchers, meanwhile, say there are ways for investors to build their own hedge fund-like portfolios from scratch. By using just a few low-cost exchange-traded funds, they can come close to replicating aspects of hedge funds' performance, without the restrictions on withdrawals that many hedge funds have. For example, one way to get the same nutrients as an average hedge fund, investors can use a portfolio with 21% in the iShares Russell 3000 Growth Index ETF."
This article provides serves as an overview to one of the financial instruments that was discussed in the article linked above that will allow investors to mimic the high growth attributes hedge funds provide, while initiating a position that in an asset that reveals a relatively low level of risk.
Overview
iShares Russell 3000 Index Fund (NYSEARCA:IWV) by definition is an exchange traded fund that strives to accurately mimic the returns of the price and yield performance of the United States equity market, specifically the underlying index represented by the Russell 3000 Index Fund. Over the course of the last year IWV has yielded a net asset value return of approximately 15.75% and has consecutively maintained a four start rating from Morningstar. In comparison to competing funds, IWV is highly favored for having a relatively low expense ratio of only 0.20%.
Figure 1: IWV Five-Year Price Graph from TD Ameritrade
To provide investors with a better idea of what to expect over the next year, I computed an expected return of 12.95%. This calculation is based off IWV's historical monthly holding period returns including distributions and takes into account the net current asset value of the fund relative to its market value. IWV's risk metrics reveal an extremely low fund-specific beta value of only 1.04, which indicates IWV is relatively low risk. In addition, I computed an alpha value of 1.05 and given this value is positive we can assume the overall asset composition of IWV is undervalued.
IWV's Asset Allocation
IWV is managed by BlackRock Fund Advisors and invests its capital in a highly diversified manner. Allocating it to various sectors including technology, financial services, consumer discretionary, healthcare, producer durables, energy, consumer staples, utilities, and materials. At a minimum IWV invests 90% of its assets in securities in the underlying index. IWV has an extremely favorable Sharpe ratio of 0.76, which is relatively higher than competing funds. This is a good indication to investors that by investing in IWV you can achieve a better return for the presented level of risk. Below in figure 2, you will see IWV's top ten holdings as a percentage of its total asset value.
Figure 2: IWV's Top Ten Holdings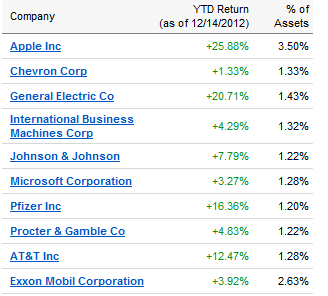 In percentage terms of total asset value, Apple (NASDAQ:AAPL) and Exxon Mobile Corporation (NYSE:XOM) are IWV's largest holdings. Out of all ten, my favorite holding is General Electric Co (NYSE:GE). In addition, to GE's pattern of steady growth and dividend distributions, I think they offer the greatest upside potential.
Conclusion
Clearly this ETF does not utilize all of the investment products and strategies that hedge funds use, however it does provide heavy exposure for individuals seeking something along the lines of a high growth equity strategy. In conclusion, IWV is one ETF that enables investors to mimic the "growth" aspect of hedge funds, but also allow you to put a constraint on the downside risk of your investment.
Sources: TD Ameritrade, Google Finance, FinViz, and The Wall Street Journal.
Disclosure: I have no positions in any stocks mentioned, but may initiate a long position in IWV over the next 72 hours. I wrote this article myself, and it expresses my own opinions. I am not receiving compensation for it (other than from Seeking Alpha). I have no business relationship with any company whose stock is mentioned in this article.