Apple's rollout of the iPhone5 in China hit a perfect storm on Friday, December 14th. Rumors were flying about lackluster interest and a reduction in orders to suppliers. Analysts released reduced forecasts and price targets. To top it all off, Fridays tend to be Apple's worst trading day of the week.
I covered Apple's daily trading tendencies in August in "A Guide For Day-To-Day Trading In Apple's Stock." At that time, I found a relatively consistent pattern of Apple (NASDAQ:AAPL) starting the week on a strong note but ending on a weak note. Ironically, what prompted me to take a look at the daily trading patterns was an unusually strong Friday on August 17th that turned out to be smack in the middle of a nine-week winning streak of positive closes on Friday. AAPL rallied for one more month after my article before hitting its all-time closing peak on September 19th. Since then, AAPL has traded nearly straight down except for a brief reprieve in the final two weeks of November. Interestingly, through much of this time, the central tendency of Apple to start the week with a strong (up) Monday and end with a weak (down) Friday has generally held.
However, thanks to the general sell-off and downward bias in AAPL, the magnitudes of average performance have of course worsened. The downward bias in AAPL really shows up in the conditional trades. Before the sell-off, it was a relatively good bet to buy AAPL after a down Monday or Tuesday, especially if AAPL dropped 1% or more. During this sell-off, weakness simply begets more weakness, except from Friday to Monday. This past Friday, AAPL finally closed below its May, 2012 intra-day low. This breakdown appeared imminent at the beginning of that week, and it now sets up a new phase of weakness for AAPL which may not find much relief until the gap up from January gets filled.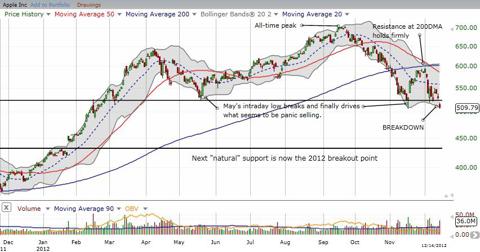 Apple finally breaks down
Source: FreeStockCharts.com
The rapid change in sentiment even shows up in the short interest piling up against Apple. While short interest remains only 2.2% of the float, the change is dramatic: a near double since July 31st and a 33% increase since the end of September (and the previous peak in mid-June).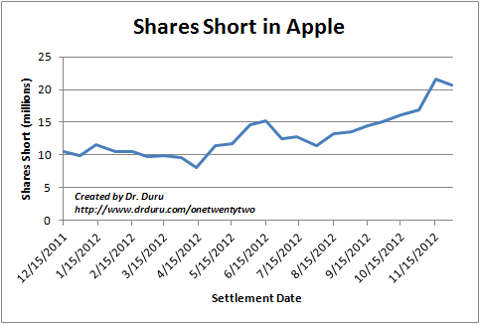 Shares Short in Apple Since December 15, 2011
Source: NASDAQ.com short interest
However, negative sentiment is NOT yet showing up in the options trade which continues its heavy weight on call options. The open interest put/call ratio on AAPL remains near 52-week and 2-year lows at 0.68. This ratio was as high as 1 in August and again in October. If 2012′s patterns hold up, AAPL is not likely to find bottom until sentiment turns negative in options trading. Apple's rallies in 2012 were accompanied by sharp run-ups in the open interest put/call ratio. (This behavior can also be explained by sellers turning into hedgers).
While it seems "obvious" to trade with the current downward trend to the next level of support - especially with the current breakdown - counter-trend rallies like that in late November can happen at anytime for any reason. The "good news" is that over the course of at least one to two months, AAPL has tended to move in large chunks with a strong directional bias. Using the daily trading patterns and points of apparent support and resistance, I have recently found it useful to buy call AND put spreads with various expirations (at the same time holding firm to my small handful of shares).
While this configuration tightly caps upside potential, it removes much of the extra options premium getting charged for Apple's volatility. This configuration also removes much of the need for precise timing. I enhance this approach by closing out the short end of the losing spread after it has lost much of its value, preferably well ahead of an expiration. This move then opens up significant potential just in case AAPL suddenly moves against the winning spread (which can then be closed out at hints of trouble). In the case of Friday's plunge, it made it a bit easier to close out my weekly $515 put that was part of a $515/505 put spread.
This trading method using both call and put spreads will start to fail when AAPL finally calms down and trades flat for an extended period of time. I doubt such content will arrive anytime soon given existing trends. The current selling could be attributed to margin changes for trading AAPL stock, tax-related portfolio positioning, and even growing pessimism over the prospects of Apple's tremendous roll-out of new products (an incredible 80% of all revenues come from new products released in the last 60 days). Whatever the reason, the drag on the stock is clearly overwhelming…and the eventual bounceback once sentiment recovers and news flow turns positive again should be equally dramatic (like a coiled spring launching into action).
For reference, I have updated the daily trading guide below. Note this time I have also added a conditional chart for days after Apple trades 1% or higher. Here are the general takeaways from these charts:
Apple still tends to start the week trading strongly and to end the week trading weakly.
The week tends to end even more weakly if preceded by weakness
No differentiation in directional bias if the preceding day was an up day, although Wednesdays tend to be stronger and Fridays weaker if that up day is a performance of 1% or greater.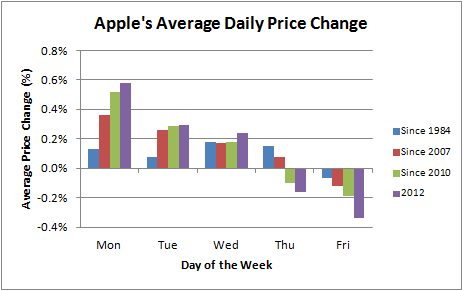 Apple's Average Daily Price Change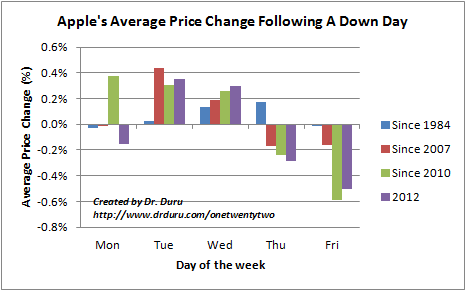 Apple's Average Price Change Following A Down Day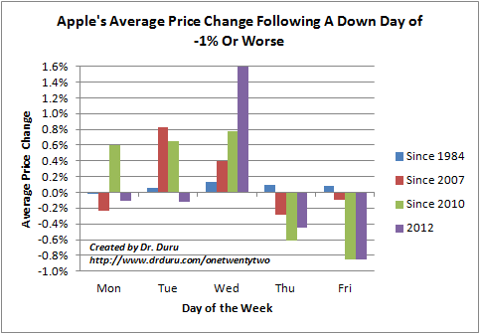 Apple's Average Price Change Following A Down Day of -1% Or Worse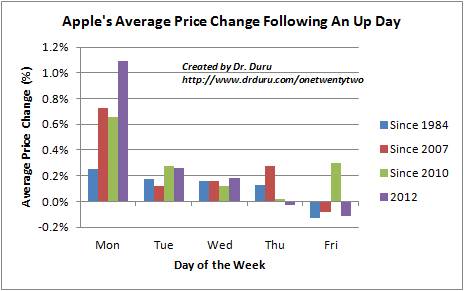 Apple's Average Price Change Following An Up Day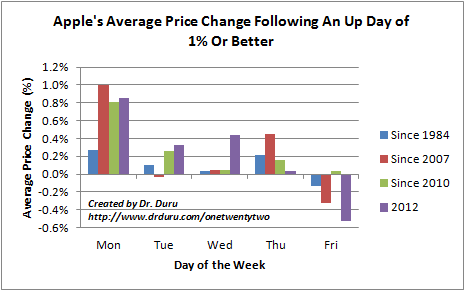 Apple's Average Price Change Following An Up Day of 1% Or Better
Source: Stock prices from Yahoo!Finance
Disclosure: I am long AAPL. I wrote this article myself, and it expresses my own opinions. I am not receiving compensation for it (other than from Seeking Alpha). I have no business relationship with any company whose stock is mentioned in this article.
Additional disclosure: Also long call and put spreads on AAPL.