The problem with a great many of the treatments for solid tumor cancers is that of side effects. How many personally know the tragic story of a chemotherapy patient who suffered extraordinary trials because of the process required to destroy his or her skin cancer. Extreme nausea, fatigue, skin discoloration and hair loss are among the more prevalent results associated with the most widely used treatments. And in many cases, these side effects produced more traumatic and debilitating results than the disease itself.
Until recently there had been little choice in the matter. Chemotherapy, radiation, surgery (when possible), and even some newer immunotherapy techniques left patients with little desire to continue. Treatments too often required large doses of the necessary drug to produce the desired result, where smaller, less toxic and easier to bear quantities had difficulty penetrating cell walls in the affected areas and were thus ineffective. Depending upon the drug, the treatments could produce anything from mildly toxic to outright fatal consequences.
A New Day for Cancer Patients
Researchers are now developing new drugs and delivery systems to obviate the suffering that cancer patients have had to endure until now. OncoSec Medical (NASDAQ:ONCS), a microcap biotech company listed on the NASDAQ Bulletin Board, is one of them.
OncoSec has developed a delivery technology that vastly reduces the amount of drug necessary for administration, thus reducing wholesale the side effects that had until now been a regular part of cancer patients' lives. And with over 120,000 new cases of melanoma diagnosed each year in the U.S., there could be in excess of 50 million people worldwide standing to benefit from the improved quality of life offered by new technologies.
The company's patented invention is called the OncoSec Medical System (OMS) and works by means 'electroporation,' a process that delivers a series of brief but intense electric impulses to the tumor areas. These impulses make the cell membranes in the affected cells more porous and thereby ease the flow of drugs into the cells themselves.
But the delivery system is only half the process.
As mentioned above, OncoSec's OMS works in conjunction with one of two drug components. One treatment the company calls Immunopulse, the other Neopulse.
Outside Killers vs. the Body's Own
The difference between these two treatments is significant. Immunopulse uses the OMS system to deliver a specified dose of DNA IL-12, a laboratory constructed DNA plasmid, which encourages production of authentic IL-12 proteins in the body. The IL-12 protein is the body's own best warrior against cancerous cells, identifying and destroying them as part of a person's natural immuno-response mechanism.
Until OncoSec's electroporation technology was brought into the mix, introduction of IL-12 into the body was a lethal affair. It simply required too high a dose to accomplish the work needed to be effective against a cancerous lesion.
Electroporation vastly reduces the amount of IL-12 required for administration, and recently completed FDA Phase I trials for safety and efficacy against metastatic melanoma proved successful enough to advance Immunopulse to Phase II confirmatory studies.
Envelope operates on a different principle, introducing bleomycin, a proven, highly effective but heretofore also lethal, anti-cancer drug, directly into the affected areas. Here, too, electroporation is able to reduce bleomycin to still effective but more 'digestible' levels. OncoSec claims it can also improve bleomycin's efficacy and obviate its side effects with as little as 1/20th of the former dose.
Clinical trials for Neopulse are far more advanced than Immunopulse, having now moved through Phase IV and already proving the company's treatment safe and effective in the treatment of melanoma, basal cell carcinoma, squamous cell carcinoma, and liver and pancreatic cancers.
Investing in the Technology
There's no doubt that electroporation technologies will have a revolutionary effect on the medical industry going forward and that cancer treatments of all varieties will inevitably be affected by these breakthroughs. How investors might profit from these advancements, however, is never as clear.
Last month OncoSec got EU regulatory approval for its OMS electroporation device, marking an important milestone for the company. With European commercial regulatory requirements now fulfilled, and FDA clinicals advancing quickly, commercialization of the company's treatments looks closer than ever.
The benefits of OncoSec's approach are clear. They're the only company with a patent on the technology and therefore have a key lead in the race for profits from it. There are other firms, such as Celsion (NASDAQ:CLSN), that employ a similar approach, injecting drugs into affected areas, then providing an external stimulus to effect an enhanced activation of the drug. Celsion, however, relies on microwave, radiowave or focused ultrasound to heat the tumored areas rather than electricity.
Both treatments, of course, benefit from a local approach, rather than systemic (the preferred but more dangerous method employed until now that introduced the drug intravenously into the body in large doses).
The Gambit
Perhaps the greatest impediment to OncoSec's advancement, however, is its very limited current cash position. Unfortunately that's somewhat tied to the market's - and big bio-pharmaceutical companies' - unfamiliarity with OncoSec's technology. And that will simply take a marketing effort, and some time, and to overcome.
In the meantime, if Celsion's experience is instructive, then OncoSec's future looks very bright. Here's what happened when Celsion, in one fell swoop, teamed up with Oxford University to inject capital into the firm and run its next clinical trial, while at the same time partnering with Philips NV (NYSE:PHG) to provide ultrasound technology to activate its treatments.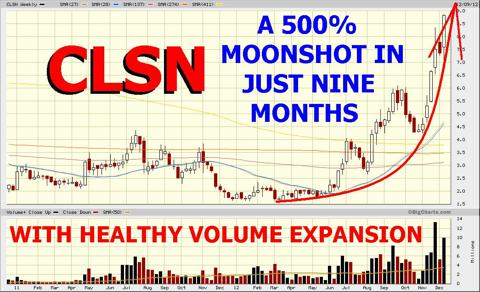 Celsion sealed the aforementioned partnerships in just 60 days, cementing the future of its company and growing CLSN from a firm with a $50 million market cap into a $300 million enterprise in less than a year.
This is precisely what ONCS hopes to accomplish as the New Year dawns. It is actively seeking a partner to assist it to the next level, assure its longevity and eventually bring it to profitability.
But there's a decent chance, too, the company will be passed over by the bigger players for the time being, and in that case, ONCS may either be forced to license its product globally or go back to market for another tranche of funding in an attempt to develop the ImmunoPulse technology in-house.
Either of these two scenarios spells risk for investors and would likely require a longer-term time horizon for those interested in riding the stock higher.
But should the partnerships emerge - or should the company be bought outright by a mega-biopharm player - the stock's trajectory could well see the same parabolic lift as its predecessor, Celsion.
Disclosure: I have no positions in any stocks mentioned, and no plans to initiate any positions within the next 72 hours. I wrote this article myself, and it expresses my own opinions. I am not receiving compensation for it (other than from Seeking Alpha). I have no business relationship with any company whose stock is mentioned in this article.