Apple Inc. (NASDAQ:AAPL) reports earnings after the market closes January 22, 2012. This article will discuss the recent trading activity in AAPL and how AAPL has traded during the month leading up to earnings releases for each of the past seven quarters. The article will discuss option strategies a trader can use to utilize expected changes in AAPL stock price and volatility over the course of the next month and also offer option strategies to trade the move prior to earnings release as well.
Recent Trading Activity
After AAPL's high of $705 reached on September 21, 2012, the stock continuously sank, week after week until it bottomed at $505 on November 16. Since this bottom, the recent price action in AAPL has included 8 positive days and 11 negative days. The stock rallied to $596 on December 3rd, an 18% climb over 17 days. 7 of the 11 down days have occurred in the past 9 days driving the stock back down to retest the $505 lows Friday, December 14th.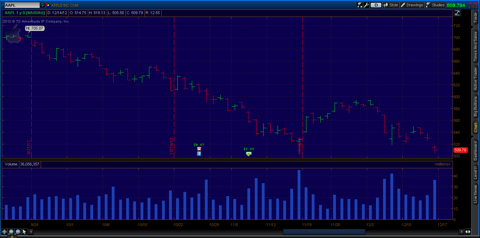 Click to enlarge
Apple's Historical Price Action Leading to Earnings
Looking back over the past seven quarters, AAPL has had distinct price movement leading to earnings. The following information illustrates the price action leading over the 30 days to each earnings.
From 12/20/2010 to 01/18/2011 AAPL rallied 13 days and only fell 6 days. During this period AAPL climbed from $321 to $348 equating to a 20% move up over 19 trading days. One the day of earnings being released, AAPL fell back to $326 almost erasing the entire gain of the previous 19 days. After earnings beat estimates, reporting quarterly earnings of $6.43/share, AAPL settled the following day at $338.
The next period looked at was from March 21, 2011 leading to April 20, 2011 earnings. In this period AAPL's price rose from $335 to $354, before falling consistently the two weeks prior to earnings, until the week of the earnings release. The two days leading to earnings the stock rose from $325 to $345 after a gap up open the day of earnings. Earnings on April 20th, beat estimates again with $6.40/share earnings. After the earnings release, AAPL gapped up the following day and settled at $355.
The following period between June 20th and earnings on July 19th saw a steady and consistent increase as expectations in AAPL's earnings growth continued to escalate. 13 trading days during this period saw higher stock prices while only 6 were lower. AAPL climbed from $315 to $378 before announcing fantastic earnings of $7.79/share, blowing away estimates. This earnings beat cause AAPL to again, gap higher to $395, settling for the day at $387.
The final earnings release of calendar year 2011 came on October 18th. Again we saw AAPL climb higher into the earnings release, but only after a slump. From September 21st to October 4th, AAPL fell from $421 to $354, but began rallying leading to earnings and retraced the entire down move. AAPL settled at $421 prior to the earnings announcement. After the huge earnings beat in the previous quarter, analysts raised estimated for AAPL. AAPL failed to beat analyst expectations and gapped lower, opening at $401 and closing at $398.
One year ago, leading to the January 24th earnings, AAPL again rallied higher as analysts raised earnings expectations again based on new product launches and higher AAPL guidance. The stocks steady climb from $382 on December 16, 2011 to $420 on January 24, 2012 showed AAPL investors and traders believed AAPL would again beat earnings, which they did. After reporting EPS of $13.87 AAPL gapped higher to $454 and closed at $446. This was the first time AAPL broke $450/share.
Over the next two quarters AAPL has had declining earnings. AAPL stock rose leading to the July 24th earnings miss. Although earnings were a miss, the stock began its march to all-time highs following the gap lower the next day. After reaching its all-time high above $705 on September 21st, the stock fell week after week leading to last quarter's earnings miss on October 25th. The chart below depicts the prior two quarters of AAPL price movement.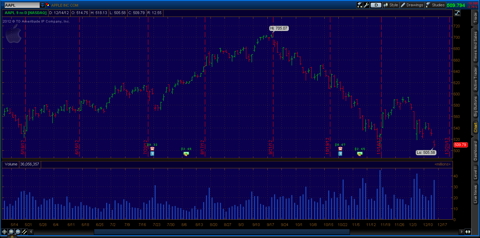 Click to enlarge
Trades to Enter Now (AAPL @ $509.79)
As we can see from the previous stock movement leading to earnings over the past seven quarters, AAPL stock had 5 strong rallies leading into earnings, only one coming after a slump, and only two times did it fall leading to earnings, including the most recent fall which came after AAPL reach all-time highs. Now sitting at $509, nearly $200 below its high, AAPL is one month from earnings. The following trading strategies will allow a trader to use less capital then buying AAPL stock, but still be able to benefit from an assumption based on AAPL stock movement.
Since AAPL earnings are schedule for January 22nd, 2013, traders must ensure they utilize the options with appropriate expiration. Standard option expirations will expire before earnings. These contracts can be utilized for a straight forward direction play leading to earnings, but will not capture the actual earnings move, nor will it benefit from volatility increases.
Assumption: AAPL will increase in price leading to earnings
Strategy #1: Sell a Put Spread Expiring the week before earnings.
Since AAPL has fallen hard over the past two weeks, its volatility has subsequently expanded. Selling a put spread will allow a trader to receive a credit and capitalize on theta or time decay. Selling out-of-the-money (OTM) put spread will give a trader cushion to the downside, allowing the stock to fall slightly and still be profitable. Any moves higher for the stock or if the stock remains flat will benefit the seller of the spread. You can see two examples below.
Strategy #1a: Short 455/460 January Standard Expiration Put Spread
Credit: $1.00/contract
Potential Max Loss: $5.00/ contract -$1=$4.00
Probability of Maximum Return: 75.2%
Break Even: $459
Strategy #1b: Short 430/435 January Standard Expiration Put Spread
Credit: $.52/contract
Potential Max Loss: $5.00/ contract -$.52=$4.48
Probability of Maximum Return: 85.3%
Break Even: $434.48
Note: Selling a put spread is a bullish strategy with defined risk, in which you will be able to take advantage of Theta Decay, or the decrease in option value from time decay and shrinking days to expiration. Since Apple has falling dramatically its option premium has expanded. Selling options will allow you to collect this extra premium from a volatility contraction. As long as Apple remains above your designated short put, you will keep the entire credit.
Strategy #2: Buy a Call Spread Expiring the week before earnings.
Buying a call spread slightly out of the money will allow a trader with a bullish assumption to reach a maximum gain if the stock climbs though both strikes of the spread. The maximum profit is capped, but the amount of capital needed for this strategy is very low, along with the total amount of capital at risk. Probabilities of maximum profit are lower then selling a put spread, but potential maximum return is much higher.
Strategy #2a: Long 515/520 January Standard Expiration Call Spread
Cost: $2.20/contract Debit
Potential Maximum Value: $5.00/contract, a 127% return
Probability of Maximum Return: 40%
Potential Maximum Loss: Your cost, $2.20/contract
Break Even: $517.20
Strategy #2b: Long 525/530 January Standard Expiration Call Spread
Cost: $1.80/contract Debit
Potential Maximum Value: $5.00/contract, a 178% return
Probability of Maximum Return: 35%
Potential Maximum Loss: Your cost, $1.80/contract
Break Even: $526.80
Note: Buying a call spread is a bullish strategy with limited risk, as well as, limited maximum return. The maximum your position can be worth is the difference between the two strike prices used. The potential loss or risk is the amount you pay for the spread.
Each of the strategies above is bullish, yet all have different probabilities of profit. A trader should use a strategy that suite his/her portfolio and risk tolerance before entering a trade. The one aspect of trading entirely under a trader control is the entry point. Managing a position can be done as the underlying stock moves, but choosing the entry point that most adequately suite the risk/return requirements of the trader is the first step.
An article to be published later will discuss option strategies to use to play the expected earnings move. Please follow me on Twitter @traderbyday for earnings and option strategies and following me here on seekingalpha.com/author/robert-anders for more articles.
Disclosure: I have no positions in any stocks mentioned, and no plans to initiate any positions within the next 72 hours. I wrote this article myself, and it expresses my own opinions. I am not receiving compensation for it (other than from Seeking Alpha). I have no business relationship with any company whose stock is mentioned in this article.