Crack number 1
UBS analyst Steve Milunovich issued a cautionary research note on Apple (NASDAQ:AAPL) trimming his estimates and his target price from $780 to $700 per share. Reasons for the change in sentiment; build rate is falling to 25 million units, iPhone 5 not expected to do as well as the iPhone 4 in China, cannibalization issues as per the larger iPad and lower growth estimates for Europe.
While one analyst's downgrade is not the end of the world, remember what I have said about sell side analysts -- they are almost always behind the curve. As such, expect more downgrades from other analysts also.
Crack Number 2
As per Reuters:
A U.S. jury on Thursday found that Apple's iPhone infringed three patents owned by holding company MobileMedia Ideas, though damages have not yet been determined.
While this ruling might not mean much (until we see how much money is involved), the important thing to keep in mind is that Apple has tons of patent disputes with many rivals all over the smart-phone space. All these patent disputes cause hesitation and confusion in the market. And when the market has doubts, then nominal corrections are in order. For when in doubt, the market never pays top price or a premium for any stock.
Crack Number 3
As per Forbes:
There's also some mixed commentary this morning from Jefferies analyst Peter Misek, who has been trying to figure out what is going on in the iPhone supply chain. Misek writes in a research note that iPhone component suppliers "have seen large order cuts" over the last 24-48 hours. He also notes that "assembly execution issues are taking longer to resolve than expected." In response, he cut his gross margin forecast for the December quarter to 39% from 40%, which is still above the Street consensus at 38.6%, and he reduced his forecast for calendar Q1 iPhone shipments.
Again, probably nothing serious, but a crack nevertheless.
Crack Number 4
A very interesting note about subsidies:
An iPhone would typically retail around $600 to $800 without carrier subsidy. Given current competitive product and pricing, it is a dubious contention that Apple's market share would be where it is if customers had to pay the unsubsidized price.
Indeed, carriers have been at a significant disadvantage when dealing with Apple. The question is, how would smart-phone sales dynamics change, if carriers were to think different about subsidies? Here in Europe most people buy phones outright because they don't want to be locked into a long term contract with a carrier. What would happen in the U.S., If consumers did the same thing?
Another interesting point:
Apple demanded the telcos pay the full amount for the iPhones upfront, and carriers had to commit to a certain volume every year. Sprint (NYSE:S), to get the iPhone, had to commit to sell $15+ billion worth of iPhones over four years.
Again, maybe this is not an issue at the moment, but with Nokia's Lumia 920 on the market and with Research In Motion (RIMM) rolling out BB10 very soon, carriers have other options and maybe they don't want to be bullied around by Apple anymore.
I don't think subsidies will go away anytime soon, but with more flagship competition in the smart-phone space, carriers will have more options. And while this may not be an imminent threat to Apple, it is another crack.
Crack Number 5
An interesting point from TrendForce via digitimes.com:
As panels and touch modules together account for 35-40% of the total material costs of a 7-inch tablet, replacing the commonly used 7-inch FFS panels with 7-inch TN LCD panels accompanied by additional wide-view angle compensation could save over 50% in panel costs, TrendForce indicated. In addition, replacing a G/G (glass/glass) or OGS (one glass solution) touch module with a G/F/F (glass/film/film) one, although inferior in terms of transmittance and touch sensitivity, can cut costs by about 70%. Thus, the adoption of a TN LCD panel and a G/F/F touch module for a 7-inch tablet could reduce material costs by about US$25, TrendForce said.
TrendForce basically says that while Google (NASDAQ:GOOG) and Amazon (NASDAQ:AMZN) are offering 7 inch tablets for $199, vendors can actually sell tablets for as low as $150, if they change the materials inside. What this means is that there will be greater competition in the tablet space. Not just for Google and Amazon, but for everybody and that includes Apple. Greater competition means lower margins and lower margins mean lower profits.
Again, this might not mean much for Apple today, as I am sure they will continue to command a premium, but it will nevertheless put additional pressure on Apple, who was already forced to offer a 7 inch lower priced tablet recently. Again nothing serious at the moment, but it is another crack.
Crack Number 6
I still think that many analysts underestimate the damage Nokia (NYSE:NOK) and Research In Motion will do to Apple. Nokia with the Lumia 920 is a direct competitor to Apple anyway you look at it. Also, the fact that the Lumia 920 will be China Mobile's (NYSE:CHL) flagship phone is no laughing matter. Remember, they did not have a flagship product until now and they consider the Lumia 920 a trophy. And it is a trophy that they will parade around and sell.
I also think analysts are underestimating the possibility that RIMM might sweep the enterprise market by surprise. Yes enterprise users have gone to Apple over the years, but that's only because they had no other choice. With BB10 rolling out at the end of January 2013, I think things will change.
The enterprise market will not return to RIMM all at once. Yes it might take RIMM a couple of years to get back the enterprise market share it once had, but it will put a dent (to say the least) in Apple's enterprise sales. Again nothing to panic about at the moment, but nevertheless another crack.
Crack Number 7
And last but not least, we also have a technical crack.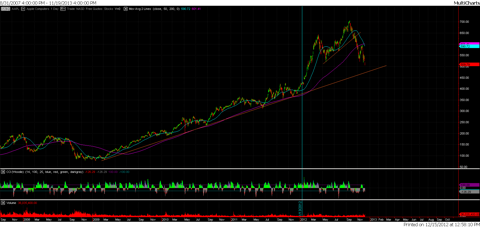 Click to enlarge
I have showed you the above chart many times. Please note while I still think Apple will bounce off its long term trend line, there is a possibility that it will not.
So far the 50 and 200 day moving averages have failed and if Apple's stock breaks below this trend line (for whatever reason), then watch out below.
Bottom line
Not a day passes that we don't see another crack in the Apple space. Sometimes the cracks are visible, sometimes not. Judging from the above chart, the market sees more cracks that meets the eye. Remember, the market is above and beyond what we are able to see today and discounts what will happen in the future.
And so far, the market is telling us that there are many cracks in Apple's wall than many imagined. And where there are cracks (AKA doubts and worries), the market discounts valuations and nominal stock prices. For as far as the market is concerned, Apple is just another stock.
Disclosure: I have no positions in any stocks mentioned, and no plans to initiate any positions within the next 72 hours. I wrote this article myself, and it expresses my own opinions. I am not receiving compensation for it (other than from Seeking Alpha). I have no business relationship with any company whose stock is mentioned in this article.