There are two new entrants into the mass market smartphone operating system space: Blackberry 10 and Windows Phone 8. In this article, we provide evidence of why only one can succeed. The top two mobile operating systems (or OS) are currently Google's (NASDAQ:GOOG) Android and Apple's (NASDAQ:AAPL) iOS. The first new entrant is the recently released Windows Phone 8. It is app compatible with the older, moderately successful Windows Phone 7. Windows Phone 7.x took 3-5% of the total smartphone market share. The other new entrant is the to be released in January, Blackberry 10 (BB10) Operating System. Windows Phone 8 is already present in the top selling Nokia (NOK) smartphones. Meanwhile, Research In Motion (RIMM) has already had a major run up in it's shares, exceeding Nokia, based on BB10 hope and short covering. See the chart below. BB10 handsets are expected in early 2013. What is wrong you say? Why can't both Blackberry 10 and Windows Phone 8 be successful in the mass market? Isn't that the reason RIM has rebounded more strongly than Nokia?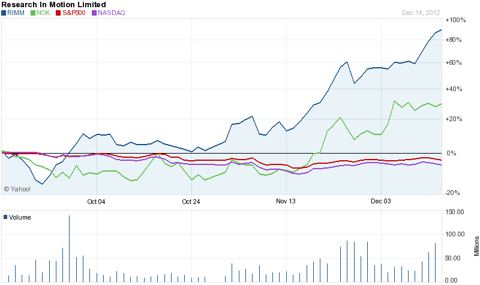 Before answering that question, let us explain the basics of a mobile operating system and its very important eco-system ("app store"). A mobile operating system, like its PC laptop or desktop equivalent, is a collection of software that manages the phone's computing resources and provides common services for external programs, known as "apps". In addition it provides integrated telephony and data services, otherwise, it is similar to light weight desktop operating systems. The OS is the scheduling software. It is designed to allow third party software programs seamless use of the shared resources in the smartphone. Each operating system has it's own eco-system consisting of an installed base of users and a market place for applications. If smartphone users did not care about games or other apps, then a new operating system could be successful on its own merits. However, a majority like to have specialized third party applications, like games and maps. For these apps, they have to use the app stores. For example Apple's App Store or Google's Play store. This is where new entrants fall over; they simply do not have any apps.
Too many platforms make new operating systems unsustainable and un-profitable for third party application developers. In turn, this makes the platform less desirable. There is significant cost in porting apps between operating systems and getting them approved for each app store. Already, Windows Phone 8 is at a significant disadvantage in terms of application support compared to Android and iOS.
... Windows Phone has a long way to go to boost the breadth of its selection vis a vis iOS and Android. That's why this behind-the-scenes change to support developers is so critical for Microsoft and for consumers.
The Windows Phone 8 (app number) disadvantage compared to the top two, is being partly addressed by Microsoft through tools that convert Android apps, and partly by funding for third party developers. Both of these routes cannot be taken by RIM to the same extent, because it is not as wealthy as Microsoft (NASDAQ:MSFT). Needless to say, the to be released BB10 has even less application support than Windows Phone.
RIM's Market-share Is Below Nokia
With Blackberry 10, RIM is attempting to make a fresh start while its handset market share is dropping rapidly. In fact, Nokia has a bigger share of smartphones than RIM according to the latest openly available IDC research.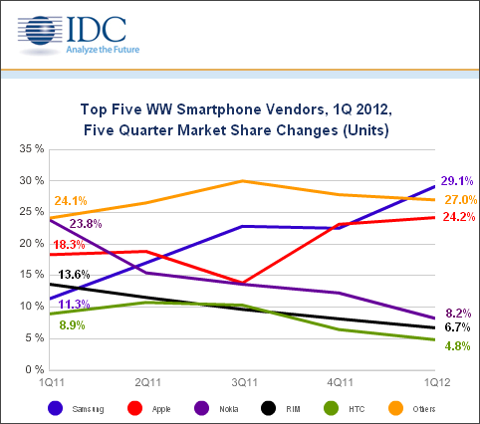 Furthermore, unlike Windows Phone, RIM is the only company that is planning on using the BlackBerry 10 operating system in its next generation phones. Meanwhile, Windows Phone, has support from Nokia (NYSE:NOK), HTC (OTC:HTCCY), and Samsung (SSNLF.PK), in that order. It also provides excellent corporate security features, removing the last hurdle for the integration of smartphones into the workplace. Let us also emphasize that, no one, other than Apple, has succeeded in creating both the hardware and the operating system for high end smartphones. Nokia, once the crown of the mobile handset world, is slowly pulling out from using its home grown operating system called Symbian. It dropped MeeGo as well, while Palm is dead. Thus it is doubtful that RIM will be the only other company, outside of Apple, that can successfully execute this type of vertical integration.
But Why Is There Room for Only Three?
The deduction that the market can sustain only three mass market operating systems, is not based on belief, rather it is based on a historical perspective. For that analogy, we look at how the PC market developed back in the late 80's. In terms of pure sales numbers and decades of growth, it is the closest equivalent to the modern smartphone market, with comparable software port costs.
Initially, in the PC market, there were also many distinct operating systems. Microsoft and IBM (NYSE:IBM) with DOS and OS/2 were just one of many OS designers. IBM happened to have one of the most powerful personal computer systems of that time, but made them with a choice of in-house designed OS/2 or third party Microsoft's DOS. Later there was also other operating systems designed for use in now defunct Spectrum Computers and Amstrad in the UK, and Commodore in the USA. They ran proprietary operating systems combined with proprietary hardware. Of course there was also Apple, Sun Microsystems (now part of Oracle) and SGI (Silicon Graphics) and various other players. They each had their own operating systems. Eventually, that is the long term, only three mass market operating systems survived. That is a lesson that the smartphone investors should take heed from.
The three PC operating systems still in mass market use are: Microsoft Windows, Apple Mac-OS, and Linux, an umbrella family of closely related open source operating systems (shared kernel). From these three desktop and laptop operating systems, only Apple is an anomaly that successfully designs the OS and builds the hardware. Note the home gaming console also followed a ternary trend, and only three survive for similar economic reasons (Sony's PS, Microsoft's Xbox and Nintendo's Wii). In other words, the software market has proven that three different eco-systems is just about sustainable. So, why do RIMM investors believe it will be any different in the mass market smartphone space? Do they think RIM is a match for Microsoft? Or will they be happy if RIM's Blackberry 10 ends up being a niche player, much like Oracle's Solaris is in today's server world?
We cannot answer those questions, as we have not invested in RIMM. Yet, smartphones are in fact, mini personal computers. Thus, there is no difference in the economic forces at play in the older PC market, in the home game console market and in this new smartphone market. From the application or software developer's perspective, three platforms is more than enough. Between Microsoft and RIM, the fight is not fair. Thus we think there is more downside to RIM in the long run unless it changes tactic and leaves its mobile operating system or builds one based on Android.
Conclusion
Looking at the smartphone operating systems in use today, we can see we already have two survivors: Apple's iOS and Google's Android. This leaves only one eco-system space, if the market dynamics follow those of the more mature PC market. In this crowded market, it is very unlikely that Blackberry 10 will succeed long term. RIM may only succeed as another handset maker. Getting developers to join the BB 10 ecosystem is going to get harder and harder. Microsoft, has a head start, has more resources and provides unrivalled support to app developers to port software to Windows Phone. Between Microsoft with $60+billion in cash and RIM, there is no question who we would place our investment bets on. Furthermore, with the good reviews of Windows Phone 8, Windows 8 and the merging of laptops and tablets, Microsoft is ahead of the competition. The days of Blackberry as a mass market operating system are numbered no matter how good BB OS 10 turns out. Third party developers, as we described with ample historical evidence, will simply not support more than three operating systems. As a result, unless RIM changes tack, or displaces Android or iOS (very unlikely), there is only short term upside, based on hype, until the BB10 release. Therefore, for the mid term, we recommend remaining short for a small amount, in particular if it breaches $16.
Disclaimer: We provide our research and arguments for free, with no guarantee. It is your responsibility to ask a qualified independent financial advisor to see if the actions we recommend are a good risk reward for you. So far we have been much more right than wrong.
Note: If you would like customized research or quantitative modeling feel free to contact us. We may be able to help with our new customized service, which our consulting company plans to launch for investors in 2013.
Disclosure: I am long MSFT, NOK. I wrote this article myself, and it expresses my own opinions. I am not receiving compensation for it (other than from Seeking Alpha). I have no business relationship with any company whose stock is mentioned in this article.
Additional disclosure: I may sell my NOK position as a short term trade as I feel it has run up too high too fast. I may start a short position in RIMM.