It's 13F filing time again. Institutional money managers who oversee more than $100 million must report their holdings to the SEC each quarter in their 13F report. These reports can be used to analyze the position movements of the best fund managers in the industry. Sometimes they can even be used to figure out the manager's current strategy, but keep in mind the funds that I am going to review are most likely hedged in some way. Also keep in mind that not every position held is shown in these filings and many of these funds have high turnover; so don't simply assume you can buy one of their positions and sit tight. 
I decided to look at several firms which I feel are some of the best in the industry, but feel free to comment if you know of any other firms that I should list next quarter.  
I've listed some of their largest new holdings and position movements for your convenience, but I am in no way giving any of their ideas a vote of confidence. In fact most, if not all, of these hedge funds have suffered losses since last quarter, just as many of you have. I analyzed the 13F filings of the following funds:
Harbinger Capital Partners
Atticus Management
Renaissance Technologies
Soros Fund Management
Caxton Associates
Pequot Capital Management
SAC Capital
Eton Park Capital Management
Paulson & Co.
Passport Capital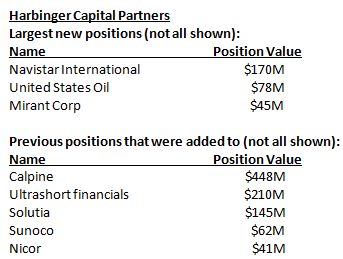 Harbinger seemed to be pretty well hedged by holding some substantial ultra short positions in financials and the indexes themselves.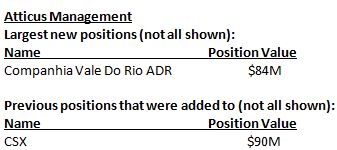 I not sure what is going on with Atticus, but the total value of their reported holdings shrunk significantly when compared to previous filings.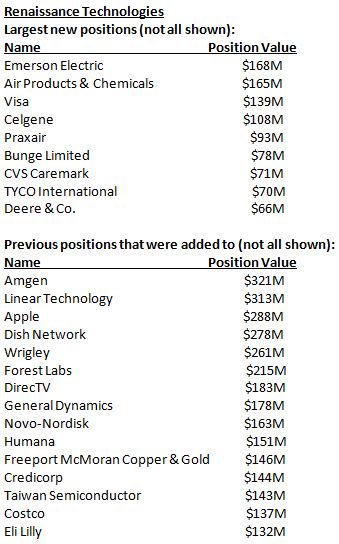 James Simons is notoriously secretive about his fund's strategy, but it relies on a great deal of trading using mathematical theories, from what I've read. The fund didn't seem to have the amount of turnover that I was expecting, which leads me to believe that he trades with many of the same positions very often. The fund manages over $25 billion and manages to continually outperform the market handily, which is why James is able to charge a 5% management fee and a 44% incentive fee.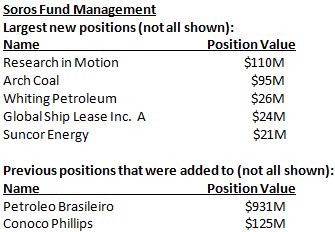 George Soros got burned on Petroleo Brasileiro (NYSE:PBR) last quarter, but he's not giving up; he added almost ten million additional shares to his holding and like Buffett, he is a fan of Conoco Phillips (NYSE:COP) as well.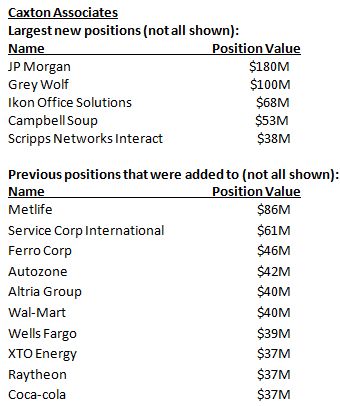 Bruce Caxton apparently likes Metlife, which Barron's has been pounding the table on for sometime now. The stock hit a new another low yesterday after declining over 20% in one day so it will be interesting to see if the position shows up in his next filing. The $180 million stake in JP Morgan (NYSE:JPM) is a nice vote of confidence in Jamie Dimon's management skills.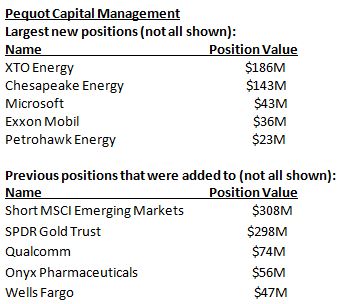 Based on the largest new positions Arthur Samberg is looking to take advantage of the weakness in energy. Of all of the funds that I reviewed, he had one of the largest short positions against the emerging markets. I am viewing the almost equally sized position in gold as a hedge against that short position given the high correlation between the two.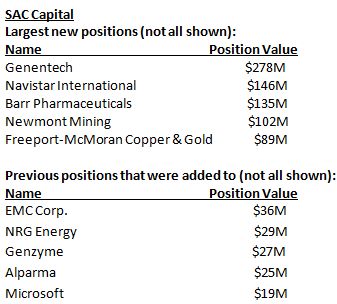 Steve Cohen has always been one of my idols ever since I read the book Market Wizards years ago. He uses industry specialized groups of traders to trade in and out of securities and it shows in the amount of turnover he has had since his last filing. His group has some of the best traders in the world, while also having some of the most bizarre trading strategies, such as using men dressed as women on estrogen (google it if you missed the story on CNBC back in October of 2007).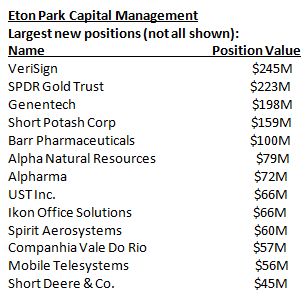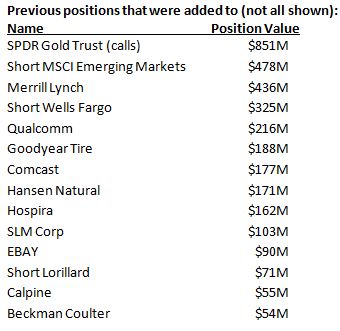 Eton Park seems to be another fund that is playing the market by shorting emerging markets and going long gold. What I thought was interesting was that unlike some of the other funds that have gone long Wells Fargo (NYSE:WFC), they have chosen to take a sizable short position using puts against Wells Fargo. Only time will tell who is right.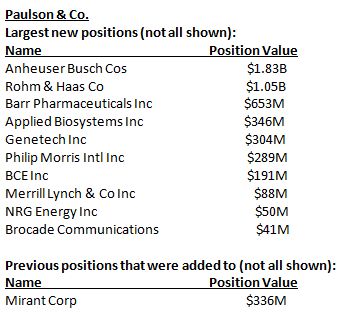 Paulson made himself famous with his big bets against subprime and it looks like he is still making a mint by performing takeover arbitrage. You'll notice that most of the companies that he holds are being taken over in preannounced deals that close in the near future. With a position of almost $2 billion in Anheuser (NYSE:BUD), he must have profited nicely when the deal was closed today given that the stock was selling 17% below the takeover price in the most recent quarter.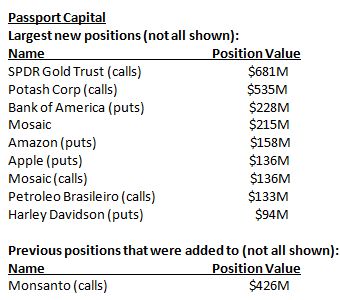 Most of Passport Capital's positions are held in options rather than stock positions and the firm seems to have very high turnover. The firm manages about $3 billion and was one of the firms that bet against subprime last year and won big. 
You too can perform this same analysis on any funds that you are interested in reviewing. Simply go to the SEC website and search based on the fund's name. Once you locate the fund that you are looking for and their 13F filing, just copy and paste the results into Excel. Using the "text to columns" feature separate the results based on the columns shown in the SEC data (make sure you're using Excel 2008 because the older versions don't have the enhanced "text to columns" character recognition, which is imperative to accurately and efficiently separate the data). Once you have the previous quarter and the most recent quarter's results in place, use the "VLOOKUP" function to compare particular columns. 
If this is too much for you, then just check out my blog or keep an eye on my submissions to Seeking Alpha.
Disclosure: Author holds positions in GLD, RIO, LLY