The Dow left it late yesterday with the main action packed into the last 10 minutes of trading. But appearances can be deceptive. The late bounce was driven primarily by Anheuser-Busch's (NYSE:BUD) (maker of Budweiser) exit from the S&P 500 due to the takeover by Belgium's InBev (INBVF.PK). The resultant redistribution of its market cap (about $50bn) amongst the other stocks in the index caused plenty of trading.
So the market remains like The Sound of Music only set in an Austrian cellar. It's earnings visibility that counts and we simply have none at the moment with many companies cutting forecasts or simply refusing to give future guidance. The range of estimated earnings for 2009 ranges roughly from $90 (cough) to $60 (more realistic in my book). So if you do a back of the envelope calculation using 10 times earnings that gives you a range on the Dow of 6,000 – 9,000.
Today's Market Moving Stories
Detroit's big three automakers asked the Senate to save the economy from a "catastrophic collapse" but Hank Paulson said before Congress that there was a need to preserve the capacity of the TARP for the incoming administration. He went on to say that the rescue package was not intended to be an economic stimulus or recovery package. Note to Hank, the TARP has ended up doing an awful lot of other things it wasn't envisioned for.
The ABC survey of consumer sentiment slipped a further 2 points to a record low of –52. So no post election bounce or benefit from the drop in gas prices at the pump. This bodes ill for retailers in particular coming up to the key holiday season. And yes I still think that analysts' expectations for sales over Xmas are way too optimistic. And in the housing space the NAHB (homebuilder confidence) index printed a truly woeful read of 9 (an all time low) versus the expected steady state of 14. So no relief in sight from the builders anytime soon and recall this is the root cause of all our ills. A definitive bottom in housing is a necessity for a recovery and this appears some way off. Paulson's volte face decision to end the TARP buying troubled assets has made this tortuous process more drawn out.
Global Hedge funds, as measured by Eurekahedge, were down a further 4.5% in October having lost 5% in September. These kinds of numbers can only spark more redemptions i.e. forced selling. This adds to volatility as a lot of these tend to be counter intuitive.
Citigroup (NYSE:C) remains in the doghouse. The FT reports that it is closing its CSO hedge fund after it lost a whopping 53% of its value last month. Nice trading guys.
In a keynote address in London, J.C. Trichet said that the financial crisis was the worst since WWII. He stressed his pragmatism and repeated that "it was not excluded that we would continue to lower rates" as he went on to state importantly that new research shows that inflation persistence had disappeared in the euro area. This is NEW and leaves them something to hang a larger than expected cut on in December. 75bp Merry Xmas from the ECB? Seems we are all turning Japanese.
Japanese equities were rattled overnight with news that blue chip bank MUFG reported an unexpected plunge in profitability. Even the normally ebullient economics Minister Yosano confessed that he is now not confident about a recovery in 2009. And news from China that officials are suggesting that the price of oil could slump further, all the way to $40 a barrel. Whither Russia. Note that Chinese stocks had their worst day since June.
Hank the Plumber. Can He Fix It? No He Can't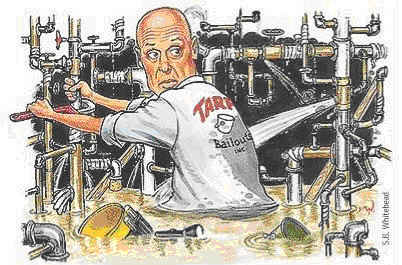 And What Of The Troubled Irish Banking Sector
Irish banks were back in the spotlight this morning with news that Moody's Investor Services put both AIB and Bank of Ireland on review for a possible downgrade (which would make the raising of much needed capital even harder and more expensive). The current ratings they enjoy include a two notch uplift from their State support i.e. with the guarantee of the Irish government they would be two rungs lower on the ladder already. The backing of the government is for two years.
The usual concerns are articulated as the rationale for this move i.e. concerns about the banks' asset quality and the increasingly challenging Irish economic backdrop and of course the urgent need to raise capital. Standard and Poor's took similar action last week on all of the big 4 Irish banks using the same arguments. We still haven't seen any substantive capital raising by the banks under the guarantee scheme, which is a worry. With the share price of two of the four dipping sub €1 this makes a rights issue impossible.
The Irish Times is reporting that Private Equity heavyweight J.C. Flowers is sniffing around and that the Irish government is close to announcing a capital support programme with some foreign input. The big question remains what will become of the smaller institutions? It's hard to see Irish Nationwide or sadly EBS (which is actually very well run) surviving as independents. Anglo Irish and Irish Life & Permanent may also not escape the much needed rationalisation of the Irish banking sector
Data Today
From the US we get weekly mortgage applications at noon (GMT). Later at 13.30 housing starts and CPI are both released. Later on, weekly oil inventories and Fed minutes will be made available. Also the Fed's Vice Chairman Kohn speaks today.
Disclosures: none