We have taken a bit of a hit over the past few days in our oil and natural gas stocks, but with many set to tie into new pipelines in the first half of 2013 we see more upside than downside at this point. We also see drilling increasing for many and expect production to grow exponentially in some of these plays - not to mention for these individual companies. It is the holy grail of commodities investing, whereby one can buy a company which grows production in an area with somewhat stable prices. So long as oil and NGL prices hold up (or in the case of NGLs, decline slowly), we shall remain bullish.
Power Generators
GenOn Energy (NYSE:GEN) saw shares rise $0.12 (4.16%) to close at $2.87/share on Friday after the company and NRG announced that the NYPSC and FERC had both granted approval for the two companies' merger. With New York's Governor pushing for the close of some of their nuclear reactors, this deal could go a long way in guaranteeing New York City's lights stay on and allow the combined company to help fill any voids created should that event occur. We are doubtful that New York shuts down any of their reactors in the next few years, but recognize that it could happen based on issues in the past with safety concerns and a renewed fear of nuclear plants after the tragedy in Japan. If that does become a trend across the country, especially in areas like New York and Illinois, then merchant generators will do very well.
Metals
On Friday both Freeport-McMoRan (NYSE:FCX) and Vale (NYSE:VALE) both had pretty good days on the heels of China's news. With Japan's election it is now fair to say that the world's largest economies are now positioned to really deliver growth in 2013 so long as the politicians in Washington can deliver a compromise. The news from the Federal Reserve with QE4 also makes the 'China Trade' more plausible now as it buys us some more time and puts us on the correct side of the trade. It is apparent that the Fed is willing to use its firepower to push asset prices higher and reinflate something, and if that is the commodity space then we are well positioned to benefit. Regarding Vale, it will be necessary to watch the $20/share level as it has provided resistance for shares in the past and we have risen sharply recently to find ourselves once again knocking on that door.
Steel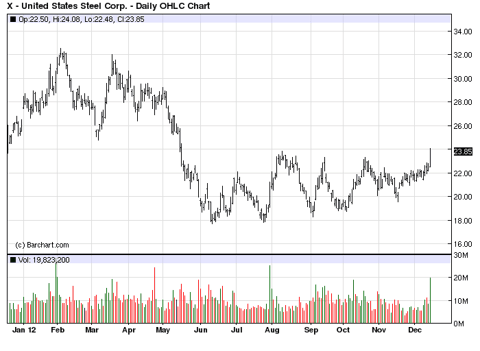 Chart Courtesy of BarChart.com
We have long said to keep away from one steel maker and instead invest in others such as US Steel (NYSE:X), and that trading advice has paid off for those investing in steel stocks. Friday saw US Steel break out as shares rose $1.52 (6.81%) to close at $23.85/share on volume of 19.8 million shares. There are a lot of reasons to be bullish here on a technical basis, for that is why shares spiked. Investors currently find themselves holding shares that are trading at a 6 month high and which recently just crossed the 200 day moving average. The trend is your friend is what we were taught and since the shares bottomed they have developed a nice uptrend which could carry them through this next important level.
Oil Services
Schlumberger Limited (NYSE:SLB) saw shares take a hit of $3.65 (5.03%) to close at $68.91/share after becoming the latest in the oil services industry to announce that low natural gas prices in North America is affecting their business. They have had to move more rigs to new areas which has pushed costs up and pushed revenues lower and the net effect is going to be a hit to their EPS numbers somewhere in the range of $0.05-0.07/share for the quarter. We noticed Dahlman Rose dropped their estimate by $0.06 after the announcement and would not be surprised to see further issues ahead as North American players shun new natural gas plays and run out of new liquids plays. It would seem that South America (think Argentina) an Asia (China specifically) should be the new focus for the company as North America seems to be 'maturing' in a way.
Disclosure: I have no positions in any stocks mentioned, and no plans to initiate any positions within the next 72 hours. I wrote this article myself, and it expresses my own opinions. I am not receiving compensation for it (other than from Seeking Alpha). I have no business relationship with any company whose stock is mentioned in this article.