The Liberal Democratic Party (LDP) won the election in Japan which is pushing the Nikkei higher this morning as investors cheer the fact that there may be stimulus on the horizon for the country. We view this as good news for a variety of reasons, but mostly because the party is serious about getting the economy back on track using stimulus, switching back to nuclear power (which will drive electricity costs back down and leave both businesses and consumers with more money in their pockets for discretionary spending) and could lead to the country beefing up their military. All of that would not only be bullish for Japan, but bullish for the world as they are the world's third largest economy.
We have economic news due out today, and it is as follows:
Empire Manufacturing (8:30 AM EST) - 2.0
Net Long-Term TIC Flows (9:00 AM EST) -N/A
Asian markets finished mixed today:
All Ordinaries - down 0.15%
Shanghai Composite - up 0.45%
Nikkei 225 - up 0.94%
NZSE 50 - down 0.32%
Seoul Composite - down 0.60%
In Europe markets are lower this morning:
CAC 40 - down 0.81%
DAX - down 0.17%
FTSE 100 - down 0.56%
OSE - down 0.57%
Technology
Investors in Sirius XM (NASDAQ:SIRI) received news late in the session Friday which pushed shares higher by $0.19 (6.99%) to close at $2.91/share with volume surpassing 121 million shares. The spark was the decision by the Copyright Royalty Board which keeps the company's royalty payments relatively low with manageable increases through 2017. According to Bloomberg, "The judges that make up the board determined that the rates for Sirius to pay SoundExchange, an organization that collects royalties for musicians, will increase to 9 percent of gross revenue in 2013 from 8 percent this year. The fees will then increase by half a percentage point every year until 2017." You can see their entire article here. Mel may be on his way out, but the company has continued to deliver solid results and good news regarding the business, this being just the latest, so we may very well see the shares test $3/share sooner rather than later.
Adobe (NASDAQ:ADBE) is one of the players in the technology industry which has shown an ability to move from the PC to the cloud successfully. This past quarter highlighted that ability as the company beat on both the top and bottom lines. Not long ago many feared that Apple's (NASDAQ:AAPL), or rather Steve Job's, war on Adobe was going to cause it some serious trouble and hurt growth long-term, however, those fears have since dissipated. Shares have been setting new 52-week highs, and on Friday they hit another one on the heels of their good quarterly results.
Over the past few months we have taken a lot of heat for our views on Verifone (NYSE:PAY), which contradict what many of the Verifone bulls believe. To this point they have not made money, unless they were trading in and out, but neither have the bears. The company disappointed with their latest quarterly results, which sent the shares lower by $3.63 (10.92%) to close at $29.60/share. We still think that their business is under fire from rivals such as Square, and with the CEO's latest comments during their conference call it sure seems that the future will get even tougher. We say this because the company announced that they were withdrawing from the lower end of the market due to the razor thin margins and instead will sell their technology to someone else. They believe that no one makes money in that market and instead does it by selling other services to those merchants or by servicing other parts of the industry. Well if those guys can turn a profit servicing those businesses, it is very possible that they can turn a profit working their way up the food chain to Verifone's bread and butter customers. See the company's entire conference call here.
Retail
It is becoming harder and harder to decide whether the situation at Best Buy (NYSE:BBY) is best described as a comedy or a tragedy as it is quite humorous, yet sad at the same time, that the company continues to extend the deadline for their founder to submit a bid. Shulze now has until the end of February 2013 to submit a bid and this willingness to continue to deal with someone who obviously does not have the necessary financing to do such a deal only goes to highlight the lack of interest in the business. Shareholders were once again disappointed due to a deal not getting done when the rumor was that it would and shares reacted accordingly closing at $12.05/share after falling $2.07 (14.66%) on volume of 42.3 million shares.
Refiners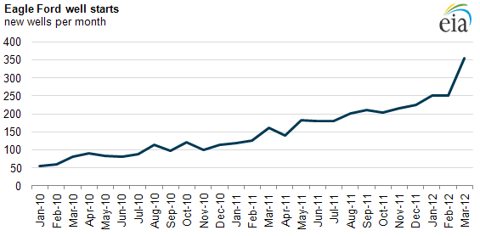 Chart courtesy of the EIA.
For those who are bullish on the shale plays and their continued ability to increase production of natural gas, NGLs and oil there is reason to be bullish on the refiners. The refiners who buy in terms of WTI rather than Brent are benefiting due to the discount of WTI and thus running higher margins. This is due to a lot of bottlenecks which have appeared in the transportation infrastructure for the plays out west which is a result of the massive growth in production volumes which has taken place over the past couple of years. Until some of this oil begins to head to export markets or east towards those refiners we find it hard to believe that margins will deflate as there are not many looking to build new refineries (even if the regulators would allow them). All of this is why HollyFrontier (NYSE:HFC) shares were up on Friday and set both a new 52-week high and all-time high.
Disclosure: I have no positions in any stocks mentioned, and no plans to initiate any positions within the next 72 hours. I wrote this article myself, and it expresses my own opinions. I am not receiving compensation for it (other than from Seeking Alpha). I have no business relationship with any company whose stock is mentioned in this article.