The looming fiscal cliff has caused additional market volatility and has forced investors to seek safer stocks. With the economic and political climates becoming more tumultuous, I have been concentrating on high yield opportunities. Stocks with high yields tend to be "safer" because the yield provides a cushion against capital depreciation and inherently implies that the underlying equity has sufficient cash reserves (although not always the case). These stocks do entail additional risks recently with the potential for dividend tax rate changes so I recommend exercising additional caution and investing in tax preferential accounts if at all possible.
Dividend stocks tend to have a strong financial position but it is always critical to check the liquidity and solvency ratios before considering an investment. Blue-chip dividend companies are well-known but there are attractive equities with high yields going ex-dividend every week. This strategy generally works in one of two ways: either you buy before the ex-date to receive the dividend or buy after if the stock declines far below the after-tax amount of the dividend. Regardless of your short-term strategies, these equities can be attractive longer-term investments depending on your individual circumstances.
Buying the stock to receive the dividend is intuitive but many have contacted me requesting further details on the second strategy. Investopedia has a great example of how this works. To explain this, I will use AT&T (T) as an example. AT&T declared a $0.45 dividend to shareholders of record on January 10, 2013. On the ex-dividend date the stock price should decline by the after-tax dividend amount, with an assumed tax rate of 15% because many dividends qualify for a preferential tax rate. It is true that you can personally avoid immediate taxation by owning the security in an account with beneficial tax treatment but this serves as a benchmark.
As a result, an investor would expect the stock price to decline by $0.38 = [$0.45 * (1-.15)]. If AT&T declined by more than $0.38 in the absence of negative news you might have an attractive opportunity. For conservatism you may ignore the tax aspects and only trade if the stock price declines by the full dividend amount. Executing this strategy can generate returns over short periods of times but should only be performed on companies that you would be comfortable owning. Note that some analysts may already be forecasting a higher dividend tax rate and are incorporating that into their models.
To focus on these opportunities I ran a screen with a focus on relative safety for the investments as the objective is to concentrate on liquid companies that are affordably priced. I began with a specification of a dividend yield greater than four percent and an ex-dividend date within the next week. To provide some layer of safety I narrowed down the environment by looking at companies with market capitalizations greater than $1B, P/Es between zero and 20, and institutional holding percentage in excess of fifteen percent (except ADRs).
While not a precise requirement, I prefer companies that have underperformed the S&P 500 year-to-date as it indicates reduced downside relative to peers. For example, if negative macro news breaks, the stock that has declined more in the past year should ideally perform better than a similar stock with year-to-date gains. With the impending European crisis I now avoid companies with significant European exposure. This is summarized below:
Dividend Yield ≥ 4.0%
Ex-Dividend Date = Next Week
Market Capitalization ≥ $1B
P/E Ratio: 0-20
Institutional Ownership ≥ 15%
Ideally Modest S&P 500 Underperformance
Minimal European Exposure
After applying this screen I arrived at the equities discussed below. Although I envision these as short-term trading ideas, you still need to exercise caution. The information presented below should simply be a starting point for further research in consultation with your professional financial advisor before you make any investment decisions. My goal is to present new companies to you and provide a brief overview of their recent developments and this should not be considered a substitute for your own due diligence.
Note that many companies have been shifting the dates of their dividend payments into December to avoid higher dividend tax rates in January 2013. The dates presented are accurate to the best of my knowledge but are subject to change at any time without warning.
CYS Investment Inc. (CYS): 12.34% Yield; Ex-Dividend 12/19
CYS is a specialty finance company that invests in various agency mortgage backed securities ("MBS"). The company generates income primarily from the net spread between the interest income earned on these MBS and the cost of borrowings as well as hedging activities. This has been an extremely lucrative business as borrowing rates have remained very low while the interest earned on the bonds has declined at a slower rate.
There are concerns that returns will narrow as more investors refinance their loans which would put pressure on the investment spread; however, I do not anticipate any drastic changes in the near future. As of the most recent quarter, ARR has $22.6B in agency securities opposed by $20.0B in repurchase agreements and security payables. ARR is currently levered about 7.8X (liabilities/equity) which means its relatively low net return of less than two percent is amplified substantially. This explains how these agency REITs can sustain double-digit yields despite such low relative returns on assets. An inspection of CYS' condensed schedule of investments reveals that most long agency securities are yielding approximately three percent.
CYS has a book value of $14.46 which is approximately $1.60 higher than its current market value. This 12.5% cushion provides adequate coverage against further declines and I would be comfortable owning CYS at this discount.
As a REIT, CYS must distribute at least 90% of its taxable income to shareholders. CYS is distributing a total of $.92 per common share this quarter: $.40 represents fourth quarter 2012 distribution in addition to $.52 representing "the remaining REIT taxable income earned during 2012" special dividend. Note that the regular cash distribution has decreased $.05 from the previous quarters' payout. Recently CYS announced a $250M stock repurchase plan, yet another reason to go long CYS. This is a significant repurchase plan and represents over ten percent of the current market capitalization. With CYS trading around $12.85, the quarterly special yield is approximately 7.2%. Given CYS' recent catalysts and attractive valuation, I am comfortable owning CYS at least for trading purposes.
Hatteras Financial Corp. (HTS): 10.88% Yield; Ex-Dividend 12/19
Hatteras Financial is an externally-managed mortgage REIT that invests in single-family residential mortgage pass-through MBS issued by US governmental agencies. Hatteras is very similar to CYS and other mortgage REITs that specialize in agency securities as they profit off of the spread between investments interest and borrowing costs. The most recent quarterly filing discussing the impact of the recent governmental intervention in the mortgage market:
These programs have had many effects on our assets. One effect of these purchases has been an increase in the prices of agency securities, which has contributed to the decreased our net interest margin. The unpredictability of these programs has also injected additional volatility into the pricing and availability of our assets. It is difficult to quantify the impact, as there are many factors at work at the same time which affects the price of our securities and, therefore, our yield and book value. Due to the unpredictability in the markets for our securities in particular and yield generating assets in general, there is no pattern that can be implied with any certainty. We believe the largest risk is that if the government decides to sell significant portions of its portfolio, then we may see meaningful price declines.
As of the most recent quarter, ARR has $26.4 in agency securities opposed by $23.6B in repurchase agreements and security payables. ARR is currently levered about 7.5X (liabilities/equity). The price-to-book ratio is currently .79 and the stock is trading at a 28% discount to book value. The quarterly dividend has declined by ten cents per quarter for the past two quarters and now sits at seventy cents per common share for a yield of 11%.
I prefer CYS over Hatteras due to the higher yield, recent share repurchase plan, and bullish insider buying but Hatteras could make for a decent alternative given its low P/B ratio.
Altria Group (MO): 5.29% Yield; Ex-Dividend 12/21
Altria is one of the largest tobacco companies with major brands such as Marlboro and Virginia Slims. Tobacco companies make for great investments in all types of economies because tobacco users are always willing to buy the inelastic product. I have invested in both Altria and Philip Morris (PM) with tremendous capital gains and dividends over the years. US cigarette volume is declining, but tobacco is still a strong worldwide seller. Furthermore, declines in cigarettes are being partially offset by demand for smokeless tobacco and other products.
Altria has taken financial steps to improve the company in the face of declining tobacco sales. In the third quarter over $250M of stock was repurchased and the $1B repurchase plan was expanded by $500M. Altria also repurchased debt with high coupon rates and issued less expensive debt. Tobacco companies are both mature and safe, which presents the opportunity to return equity to shareholders via dividends and share repurchases. The recent legal appeals ruling against graphic cigarette warning labels should act as a rare short-term catalyst for this subdued industry. For these reasons, I hold MO in my "Great Recession II" portfolio. Altria recently boosted the dividend by an above-average 7.3% and continues the company's tradition of generally increasing the dividend once per year in August.
UIL Holdings Corporation (UIL): 4.77% Yield; Ex-Dividend 12/17
I recently wrote a detailed explanation of how I analyze utility companies and in brief I focus on the number of customers and geographic location. Larger companies enjoy scale benefits and are able to profit more from smaller rate increases. While geographical differences exist for regional utilities, the underlying business is essentially the same: a stable, cash-cow business that returns most profits to investors via dividends and share repurchases.
UIL Holdings services 700,000 customers with electric and natural gas utility in Connecticut. UIL suffered 280,000 customer outages during Hurricane Sandy at a projected cost of $40M. Electric distribution has been weak in recent years but gas distribution has masked some of the declines. The P/E is on the high end for a traditional utility and the quarterly dividend has been flat at $.432 per share since March 2009. The combination of high P/E, low growth, and small customer base leaves little to get excited about here.
DTE Energy Company (DTE): 4.07% Yield; Ex-Dividend 12/17
DTE provides energy to 3.3 million customers in Michigan. Approximately 2/3rds of customers are electric subscribers with the remainder using natural gas. DTE is another utility company with declining revenue and generally flat earnings. The unseasonably warm temperatures impacted DTE to a moderate degree but other declines were due to "power and gas trading strategies due to fewer market opportunities and timing related losses." The stock has been in a range of $58 to $62 since early summer and the stock is currently sitting slightly above the midpoint of that range.
The information presented has been summarized below. Yellow and red represent "avoid" and "consider" classifications, respectively.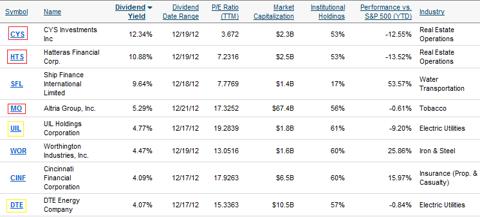 Please refer to profile page for disclaimers.
Disclosure: I have no positions in any stocks mentioned, but may initiate a long position in CYS, MO, PM, T over the next 72 hours. I wrote this article myself, and it expresses my own opinions. I am not receiving compensation for it (other than from Seeking Alpha). I have no business relationship with any company whose stock is mentioned in this article.
Additional disclosure: Please refer to profile page for disclaimers.