General Mills (NYSE:GIS) the manufacturer and marketer of branded consumer foods (such as Cheerios, Betty Crocker and Hamburger Helper), is one of the rare stocks trading higher today than 12 months ago. How does the current share price of GIS look from an intrinsic value perspective?
Valuecruncher valuation model of GIS with interactive assumptions
Valuecruncher produces a valuation of US$64.06 for GIS. This is a current valuation (an estimate of intrinsic value using a discounted cash flow model) not a target price. This valuation is 1.9% below the current share price of US$65.33. We believe the stock is trading broadly in-line with the intrinsic value.
Assumptions
Revenue: Reuters aggregates 11 analysts covering GIS and these analysts have mean estimates of 2009 and 2010 revenues of US$14.5 billion and US$15.1 billion respectively. For our analysis we have used US$14.5 billion in 2009, US$15.0 billion in 2010 and US$15.5 billion in 2011.
Profitability: We have used an EBITDA margin of 19.0% in 2009 rising to 20.5% in 2011. Reuters has GIS's EBITD margin at 18.8% last year and averaging 21.1% over the last five-years.
Capital Expenditure: We have assumed capital expenditures of US$550 million per annum moving forward.
Discount Rate: 9.0%.
Terminal Growth Rate: 3.0%.
Our analysis incorporates the cash and debt on the GIS balance sheet – Valuecruncher calculates a net debt number.
Play with our assumptions – what does your analysis say?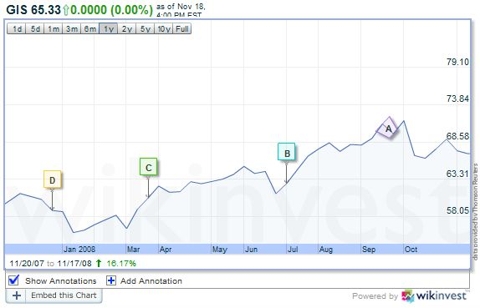 Disclosure: no positions