by Ramsey Su
It has now been six years since the subprime real estate bubble burst in 2006. As the year comes to an end, let us look back to see if 2012 gave us any reason to celebrate.
The Bernanke Fed
Once again, I name Bernanke the most influential person of the year for 2012. In the 12 weeks since the announcement of QE3, ending December 12, Bernanke has purchased $202.15 billion agency MBS, or an average of $16.8 billion per week. Within the next twelve months, as a result of QE2 and QE3, the Fed should own over $2 trillion of mortgages. There are only $9.5 trillion of mortgages outstanding (per the latest Z.1). The Fed will own approximately 25% of all mortgages by the end of 2013. More importantly, Bernanke is now in full control of the mortgage market with the ability to buy the entire market, or sell from his vast holdings of various rates and maturities. Is the country aware of this monopoly, nationalization, or financial dictatorship? Is that Bernanke's intent?
FHFA (Federal Housing Finance Agency)
FHFA was formed in September 2008 when the agencies were placed under the conservatorship of the Treasury. It has been 4 years. What has FHFA accomplished? FHFA does not even have a director. Edward DeMarco has been the acting director since August, 2009. 2012 was another wasted year. No one wants to touch this hot potato, not the White House, not the Senate, not Congress. Naming a permanent Director would require confirmation hearings which would open Pandora's Box. Here is FHFA's website. Noticeably absent is the exit plan. I don't think there is a plan. I don't think anyone is even thinking about an exit plan. The agencies are now responsible for 90% of mortgage finance. Is this a good thing?
The Demise of FHA
Earlier this year, I wrote about the FHA with the conclusion that:
100% of all FHA loans originated between 2006 and present, using the minimum required downpayment, are under water today, if we use the national averages as the watermark.
In November, Nick Timiraos reported on the sorry state of the FHA in the WSJ. There is only one number that we need to pay attention to: 9.6%. That is the delinquency rate for FHA loans. No loan program can sustain such huge losses. The FHA loans made from 2008 forward are going to start haunting the HUD.
Click to enlarge all images
---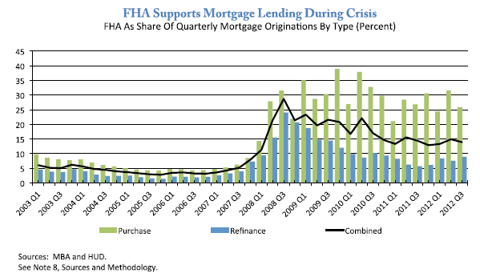 FHA Mortgage lending during crisis. Now it's the FHA that is in crisis …
---
The Year of the Refinance
Actually, there is nothing special about 2012 in terms of refinancing volume. The pace has been steady since Bernanke launched his QEs. The most recent MBA weekly application survey showed 84% of loan applications were refinances. While MEW (mortgage equity withdrawals) is no longer fueling consumption the way it did during the Greenspan bubble, the benefits of lowering the cost of servicing $9 trillion of mortgage debt cannot be overlooked.
The economy has taken this hidden stimulus for granted. How big is this stimulus? Per HUD, reduced mortgage payments from refinances are at about $40 billion per annum (see chart below). In addition, mortgage debt has declined by just over $1 trillion since its peak. If these were due to foreclosures and short sales, the previous cost to finance these loans has to have been over 6%. That alone would be another $60 billion reduction in debt servicing year after year.
---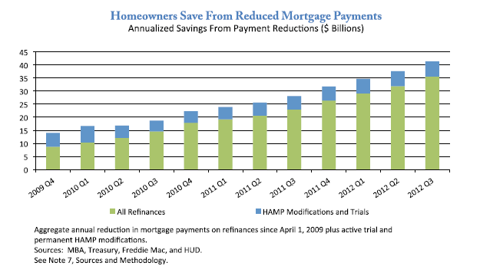 Household savings on mortgage debt due to Ben Bernanke's interventions.
---
Rates must continue to decline in order for this hidden refinance stimulus to continue into future years. If rates stabilize, refinances will grind to a halt and there will be no new savings from lower debt servicing. How much further can mortgage rates drop?
---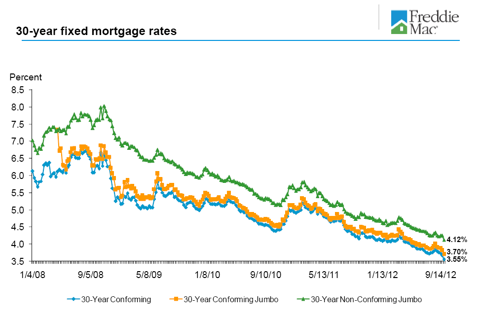 30 year fixed mortgage rates: scraping the bottom of the barrel.
---
HAMP HARP and Other Government Interventions
Mercifully, 2012 may be the last year of these idiotic government policies. How stupid are these interventions? Earlier this month, Toll Brothers reported net income of $411 million for the quarter,including a net tax benefit of $350 million. Hovnanian reported earnings last week. Ara Hovnanian was proud to say that the next $2 billion in profits would be tax free, thanks for tax loss carryback law changes.
The NMS (National Mortgage Settlement) extorted $25 billion from the big bad servicers. In return, foreclosures delayed by robo-signing should restart, putting an end to the subsidy for millions who have been receiving free housing, especially in the judicial foreclosure States.
HAMP and HARP have pretty much exhausted every eligible borrower. Many borrowers will soon find out what a bad deal it was and re-default. How badly are these programs failing? I used the following chart in my last rant but I want to use it again here. 25% of these modifications default after the first year, 35% after the second year.
---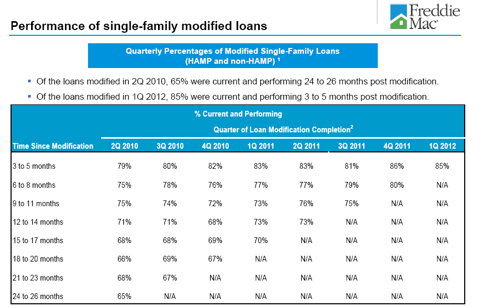 Performance (or rather, non-performance…) of modified mortgage loans. You've been hamp'd!
---
Demographics
2012 is the second year 10,000 baby boomers turn 65 everyday. Immigration and birth rate are both trending down. Unemployment is higher for the young while they are saddled with $1 trillion in student loans. Other questions such as multi-generational households remain unanswered. There is little doubt that the demographics changes are going to play a major role in altering the future supply/demand situation in housing.
Bulk Investors
This is another 2012 phenomenon that deserves attention but one should reserve judgment. Since Wall Street size capital has never ventured into the single family real estate world, the consequences of it doing so are unprecedented. It should be positive to take distressed and over-leveraged properties from the hands of those who cannot afford the payment into the strong hands of a cash buyer. However, we need to consider the possibility of even more wealth transfer, from the poor to the rich. A return to the medieval society of landlords vs peasants may not be what policy makers desire.
In summary, the real estate market is so artificial now that they made it into a TV program appropriately named The Real Housewives of Beverly Hills. There is so much lipstick on the pig that it is impossible to tell what is underneath the plastic, silicone and botox. Do we have a real real estate recovery, or are we just watching a science project by Dr. Bernankenstein? Maybe the new year will bring us a clearer vision of what the new normal is going to be.
Charts by: MBA, Freddie Mac, HUD, Treasury