The "fiscal cliff" has been the second-biggest story for stocks this year, closely following the November elections. Stoked by the media, this is not the binary event that this would indicate: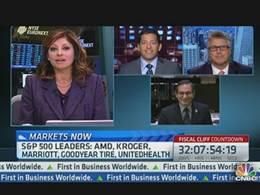 It's not just that annoying countdown clock in the bottom right corner, but a relentless, maniacal focus on the issue. Every interview seems to hone in on how the CEO or strategist feels about the "event," as if it's the December 21st Mayan end-of-the-world day approaching.
Unlike 13 years ago, when we really weren't sure how the computers would react to the change in the millennium, the world won't change too dramatically when we wake up on January 1. Instead, this is just a chapter in a larger drama. The story started years ago and will continue to play out for years. The fact is that the United States must readjust its federal spending habits after a decade of funding wars and massive fiscal spending geared toward preventing a second Great Depression.
My point isn't to debate the near-term or even long-term path we will take as we continue to struggle with this massive headwind. Rather, my goal is to keep things in perspective and suggest a prudent tactical portfolio adjustment: Up your exposure to Small Caps.
Before I lay out my case for shifting into smaller stocks, let's take a quick look at the recent history of the Russell 2000 (NYSEARCA:IWM) and the S&P 500 (NYSEARCA:SPY). I am breaking the past 18 months into three different periods. First, let's take a look at the awful Q3-2011: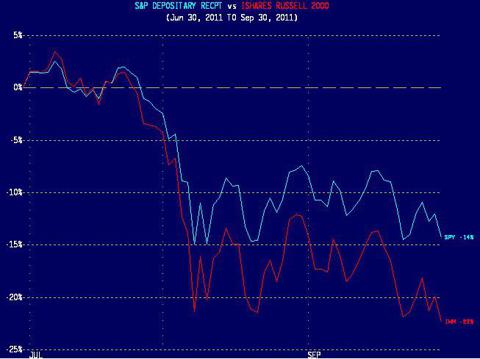 The massive underperformance in Q3 last year took place as the whole notion of a fiscal cliff came to be. Recall, the market melted down when the government couldn't agree on a lift to the debt ceiling, which led to our downgrade following the deal to put into place automatic spending cuts and tax hikes (the fiscal cliff, as Ben Bernanke later described it). Most of the damage was in early August, though stocks closed out near their lows. IWM lost a stunning 22% that quarter, while SPY was hammered by 14%.
This next two quarters saw the market move to a post-2008 high for the S&P 500. Small Caps returned to near their prior highs, but they couldn't quite get there. Here is how the two indices performed over that half-year: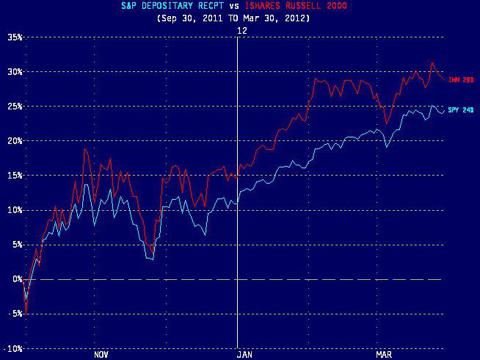 As you can see, smaller stocks were able to gain about 121% of the gain in the S&P 500, which is in line with what one might expect based on the longer-term relationship. Since late March, the market has advanced, declined and then advanced again, leaving it not too different from where we were at the end of Q1. As you can see, SPY is up 1%, while IWM has declined by 1%: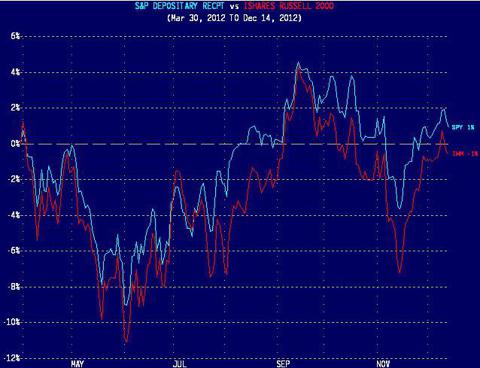 The S&P 500 peaked with the R2000 in mid-September. To the right, you can see how poorly IWM performed over the next two months, especially in the post-election sell-off, a hit to the market as the attention shifted from presidential elections to the near-term event-risk of the "fiscal cliff."
My call isn't solely a market direction call, but surely it is partially so. It's pretty hard to argue for Small Caps to do better than Large Caps in a falling market. Instead, I am looking for IWM to gain more than 120% of the rally I envision over the next 3-6 months in the S&P 500.
My thesis? Better liquidity as the binary event passes. If we get a "deal," there will be a relief rally most likely. If we don't, while there may be some sort of near-term pressure on the market, the likely scenario is that the intense focus on an hour-by-hour basis fades. Even in a flat market, like we have experienced over the past nine months, I think we will see better performance from smaller stocks.
Backing up, the Small Caps performed exceptionally poorly as the U.S. fiscal situation became the story back in 2011, taking some of the focus away from Europe. While the market has come back and then some, they haven't yet recaptured that loss of performance back in the summer of 2011. For 2011, the R2000 ended up trailing the S&P 500 by over 6%, as the S&P had a total return of 2.11% and the R2000 lost 4.18%. So far in 2012, R2000 has lagged slightly despite the strong market, gaining 12.7% compared with the 4.89% total return for the S&P 500.
So, why Small Caps now? I will go back to the arguments I shared in August, when I recommended coming out of the failed "sell in May" trade that burned so many timers by focusing on Small Caps. While I have been technically right since then, with the IWM up 3% and the SPY up 1%, I am not claiming any sort of victory. Instead, I am reiterating my conclusion and suggesting that I was just early (often the case!).
In August, I discussed two additional factors beyond poor liquidity: A preference for dividends and the exodus of the small investor. Both of these have persisted, especially the latter. I continue to be saddened - that is the right word. Small investors, burned by the dotcom meltdown and then the financial crisis, continue to leave the ball park, and they are missing out. Evidence continues to mount that they pour funds into rich bonds and exit stocks. I look to the Investment Company Institute's data. Here is what it said about October flows:
Stock funds posted an outflow of $16.51 billion in October, compared with an outflow of $24.44 billion in September. Among stock funds, world equity funds (U.S. funds that invest primarily overseas) posted an outflow of $1.98 billion in October vs. an outflow of $4.68 billion in September. Funds that invest primarily in the U.S. had an outflow of $14.53 billion in October, vs. an outflow of $19.77 billion in September.

Bond funds had an inflow of $34.37 billion in October, compared with an inflow of $29.18 billion in September. Taxable bond funds had an inflow of $29.50 billion in October, vs. an inflow of $25.16 billion in September. Municipal bond funds had an inflow of $4.87 billion in October, compared with an inflow of $4.01 billion in September.
Weekly data shows that these trends have persisted in November and into December. How long will this lunacy persist? I have to admit that I continue to be surprised. Hopefully, with the elections behind us as well as the "fiscal cliff" showdown about to pass, things will change. To quote the great lyricist Tom Morello of Rage Against the Machine: "What better place than here, what better time than now?"
Now, let me go back to the arguments I shared at the beginning of Q4, when I gave "3 Reasons to Focus on Small-Caps in Q4". One of the main drivers I suggested is M&A, and this is likely to be a big one in 2013. I expect that growth will continue to be moderate, which pressures bigger companies to buy it. It can also work well for smaller companies who can buy privately held companies too. A second factor I expected to help was special dividends. Perhaps this was a stretch. We sure got a lot of them, though. I wasn't suggesting that it would drive the whole Small-Cap sector but rather that there would be a lot of small companies paying them (due to high insider ownership). Let's forget about this one going forward. My final reason was technical in nature, similar to what I have argued here.
The bullish scenario for Small Caps has to revolve around stable to improving markets. We have been enjoying this all year, but it hasn't made a difference yet. My thesis is that getting past the perceived binary event will have positive implications for consumer confidence, business confidence and investor confidence. The crowd has been going the wrong way for too long, avoiding stocks and piling into bonds. I am expecting that 2013 will see decent economic growth to start the year. By itself, this could be enough to get smaller stocks back in favor. Throw in pressure on bonds, and we could see a stampede. Of course, just a little more rally in the market will get us to all-time highs in the S&P 500 - less than 12% from here. Maybe that's what it will take to restore confidence in stocks!
When I have suggested better times ahead for smaller stocks, the one pushback that I have received regularly is valuation. It's more of a question than a statement, and let me say that it's very difficult to characterize valuation for the broad index. I know from my own stock hunting that bargains abound, but we are talking about the overall Small-Cap market and not just some of the stocks.
According to Russell Investments, the keeper of the R2000 and also a Large-Cap index, the Russell 1000, which represents the top 1000 names, R2000 has a 17.2 PE (ex-negative earnings) and a 12.6% IBES long-term growth forecast. The R1000 has a 15.6 PE (ex-negative earnings) but a 10.7% IBES long-term growth forecast.
Using Baseline, I have a different perspective to share. Over the past decade, the forward PE of the R2000 has been between 15.9 and 32.5, with a median of 22.3 and a current 18.5 (middle panel). I think that this number is high due to the inclusion of companies with negative earnings (think biotech, for instance). In the bottom panel, we see that the current premium to the S&P 500 (1.4X) is actually low historically. We are below the median and near the lowest print of 1.3X. This relationship has actually been pretty remarkably stable.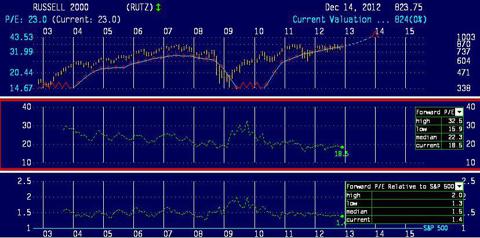 So, valuation doesn't look like a barrier to smaller stocks doing better in absolute or relative terms.
We are in a bull market that has been in place since early 2009. We are also in an economic expansion that dates to a similar point, though it has been highly atypical in its lack of vigor. While we will continue to face headwinds due to required fiscal austerity and perhaps pressure on net exports due to weak economic growth in Europe, our economy and stock market both appear poised to continue their advances. I believe that the passing of the "fiscal cliff" will prove to be a major catalyst that could lead to a rally. If so, I expect that Small Caps will lead the way, gaining much more than 120% of the S&P 500 potential advance.
Disclosure: I have no positions in any stocks mentioned, and no plans to initiate any positions within the next 72 hours. I wrote this article myself, and it expresses my own opinions. I am not receiving compensation for it (other than from Seeking Alpha). I have no business relationship with any company whose stock is mentioned in this article.
Additional disclosure: Long IWM in one or more models managed by the author at Invest By Model