With the SolarCity Corp (NASDAQ:SCTY) IPO last week, investors got another reminder of the time demands of Tesla Motors (NASDAQ:TSLA) CEO Elon Musk. Not only is he busy attempting to make Tesla into a force in the auto sector, but also he is busy launching rockets to Mars via SpaceX and now prominently involved with another public company.
If anything highlighted the issues with his time, it had to be the IPO interview on CNBC. In general, it is odd for the chairman to be involved in the post-IPO interview. On top of that, the interviewers kept attempting to steer the questions towards Tesla. That isn't necessarily the fault of Musk, but it does highlight the issues that the stock market will place on his priorities now that he runs two public companies.
While all three of his companies are revolutionary and worthy of attention, none of the companies are exactly more than developmental at this point. Tesla, as a prime point, has been public for over two years yet the market became excited based on a tweet about being cash flow positive for a week.
Downward Earnings Revisions
While the CEO recently tweeted that the company was cash flow positive, it still doesn't hide that the company has continuously missed earnings estimates. Being cash flow positive because customers are willing to throw down payments to reserve vehicles still doesn't mean that Tesla can produce these cars profitably.
As the table below from Yahoo Finance shows, Tesla continues to miss estimates about every quarter, causing analysts to ratchet down estimates.
Click to enlarge images.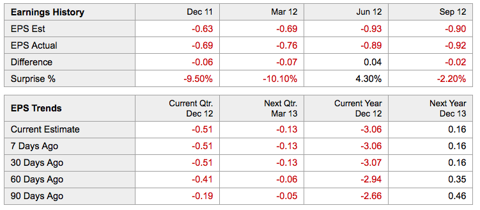 Click to enlarge
In fact, according to Reuters, analysts originally expected earnings of $0.84 for 2013 that have now dropped to $0.16. The low-end analyst expects a $0.59 loss, suggesting that profits might be fleeting for a long time.
SolarCity IPO
The IPO had to be one of the most bizarre in years. The price was cut to $8 in order to attract investors, and then the stock surged during market trading back to the original IPO range of $13. Evidently, those investors without access to the IPO market have more faith in Musk than the institutional investors who didn't want the stock at just about any price.
The biggest issue with this solar stock is that it is very reliant on government subsidies that aren't likely to exist in the future. A government running a trillion-dollar deficit can't continue supporting new technologies.
The other issue was the interview on CNBC, as noted above. Instead of letting the CEO run the show in order to prove to the markets that Musk isn't critical to the success of the company, he ended up running the interview. In the end, the interview proved that Musk is highly involved in this firm as well. Do you want a CEO of a highly speculative firm going on TV to promote another firm?
Cash Flow Positive Operations?
Being cash flow positive is a huge step for a startup such as Tesla. Clearly, this is a big step in the progress toward a long-term successful auto manufacturer. The real question, though, is whether the company is cash flow positive due to operations or prepayments.
The answer is clearly prepayments that won't last forever. The company is now collecting prepayments for the Model X in addition to the Model S. The last disclosure showed 13,500 reservations for the Model S and over 2,000 for the Model X.
What exactly did Musk tweet (and what will the SEC say about full disclosure)?

Click to enlarge
Narrowly positive cash flow over a week is definitely a start. Reducing liquidity fears helps, but as the company produces more vehicles, those prepayments will end. On top of that, as vehicles are delivered the company won't collect as much cash.
Overwhelmingly Positive Investor Community
The stock has remained controversial with plenty of detractors along the way. Apparently the investment community has become extremely more positive on the stock lately. According to recent articles, the Seeking Alpha community is no longer bearish on the stock. The last seven articles over a couple of weeks have been bullish. See the headlines below:
Smart Equity: "A Golden Opportunity To Buy Tesla: Multiple Catalysts On The Horizon"
Trefis: "Tesla's Future Looks Brighter As Cash Flows Turn Positive"
Smart Equity: "Time To Buy Tesla: Cash Flows Turn Positive And Federal Probe Not An Issue"
Daniel Weidelich: "No Money To Be made Shorting Tesla But Lots To Lose"
Spencer Knight: "Tesla Has All The Parts To Power Higher"
Nick Butcher: "Tesla - Up To 11"
Smart Equity: "Buy Tesla Motors For At Least 25% Upside"
Where have the negative contributors gone?
Valuation
The stock trades at an amazing 211 times current forward estimates. Considering the massive growth, earnings estimates aren't always the most useful gauge of the stock's value. Unfortunately, until the company starts reporting better-than-expected numbers, investors need to be a lot more concerned about these forecasts. The numbers might continue dropping as Tesla moves more focus into the Model X before even making money on the first two vehicles.
Conclusion
Based on all this information, Tesla remains a wildly speculative stock. Musk might be a revolutionary thinker, but for now he isn't much more than a slick salesman. He now has two public companies that fail to generate profits. Even recently challenged American automakers currently report handsome profits. Until Tesla joins that list, investors have no reason to be so excited about this concept. At the very least, the company needs to show the ability of beating consistently declining earnings estimates.
Someday, Tesla will be a great short as the story unravels and the market becomes impatient with Musk splitting his time between at least three firms. For now, the momentum traders continue to back him and the stocks. Shorts need to remain patient until Musk loses the golden touch with investors.
Disclosure: I have no positions in any stocks mentioned, and no plans to initiate any positions within the next 72 hours. I wrote this article myself, and it expresses my own opinions. I am not receiving compensation for it (other than from Seeking Alpha). I have no business relationship with any company whose stock is mentioned in this article.
Disclaimer: Please consult your financial advisor before making any investment decisions.