Seeking Alpha Author Bob Wells, a favorite author of mine, recently asked at the end of his latest article a question for his readers, which was "How do you evaluate capital gain performance in your Dividend Growth Portfolio?" It's a good question, which reminded me of an expression we used at the company for which I worked prior to retirement, which was "what gets measured gets done." We used it to emphasize that we tracked certain criteria or used certain metrics in order to ensure we were doing the things we needed to be doing. Those metrics or measurements would then be used to compare to other entities, often the competition, to see where we were doing well and what we needed to do better. In other words, how did we know how well we were doing?
Many of the dividend growth investors at SA have made a conscious decision to start handling their own investments as opposed to allowing someone else to manage them. There may be any number of reasons for this decision to manage their own financial future. But once the decision is made and the investments are being made it then becomes imperative for the individual investor to know if they're actually working. The typical argument is that if the individual investor cannot exceed the rate of return of an index fund, then they might as well just invest in those index funds. But that argument assumes that those individual investors' goals are such that they can be measured by comparing to an index. That's not necessarily the case with many dividend growth investors.
Many investors do typically benchmark their investments using a rate of return compared to an index, and probably most often the S&P 500, so often in fact that when someone refers to what the market returns they are usually referring to the S&P 500. But what are they really comparing to when they benchmark their results to the S&P 500 and is it a valid comparison?
Benchmarking to the S&P
The 500 companies that make up the index are large companies with a market cap of $4 billion or more divided into 10 sectors as shown below.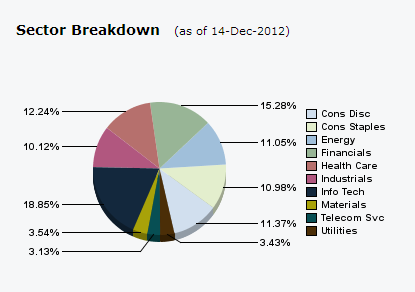 Out of the 500 companies in the above sectors, 81% (404) of them pay dividends and 19% (96) do not. The S&P also maintains a "Dividend Aristocrats Index" which is defined as those that have followed a managed dividends policy of consistently increasing dividends every year for at least 20 years. There are 81 companies that currently comprise that index and the companies on that index come from the S&P Composite 1500, not just the S&P 500. I did a comparison of all the companies on the S&P 500 to the invaluable CCC list maintained by David Fish and found that only 30% (152) of the S&P 500 dividend paying companies are on the CCC list. Here are those companies: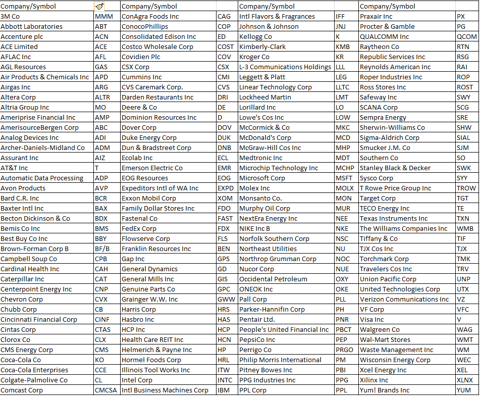 Click to enlarge
(Click to enlarge)
Obviously many, but not all, of these companies are what could be referred to as typical DGI companies. By that I mean they are good fundamentally solid companies who pay regular, predictable, and growing dividends. But if you're a dividend growth investor that only picks from the CCC list and selects low volatility stocks, say those with betas below 1, then the question becomes is benchmarking to the entire S&P 500 index valid? After all, you'd be benchmarking to an index where at least 70% of the constituents of that index are ones in which you would not invest if your criteria required at least 5 years of increasing dividends. Or should one consider comparing their portfolio of low beta stocks to a basket that includes a number of high beta stocks? Conversely, if you have a portfolio of low dividend but high growth high beta total return oriented stocks, should it be compared to its opposite, or to another non-correlated index? Fortunately S&P makes it easy to select.
By going to this site (may require free registration) one can select an index (among others) that has been calculated using a low volatility high dividend basket of stocks. This index is defined as an index that "measures the performance of the 50 least-volatile high dividend-yielding stocks in the S&P 500. The index is designed to serve as a benchmark for income-seeking investors in the U.S. equity market." Selecting this index one will see over the last year the price return was 6.49%. One can also obtain year to date (1.84%), 3 year (8.09%), and 5 year (3.97%) returns.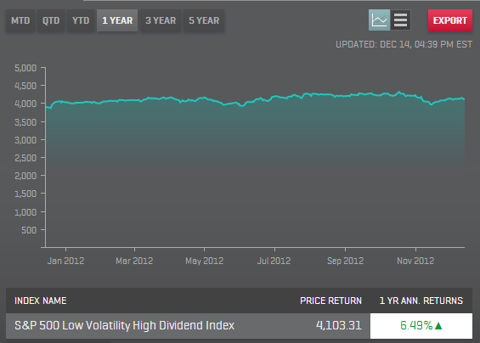 Click to enlarge
(Click to enlarge)
It also provides tabs where one can view the constituents that makeup the basket along with the sector breakdown. By selecting the table view on the same chart one can distinguish between total return and price return, with the difference that the total return includes dividends whereas price return doesn't.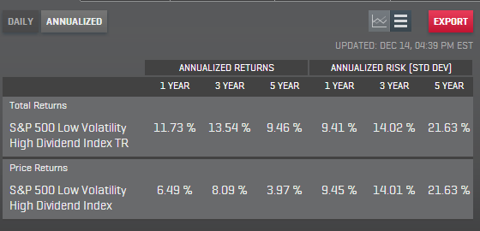 Click to enlarge
(Click to enlarge)
There are a number of ways to benchmark one's portfolio using the indices that are available on this site. One can benchmark by sector, by the S&P 100, by region such as Latin America or BRIC countries, by strategy such as high beta or oil or gold to equity spread, by property and REIT, by style such as high growth or value investing, and several others. Each index also provides a fact sheet and other data that describes how each one is measured and calculated along with the sector breakdown of the constituents making up the index. S&P also recently released a Minimum Volatility Index designed to reflect a managed-volatility equity strategy that seeks to achieve lower total risk as measured by standard deviation.
One can even separate the 404 dividend payers from the 96 non-dividend payers if so desired by going to this website. Using the Excel downloads available there one can find that this year through the end of November the S&P dividend payers have averaged a total return of 13.78% vs. 15.23% for the non-dividend payers. Over the past 12 months the dividend payers have averaged a total return of 14.40% vs. 12.57 for the non-dividend payers. It actually doesn't take but just a few moments to benchmark to any of these various indices if one so chooses. And one can choose to benchmark against their peers or against an opposite style of investing. But even with this myriad of ways, they may still not be the preferred method for benchmarking a dividend growth investor's specific portfolio.
Benchmarking to Inflation Rates
I stated earlier that it's not necessarily the case that dividend growth investors' goals are such that they can be measured by comparing to an index. For example, if the market returned 12% and a DGI returned 9% does that mean the DGI was not successful? Not necessarily. If the DGI's goal was income and their income actually increased by 5% because of dividend increases and they didn't have to sell any shares to provide that income, then the comparison may not be valid.
Suppose a dividend growth investor is retired and their primary focus is on income for their required living needs. They may have their investments in the more common dividend growth companies like McDonalds (NYSE:MCD) or Kimberly-Clark (NYSE:KMB), along with having REIT's like Omega Healthcare (NYSE:OHI), BDC's like Main Street Capital (NYSE:MAIN), MLP's like Enterprise Products (NYSE:EPD), closed end funds for high yield income such as Tortoise Power and Energy (NYSE:TPZ) or Aberdeen Asia-Pacific (NYSEMKT:FAX), and fixed income instruments such as bonds or TIPS. That investor may be more concerned with protecting their investments than with outperforming the market, and with ensuring they are exceeding the cost of living since they may be using most or all of the dividend income from those investments for daily living expenses. Their primary concern then is to grow the income annually without having to sell the assets that provide that income.
That investor may be more interested in benchmarking against the rate of inflation rather than a market index. The inflation rate is "officially" maintained by the Bureau of Labor Statistics and is calculated based on a representative basket of goods and services. It is actually the difference between the current Consumer Price Index, or CPI, for a current period and a prior period, whether monthly or annually. The BLS provides this data on their website but I prefer to go to this site and use the data there which gives an easy to read table that breaks down monthly inflation rates.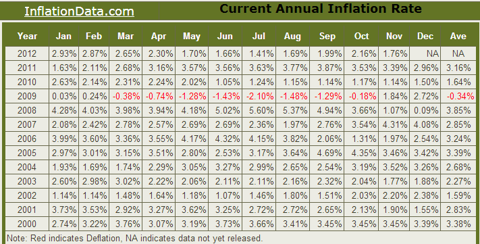 Click to enlarge
(Click to enlarge)
The site also provides different calculators that allow one to project how different inflation or cost of living scenarios may impact one's income or lifestyle. For example, using their tools I calculated what moving from New York City to Nashville, TN would do to one's cost of living and it would cut it by more than half.
The problem with using published inflation rates is that they do not take into consideration things that have significant impacts to different individuals. Official rates may include big ticket items rarely purchased by individuals and not account for smaller items frequently purchased because of one's personal circumstances. As this article describes we all have a personal inflation rate that may differ significantly from the published rates. Our personal rate may be the difference between living in New York or Tennessee, or food, fuel, or medical care cost differences depending on our individual situation. Personally, my medical insurance premiums have more than doubled since the passage of Obamacare, which is a significant personal inflation rate increase not reflected in the inflation rate data shown in the table above.
Summary
My point in describing the various methodologies to benchmark the success, or lack thereof, of one's investment choices is that benchmarking is not a one size fits all proposition. Just as each self-directed investor has different needs and desires and methods, benchmarking must take into consideration what the specific individual investor is attempting to accomplish. The 28 year old dividend growth investor will probably have different investment criteria and goals than the 60 year old investor and will therefore need to use different benchmarking criteria. It could even be argued that the less experienced self-directed dividend growth investor may be tempted to "compete" against an external index leading to emotional speculative investment choices rather than making unemotional rational choices.
It is important to know how well one is doing with their investments because it can pinpoint areas for improvement or study, but I believe it must also be in comparison to relevant criteria. The S&P may be appropriate for some and inflation data may be more appropriate for others. For myself, since my primary focus is income I simply keep a spreadsheet in which I record each month's income and it calculates the growth against the previous month, quarter, and year for me. I stay aware of what the S&P indices show, and monitor inflation, but my primary focus is on the income generated and so I benchmark the income.
The decision to manage one's own investments is a tremendous undertaking with potential life changing consequences. Accordingly, it should be treated with utmost seriousness and the requisite due diligence. I try to perform my investments in accordance with certain principles and in cognizance of certain pre-established goals. With those principles and goals in mind, I think I need to measure the performance of my investments in accordance to what I have determined my goals to be. Should I as an individual investor care whether I kept up with or beat an external index if I met or exceeded the goals that I had set for my portfolio? Only to the extent those external indices align with and provide a valid comparison to my goals is my answer. The real need for me then is to set appropriate and achievable goals and then to measure my performance against those goals.
Disclosure: I am long MCD, KMB, OHI, TPZ, FAX. I wrote this article myself, and it expresses my own opinions. I am not receiving compensation for it (other than from Seeking Alpha). I have no business relationship with any company whose stock is mentioned in this article. I am not a professional investment advisor, just an individual handling his own account with his own money. You should do your own due diligence before investing your own funds.