In this article we present what happened last week in the macro picture for Europe, U.S., Australia and Japan, followed in the second part by what events are to come and what are the technical levels that can affect EURUSD, USDJPY and GBPUSD in the next week. In the end we are focusing on our own view (without indicating any trading directions) calling for fundamental facts that weights on both pair sides (EUR/USD and USD/JPY).
What happened last week (10.12-14.12):
EUR$: We described what happened mainly until Thursday on our Daily Update, with EUR starting its week in 1.2891 after a gap of 33 points from 1.2924, last Friday close. From that moment EUR didn't looked back and made every day of the week new weekly highs. Friday we had mixed data, with China Manufacturing PMI coming slightly improved, the EZ Flash PMI`s coming mixed with German Flash Manufacturing PMI 46.3 vs. 47.1 expected, and German Flash Services PMI 52.1 vs. 50.0 expected (see the rest of the results here). Last day EUR saw in the morning (London time) good offers coming above 1.3100, up to 1.3115 and it retrace down to 1.3067 where it seems buyers followed their weekly strategy, buy on dips. After EUR retraced mainly three times from 1.3070 we saw a strong upside move in 1.3160/72 area, threatening the 1.3200 lvl and breaking by 1 pt the last 6 months high.
Fundamentally this week was focused on Greece`s receiving it`s 50bln EUR, new steps in a single Europe Bank regulator, and still no agreement regarding US Fiscal Cliff plus an expected FOMC (dovish and +45bln/month in US Treasuries).
GBP$: Starting the week with rumors of a potential 3xA downgrade by Fitch, but nothing materialized over the week. As USD got under pressure GBP$ saw continuously increase, up to 1.6171 on Wednesday as Claimant Count Change came -3k vs. 5.9k expected (plus Unemp. Rate slightly improved) & FOMC statement was released, and after got into a consolidation before it dropped down to 1.6083 as S&P cuts UK outlook to negative, covering more than 50% of the last weekly gains. In the last day of the week, Cable took out last week's high made on FOMC and got up to 1.6177 before it closed in 1.6168.
AUD$: Rose above its last 2-month highs, up to 1.0585 on FOMC announcement. From the data point of view AUD saw some weak data: China CPI and China Trade Balance in the beginning of the week, followed by AUD NAB Business Confidence for November that took it on a 1.0460 low. The close above 1.0500 (Tuesday) on the hourly chart announced a possible leg higher, with 1.0600 as target, in good correlation with EUR. RBA Gov Stevens seen muted impact over Aussie as the focus was moving into FOMC announcement. On Friday morning we had the China Flash Manufacturing PMI that came slightly improved, taking AUD from 1.0513 up to 1.0530 in the next 30 min. Overall Aussie ended by making a +124 pts range (weekly low/high) from 1.0487 (last Friday close) to 1.0564 (this Friday close).
$JPY: market was focusing on Sundays elections, with LDP expected to win and a "easing measures" package to come. Technically $JPY finally got out the 82.83 resistance (formed a "Flag" pattern), taking up the 83.00 on FOMC release (earlier that day were rumors of a barrier from Japanese exporters. Later in the week the 84.00 options barrier looked like it will work, with $JPY ceiling in 83.95 on Friday at 05:30am Ldn time. $JPY saw this week a good range, with 82.11 the low and 83.95 the high, ending on a 184 pts range.
What is to come:
EUR:
Last week COT report shown EUR short position dropping down to 83.1k, lowest in the last 15 months. The gross longs are approaching the high for this year, 51.5k.
ECB President Draghi speaks: to start on Monday at 14:30 Ldn time. Not expecting too much, maybe just some confirmations as EUR is already in a strong mood.
German IFO Business Survey: to be released Wednesday at 09:00am Ldn time. Looking to affect the Ldn morning session mainly. Analysts expects an improvement from 101.4 to 101.9, looking to make a "bottom" and to retrace from its 100.0 low made on 24 Oct. We speculate a better than forecast result as progress was seen in the last week from Greece debt buyback.
USD:
Fiscal Cliff: with only two weeks left from this year, pressure would start to increase. The market doesn't look like it has priced-in a failure and a surprise would bring a big downside move in $, probably most affected will be $JPY.
Building Permits: to be released Wednesday at 13:30 Ldn time (0.87M expected, 0.87 previous).
Unemployment Claims: to be released Thursday at 13:30 Ldn time (350k expected, 343k previous). Lowest forecast in the last year, matching 1st of March forecast.
Final GDP Q3: to be released Thursday at 13:30 Ldn time (2.8%-3.0% expected, 2.7% previous).
Existing Home Sales: to be released Thursday at 15:00 Ldn time (4.85M expected, 4.79M previous).
Philly Fed Manufacturing Index: to be released Thursday at 15:00 Ldn time (-1.8 expected, -10.7 previous).
Core Durable Goods Order m/m: to be released Friday at 13:30 Ldn time (-0.1% expected, 1.8% previous).
GBP:
CPI y/y: to be released Tuesday at 09:30am Ldn time (2.6% expected, 2.7% previous). The main measure of inflation preferred by BoE. Lower inflation should make the BoE policy makers more comfortable if they need to consider an expansion of the bank`s Asset Purchase Program in 2013 (source).
BOE Inflation Letter: expected on Tuesday around 12:00 Ldn time.
MPC Meeting Minutes: to start Wednesday at 09:30am Ldn time (expected to vote for keeping rates unchanged). December meeting is expected to present its wait-and-see mode, which is mildly GBP positive in the short term (source). Another source specify that despite the fact that BoE did not expand the size of its Asset Purchase Program, a dovish quarterly inflation and economic outlook report disproved expectations that the bank has reached the end of its quantitative easing road. The minutes would probably confirm that policy makers did not think that a change in monetary policy in Dec. was necessary. The GBP could see some pressure especially if the minutes remind the markets that the BoE`s QE door is wide open. (source)
Retail Sales monthly: to be released Thursday at 09:30am Ldn time (0.3% expected, -0.8% previous). The BRC retail sales monitor reported that non-food sales benefited from the favourable timing of the half-term but overall November was characterised by cautiousness, especially in the food sector, ahead of the Christmas period. Wait-and-see consumer attitude ahead of the Chancellor`s Autumn Statement and announced increases in energy prices likely were another factor limiting consumer spending. (source)
Current Account: to be released Friday at 09:30am Ldn time (-13.7B expected, -20.8B previous).
Public Sector Net Borrowing: to be released Friday at 09:30am Ldn time (14.8B expected, 6.5B previous).
Final GDP q/q: to be released Friday at 09:30am Ldn time (1.0% expected, 1.0% previous).
AUD:
Monetary Policy Meeting Minutes: to be released Tuesday at 00:30 Ldn time. As RBA reduced interest rate by 25 bps on 4th of Dec. this meeting is looking forward in bringing more details about how they will act in future, expecting for a dovish tone in the near term.
JPY:
Lower House Elections: this Sunday. As expected, LDP won. Some reports suggest LDP secured a super-majority 2/3. Small reminder about LDP`s announced policy: unlimited monetary easing and massive public spending. The first instinct for many may be to sell the yen on the news and ahead of the BoJ meeting. The BoJ is expected to extend its asset purchase program (QE). However, given the magnitude of the recent move and positioning, we cautious about cashing the market before a correction. (source)
Monetary Policy Statement: to be released Thursday around 04:00am Ldn time. While some believe the BoJ will remain on hold in December, Friday`s Tankan survey highlighted the sharp deterioration of business conditions in the fourth quarter and this has increased the chances of another round of monetary easing this week. While another increase in their Asset Purchase program of 5-10trillion Yen could help to aid financial conditions, we would argue that it`s not the game-changing policies which the LDP`s Abe has market participants enamoured with. (source)
Overnight Call Rate: to be released Thursday around 04:00am Ldn time (expected unchanged at <0.1%).
BOJ Press Conference: to start Thursday around 04:00am Ldn time.
See more here
Technicals:
EUR$: As EUR gapped higher in the opening of this week up to 1.3183 we now see first major resistance coming in 1.3284/7 as the 01.05 high and further we see 27.03 high, coming in 1.3385. Above that we have the 1.3490/86 as the 50% Fibo ret lvl (H 1.4940/ L 1.2041) and 29.02 high.
Downside we have 1.3120 followed by 1.3041, as the 13.12 low.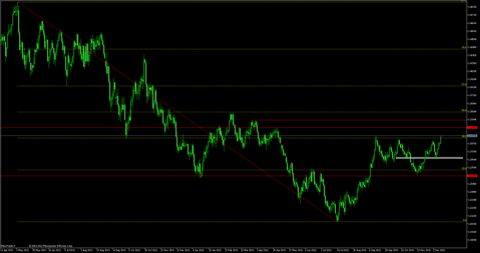 Click to enlarge
(Click to enlarge)
Fig. 1 EUR$ D chart (Meta Trader 5 charting source).
GBP$: Upside we have first major resistance coming in 1.6206 as 78.6% Fibo ret lvl (H 1.6309/L 1.5826), followed by 1.6271 as the high of 28.09 and 19.09.
Downside we see first major support coming in 1.6084 as the 13.12 low, followed 1.6063 as the 30.11 high.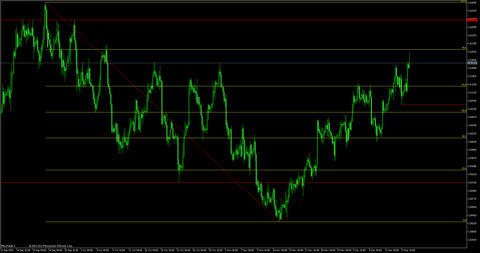 Click to enlarge
(Click to enlarge)
Fig. 2 GBP$ 4h chart (Meta Trader 5 charting source).
$JPY: We have a major resistance area seen on the weekly chart with 84.80 as the high (22.11 weekly low) and 84.18 as the low (11.03 weekly low). A close above 84.18 on the weekly chart would confirm the "double bottom" pattern seen in Fig. 4.
Downside we have first support coming in 82.82 as the previous resistance for the "flag" pattern mentioned last week, followed lower by 81.68.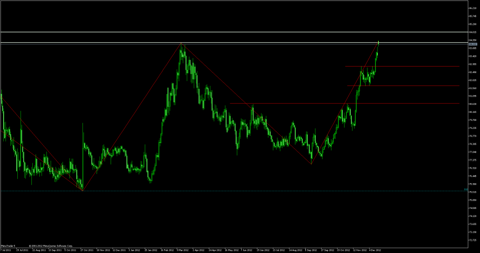 Click to enlarge
(Click to enlarge)
Fig. 3 $JPY D chart (Meta Trader 5 charting source).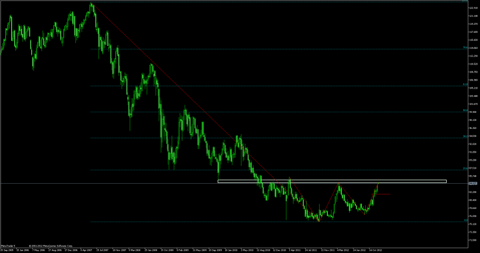 Click to enlarge
(Click to enlarge)
Fig. 4 $JPY W chart (Meta Trader 5 charting source).
Our view:
EUR$: going long here could catch us in a big retracement and we prefer waiting for the retracement before we could do anything. On a 1 h chart we can search for small selling set-ups with tight stops and first TP target coming in 1.3070, followed by 1.3032.
$JPY: looking to stay short in order to cover the gap, with first target in 83.50. Probably the retracement in $JPY could continue until Thursday when BoJ comes in.
Disclosure: I have no positions in any stocks mentioned, and no plans to initiate any positions within the next 72 hours. I wrote this article myself, and it expresses my own opinions. I am not receiving compensation for it. I have no business relationship with any company whose stock is mentioned in this article.