Stock screens help investors narrow down the universe of thousands of stocks into a manageable short list of potential candidates for more in-depth investigation. I recently ran a screen (using data from Finviz) to do some bottom-fishing in the universe of large-cap dividend-paying stocks.
Remember, when bottom-fishing you frequently reel in a lot of junk. So I would be ultra-cautious about any of the names discussed below. Consult a financial advisor before making any investing decisions.
Specifically, I screened for the following attributes:
Market Capitalization over $2b
Within 3% of 52-week low
Dividend yield over 4%
The rationale for conducting this screen is to search for companies that are potentially overlooked (or hated) by the market (hence the 52-week low) and will pay investors (hence the dividend yield) to wait out a change in sentiment.
This is not necessarily a low-risk strategy despite the availability of a dividend that potentially acts as a buffer. Specifically, stocks that are getting beaten up by the markets may be experiencing financial troubles. So the dividend - which is hoped to soften the downside and provide a cashflow through good and bad times - in some instances may be at risk. Regardless, below I will review the findings of the screen to see if there are any candidates worthy of deeper research.
Here's what the screen revealed:
| | |
| --- | --- |
| Ticker | Company |
| (NYSE:PBI) | Pitney Bowes Inc. |
| (NYSE:AT) | Atlantic Power Corporation |
| (NYSE:PGH) | Pengrowth Energy Corporation |
| (NYSE:EEP) | Enbridge Energy Partners LP |
| (NYSE:WPZ) | Williams Partners L.P. |
| (NYSE:TE) | TECO Energy, Inc. |
| (NYSE:SO) | Southern Company |
| (NYSE:SE) | Spectra Energy Corp. |
1-Year Performance
As you can see in the two charts below, these stocks have all done quite poorly over the past year. In fact, it wouldn't be unreasonable to call many of these stocks "dogs."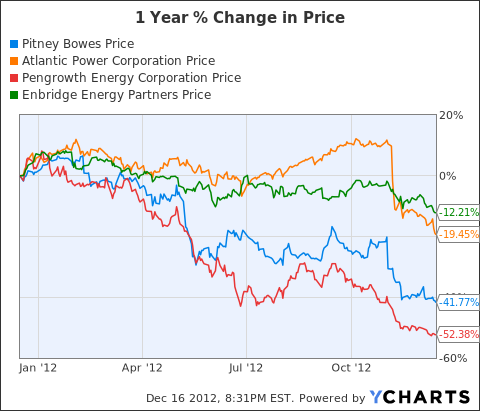 PBI data by YCharts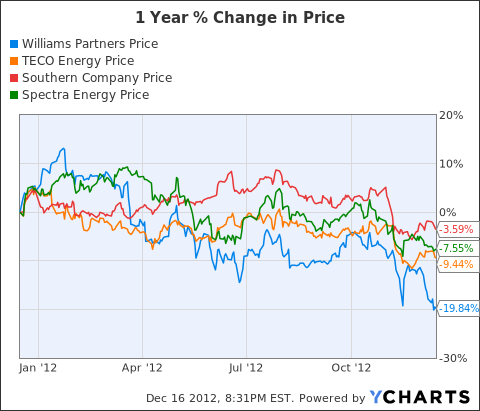 WPZ data by YCharts
Dividend Yields
As screened, these stocks all have yields above 4%. As you can see in the table below, the dividend yield for these stocks ranged up to a suspiciously high 14%.
In my opinion, if a dividend yield seems too good to be true it probably is. These stocks may be tanking because the market is pricing in a dividend cut. So in any deeper consideration done before making an investment decision, it is critical that the viability of the dividend be assessed.
| | |
| --- | --- |
| Ticker | Dividend Yield |
| PBI | 14.04% |
| AT | 10.62% |
| PGH | 9.77% |
| EEP | 8.00% |
| WPZ | 7.01% |
| TE | 5.30% |
| SO | 4.56% |
| SE | 4.49% |
Dividend History
Atlantic Power has paid steady distributions since it started paying dividends in 2010. (Historical dividends data sourced to Google Finance.)
Except for PGH, the rest of these stocks have grown their dividends over the past five years. PGH paid a steady distribution until July 2012, at which point the distribution was cut by over 40%. This is a prime example of what could happen when seeking out high-yielding, poor performing stocks.
Conclusion
It seems as if the best one could hope for with these stocks is the maintenance of the current dividend. But as PGH demonstrates, even a decent track record doesn't preclude a company from cutting its distributions.
These are problem stocks but that doesn't necessarily mean they will all be bad investments. A savvy investor might consider additional in-depth research to uncover if the current state already prices in 1) future earnings declines, and 2) future dividend cuts. A lazy investor would just make a small allocation to each and hope for the best.
Disclosure: I have no positions in any stocks mentioned, and no plans to initiate any positions within the next 72 hours. I wrote this article myself, and it expresses my own opinions. I am not receiving compensation for it (other than from Seeking Alpha). I have no business relationship with any company whose stock is mentioned in this article.
Additional disclosure: Data Source: Finviz, Google Finance. This is not advice. While the author makes every effort to provide high quality information, the information is not guaranteed to be accurate and should not be relied on. Investing involves risk and you could lose all your money. Consult a professional advisor before making any investing decisions.