Shares of Vivus (NASDAQ:VVUS) have seen a 10% spike on news that scripts of the anti-obesity drug Qsymia has seen a sharp rise in prescription levels. Interestingly, there is also data that points to a more modest rise. In fact, the company saw a $1 gap between the close on Friday and the open on Monday. While that may seem odd, there are many factors at play here.
From a pure technical standpoint Vivus was near a bottom anyway, so seeing some price appreciation in the equity was likely due. However, rarely does an equity pop this much this quickly conflicting news, but then again this is the one of the drugs that many were hoping to see garner blockbuster status. Something may be waiting in the wings, but it will take time to play out.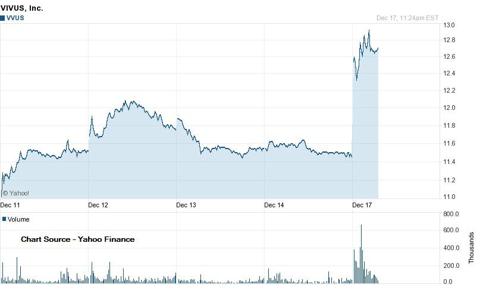 Click to enlarge
What investors need to watch for here is the news wire, the company website, and the volume. Currently the equity is seeing much heavier than normal volume and it is still early in the day. The trick here for active traders is to assess the news when it happens and see if should equate to a 10% rise. One interesting component of this move is that it is not coupled by a similar move in Vivus competitor Arena Pharmaceuticals (NASDAQ:ARNA).
This is interesting in that if Vivus sales are indeed gaining impressive strength it should in theory boost Arena as well given the fact that both equities took a hit on the early results of Qsymia.
As is often the case, sometimes retail investors are the last to know when something compelling is about to happen. Certainly, everyone is watching the wires to try to gain insight, but as yet the news feed is bearing no fruit other than a report that sales are great and a report that they are seeing a slow but steady improvement. When this happens the best strategy is to consider the known elements of the company, the possible news items that may impact it, and simply develop a reaction plan.
If I were an active trader in Vivus I would consider that the company has initiated a free trial marketing concept and that after three weeks we could be seeing that strategy pay off. Thus, I would say that the prescription results are likely in the middle of the 15% increase claimed by one analyst and the 44% claimed by another. While both are positives, I do not see the news being worth 10% in one swoop. I actually see the equity settling down from this pop and landing near $12.
Vivus typically trades about 4.3 million shares a day. With just a couple of hours past today the equity is already at 5 million in volume. Pay close attention and develop a strategy now. If volume dries up I would be a seller on this news.
Disclosure: I am long ARNA. I wrote this article myself, and it expresses my own opinions. I am not receiving compensation for it (other than from Seeking Alpha). I have no business relationship with any company whose stock is mentioned in this article.
Additional disclosure: I have no position in Vivus.