By definition, a short-squeeze is most common with companies that have a small float and a large percentage of the float held short. This is when the price increases and those who are short will seek to cover their position to lock in profit or protect their capital. These investors will be buying back the shares they lent out originally and increasing the demand, thus increasing the price again in a cyclical manner. If timed properly, it is possible for a savvy trader to attain a yield as high as 50% in a few short weeks. NII Holdings has my attention as a short squeeze candidate. This is because it has recently plateaued near its 2-year low, has an amazingly high short percentage, and is fundamentally undervalued.
What is going on with NII Holdings?
NII Holdings (NASDAQ:NIHD) is the company behind the brand Nextel, which is the company behind the brand name Nextel that provides wireless communication services to both businesses and consumers in South America - principally Mexico, Brazil, Argentina, Peru, and Chile. Sprint Nextel (NYSE:S) licenses the Nextel brand to NII Holdings in many Latin American countries. Originally, NII Holdings was an international business extension of Nextel spun off into a separate business identity in the mid 90s. Since then, there was the ill-advised Sprint Nextel 'merger' in 2005 with NII Holdings still operating as a separate business entity.
Let's state the obvious: anyone long on NII Holdings over the past 2 years has not had a fun ride. A quick look will show a downhill ride from a peak of the mid-$40s to its current value of around $6 as of the time of this writing. So far the company has been clobbered by its well-financed competitors in the Brazilian markets which justifies most of the general downward trajectory over the past couple years, but this article takes a different perspective. We're looking to initiate a long position in NIHD on a short squeeze play.
The Squeeze
While looking for short-squeezes, there are many things to take into consideration and NII Holdings has many points to consider that could make this stock a coiled spring. The main three points I'm going make concern the following:
-What is the size of the float and what percent is held short?
-How has the market viewed this stock? (Price, earnings reactions, etc.)
-What is the fundamental value of the company? Is it sound?
The Float and Short Percentage
In this situation, NII is a market leader with an impressively large 43.10% of its float held short as of November 15th, 2012. Its market cap of $158.8M isn't an astoundingly small sum in comparison to other public companies, but it isn't large enough of a sum that a short squeeze isn't possible. It is important to remember that, while not as common, sometimes a short squeeze can occur with large companies too. VW was temporarily one of the largest companies in the world back in 2008 because of a monumental short squeeze.
How has the market viewed this stock?
Again, NII Holdings has my attention because it has plateaued near its two-year low. This stock has been on a consistent and steady decline since mid-2011. It briefly hit as low as $4.75 and had been trading in a nearly flat range between $5.00 and $5.20 until recently, breaking the $5.20 barrier and rising to $5.40. As of Friday's close, it is valued at $6.32, most likely because of the recent disposal of CEO Steven Dussek who had headed the company through the recent 70% loss in value over the past year. There has also been chatter of possible acquisitions expanding NII Holdings' market share that is difficult to confirm. The market recently viewed changing the CEO as a positive catalyst and could be a sign that there is buying support out there.
My favorite way of viewing how a stock has been reacted to is not to simply dive into the financials but to read into the conference calls. Conference calls can be a very plentiful source of information. Not only does the tone of management give some key indicators as to what the story is behind the results being discussed, but the analysts' Q&A can give some key indicators as to what the stock has reacted to in the past and what Wall Street is focused on. It's actually my favorite part of the call.
NIHD had its most recent conference call on November 7th and it wasn't pretty. Not only did the company cut forecasts, it also hinted that its current business model isn't working. While there are expansion efforts underfoot in Mexico, Peru, and other Latin American countries, Brazil was the main focus of the call. This tells me it is where a majority of NII's efforts are. It is also where most of the analysts' questions focused during the Q&A. Evidently, NII's ARPU in Brazil had been hurt because it overextended credit in the emerging Brazilian market. Now NII is in the midst of cutting these customers off from the business and cutting costs while working positively with the developing Brazilian environment. Management cited these developments will result in a smaller growth rate and higher churn as the customer base is cleansed. Overall it appears that NII will be adjusting its entire approach to the Brazilian market, even pushing back the 3G launch dates in some parts of the country. This can easily be seen as a perfect storm for the nasty 28% drop in price from November 5th to 8th and seems to have completely neglected the fact that there are profitable segments of this business in Peru and Chile.
Management did not go to any extent to justify the faults with Brazil. I was surprised when I read that the bottom line is that NII messed up and that you shouldn't expect any positive growth in the business for the next 3 months. The lack of optimism for next quarter reminds me of what one of my favorite authors on this site refers to as a kitchen sink quarter. This is when management's guidance is so low that there is almost no way to disappoint the market with next quarter's earnings. While NII is excited for the prospects of 2013 (see conference call), it is clear from reading this transcript that there is little to expect in terms of revenue growth and profitability over the next quarter. With this out in the open, it could be more difficult to justify a dramatic fall in value. That could lead to possible short covering and subsequent buying pressure.
Finally, the Fundamentals
While a short squeeze isn't as much a 'value' play as a technical one I feel obligated to include some fundamental research here. I feel that no matter what the trade is, you should at least pop the hood open and see what you're working with, and after-all I'm sure there is a reader or two here looking for someone to at least start their leg-work off for them.
In my interpretation, this company is fundamentally undervalued. According to the recent 10-Q, the cash and equivalents balance as of last quarter is $1.7B, held primarily in USD, and is above the current market cap of $1.08B. (Cash per share is $9.82!) The debt-to-equity ratio of 2.18 as of last quarter isn't astronomically high (Competitor Telefonica's (NYSE:TEF) was 4.7 as of last December, more than double). The interest coverage ratio of about .475 isn't pretty but it has the large cash base previously mentioned; there are segments of this business that are growing profitably* and they have substantial tangible assets that can be leased or sold to cover future payments (i.e., cell towers). The conference call also mentions that no substantial debt obligations are due until early 2016 - 3 years away. As you can see from the chart here, Price-to-Book and Price-to-Sales are at all-time lows.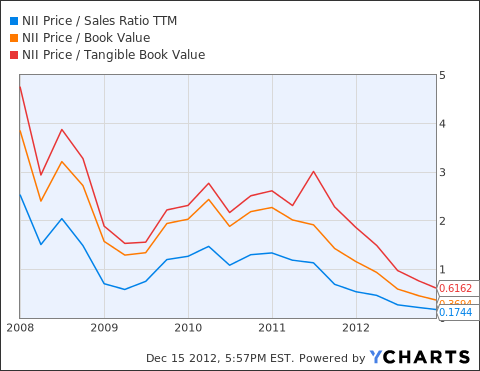 NIHD Price / Sales Ratio TTM data by YCharts
Comparing NIHD to similar companies such as Telefonica and America Movil (NYSE:AMX) (who report annually, so take with a grain of salt) also offers further evidence supporting the thesis that the company is fundamentally undervalued.
NIHD Price / Sales Ratio TTM data by YCharts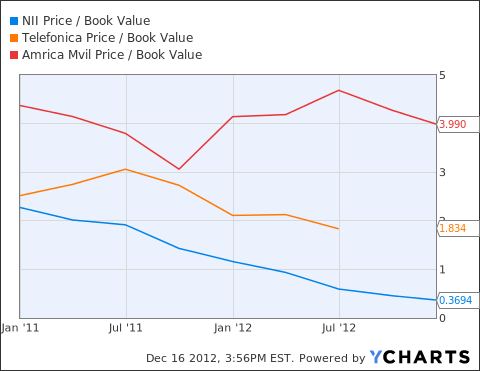 NIHD Price / Book Value data by YCharts
I did these by price-to-sales and price-to-book rather than price-to-earnings since NIHD is currently operating in the red.
It seems that some short reasons such as a deteriorating ARPU and decreasing customer growth rates have been very well played out and openly acknowledged in both the 10-Q and conference call, especially when you take the huge market discount of the fundamental value of NII's tangible assets into account. Other short justifications include the possibility that management is inept, but if you cite the proven success of Peru and Chile* and the recent managerial changes, it is difficult to support this justification. Other bullish data such as the recent decline in carrier fees in Brazil are expected to help smaller wireless companies like NII more so than companies such as Telefonica should exert buying pressure too. It's difficult to argue that NII Holdings is ahead of the competition so far in Brazil's wireless marketplace but how far down can the stock go?
Let me clarify that as a long-term play, NII Holdings is not in the best position. It has lost the first round while its competitors will continue to expand and dominate the sector. A couple things to note from a bearish fundamental perspective that is easy to support is that competition in Brazil is very fierce right now, and with NIHD already in considerable debt, it's proving difficult to compete against its larger competitors. While I am still researching the impacts of broadband ownership in the country, some claim that accessing a cell phone signal outside of the major cities is a big problem and NII is planning on addressing data exclusively. One analyst on the conference call questioned the company's data focused expansion plan which may be a sign that the strategy is poorly thought out and incomplete. This strategy would not be focusing on the real problems Brazil's wireless marketplace faces. While the new CEO and management could certainly alter the course of action, time is of the essence in this battle for Brazil's intensely competitive wireless market.
Conclusion
This article supports the thesis that NIHD will experience a short squeeze in the near future. NII Holdings, Inc. has a somewhat small float, a high percentage of short holders, has recently plateaued near its 2 year low, had a poor earnings call with very low guidance and a possible kitchen sink quarter to come, and is fundamentally undervalued. All of these reasons support the idea that NII Holdings, Inc. could experience a short squeeze in the near future. As a long-term investment, NII Holdings is very difficult to justify considering its current positioning in the Brazilian market and large difficulties to overcome, but the company does have almost double the cash per share in comparison to stock price. Aggressive investors should watch to see if the $5.40 resistance level can be held and if so should consider initiating a short-term long position in the stock.
Notes:
*see their most recent 10-Q filing for a more in-depth financial presentation by geographic location. This article is getting quite lengthy
1. Data is from their Nov. 7 conference call, yahoo finance, NII's recent 10-Q via businessweek.com, and highshortinterest.com. All charts utilize yCharts data
Disclosure: I have no positions in any stocks mentioned, but may initiate a long position in NIHD over the next 72 hours. I wrote this article myself, and it expresses my own opinions. I am not receiving compensation for it (other than from Seeking Alpha). I have no business relationship with any company whose stock is mentioned in this article.