The current console generation has been the longest in the relatively short history of video games. The most popular console of this generation, Microsoft Corporation's (NASDAQ:MSFT) Xbox 360 was first released in late 2005, over seven years ago. Sony Corporation's (NYSE:SNE) Playstation 3 and Nintendo Co's (OTCPK:NTDOY) Wii systems were not too far behind, both launching almost exactly a year later in 2006. While the Wii's successor, the Wii U was recently launched this year, there still has been no official timetable from Microsoft and Sony on when to expect their future consoles and it is a very real possibility that both systems could add on another solid year or two of shelf life before they are retired. Both current systems could manage to last well over eight years.
While eight years may not seem like a long life cycle, when you compare it to all other console generations that came before, this one is growing extremely long in the tooth. The original Xbox lasted only five years while the Playstation 2 managed to go for six years.
When you consider how fast technology changes and how insatiable many consumers' appetites are for bigger and better games, the never-changing console boxes are becoming increasingly outdated. The fact that the PC has been running circles around Microsoft and Sony's gaming systems for years now only emphasizes the point. The various effects are beginning to be felt by both consumers and publishers.
Video game sales have been on a steady decline for over a year now. Despite record-breaking sales from heavy hitters like Activision Blizzard's (NASDAQ:ATVI) multi-platform hit Call of Duty: Black Ops 2, which managed over $1 billion in sales in just 15 days, and Microsoft's Xbox 360 exclusive title Halo 4, which did over $220 million in sales on its first day, overall game sales for 2012 are well below what they were for 2011. Sales of video game software in November 2012 fell 11% from the same period last year, Bloomberg reported.
This decline in sales directly impacts the video game publishers like Electronic Arts Inc (NASDAQ:EA), Activison and Take-Two Interactive Software Inc (NASDAQ:TTWO). Even with massive releases like Activision's yearly Call of Duty updates and Take-Two's upcoming Grand Theft Auto 5, the publishers are having trouble fighting the slowing sales trend. The following is a Yahoo! Finance chart of all three game publishers' stock prices over the last year: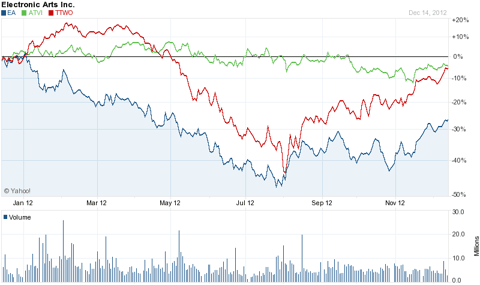 Although all three publishers are well off their yearly lows, the results are still very unimpressive. EA is currently down about 26% year-to-date, Activision is down about 7% and Take-Two is down about 3%. A quick glance at each company's revenue stream reveals similar results; Electronic Art's revenue is projected to be $4.1 billion for the year ending March 2013, which is stagnant compared to the $4.14 billion EA generated the last year ending March 2012. Activision's projected revenue of $4.82 billion for the year ending December 2012 is only a slight increase above its prior 2011-year revenue of $4.76 billion. Take-Two's revenue for the year ending March 2013 is projected to increase to about $1.1 billion from the prior year's revenue of $825 million (upcoming mega release Grand Theft Auto 5 can greatly distort these numbers). For the most part, sales growth among the major developer's has been stymied by the video game sector's overall lethargic funk.
The slowing trend is not due to a lack of quality games on the part of publishers or developers. Most video game enthusiasts know that at the end of a console life cycle the quality of content usually increases due to developer's high comfort level with existing hardware. 2012 has seen no shortage of AAA titles including the aforementioned Call of Duty: Black Ops 2 and Halo 4 as well as other critically acclaimed titles like Far Cry 3, Assassin's Creed 3 and Mass Effect 3. And what's more is that 2013 promises to be even bigger with releases like Grand Theft Auto 5, Crysis 3, The Last of Us and God of War: Ascension among others.
So, why are overall game sales still declining with such great new releases hitting store shelves? The answer is two-fold; first, look at the hardware. Hardware sales are slowing dramatically. If you take a look at the sales figures for each major console in 2012 compared to the same time period for 2011, the results are worrying: the Xbox 360 sold about 2.6 million fewer consoles, the Playstation 3 sold about 2 million fewer consoles and the Wii sold about 4 million fewer. The Wii system's dramatic drop in sales, over 50% less from the year prior, can be partly attributed to the release of the new Nintendo WiiU, but that console still sold only about 800,000 units. Check out these latest results and more at VGChartz.com.
With most industry analysts suggesting a 2013 release, at the earliest, for at least one of the next big generation systems, Microsoft's next Xbox or Sony's next Playstation, gamers simply have not been buying new consoles like they used to. As a consumer I sympathize with the majority of gamers; why buy a console now, even at reduced prices, when it will be outdated in a year or two? The rumor of an impending console update is probably also dissuading new gamers, those who don't already own a gaming system, from buying one as well. Fewer consoles equal fewer video game sales, which is an easy correlation to make. This slowdown in big hardware has no doubt affected game sales negatively over the last year.
Secondly, this abnormally long console generation has created an unhealthy reliance on existing franchises for publishers (think Call of Duty 1,2,3,4,5 and Madden 2010,'11,'12,'13). New intellectual properties, which are what gamers most want to play, don't sell well late in a console generation and as a result most publishers simply will not invest money in them. Take Bethesda Softworks' new IP Dishonored for instance; it was released in October and was met with great reviews from critics and gamers alike (currently at a user score rating of 7.6 out of 10 at Metacritic compared to Call of Duty: Black Ops 2's meager user rating of 4.6). However, the game sold nowhere near the amount of units that Black Ops 2 did. According to VGChartz, current global sales for Dishonored on Xbox 360 are 954,068 units compared to the whopping 9,120,071 for Black Ops 2! Keep in mind, Dishonored has been out a full month longer and has still done only about 10% of the volume that Black Ops 2 has.
Why would Electronic Arts or Activision take a long shot in establishing new IP when they can minimize their risk and constantly update existing franchises with built-in brand name recognition? The answer is they won't. Representatives from many leading game publishers have said as much. This is a dangerous habit the industry has created because all major game series that we have today, including Call of Duty, Assassin's Creed and Gears of War, started out as new international properties. If publishers had not allowed developers the freedom to create those titles years ago where would the video game industry be today? The fact that publishers are not actively creating more of them is bad for the industry as a whole, particularly down the road. A market that consistently relies only on updating old ideas can only be sustained for so long. EA Labels president Frank Gibeau's explained the idea to Games Industry:
"As much as there's a desire for new IP, the market doesn't reward new IP this late in the cycle; they end up doing okay, but not really breaking through. We have to shepherd the time that our developers spend, as well as the money that we spend on development in a positive way, so we're focused on bringing out a bunch of new IPs around the next generation of hardware."
Gibeau is not the only gaming bigwig to openly declare frustration with Microsoft and Sony's slow console update process. Yves Guillemot, CEO and co-founder of French video game giant Ubisoft, shared some very similar ideas with Polygon magazine a few weeks ago.
The result is that gamers see basically the same game with new 'updates' released every year. As a gamer that was once fond of such titles in their original form, I have largely stopped buying them because there is no more innovation. Lack of innovation is another factor contributing to weaker sales. You can only see or play the same game format so many times before you eventually tire of it. This frustration among gamers is stifling demand for many of the new releases.
This brings us to the most obvious question; why are Microsoft and Sony taking so long to release their new gaming systems?
The answer is again two-fold. First, there is the idea that both companies are milking as much money from these current consoles as they can. And who can blame them? Both Microsoft and Sony have other problems outside of their video game departments and so making as much money as possible in their gaming departments is paramount. The Xbox Marketplace and the Playstation Store have seen a massive increase in downloadable digital content lately, in the form of both game add-ons as well classic games being updated via high-definition transfers and resold in digital form. This is an easy revenue stream for both companies so why rush to upset it? Also, if you look at a lot of the major new releases for 2012 and 2013, an awful lot of them are coming from Microsoft and Sony themselves and announcing new consoles prematurely would disrupt the marketing of those new or yet-to-be-released first-party games. The Xbox 360 and Playstation 3 seem to be in a sweet spot right now and change might not be first on either companies list.
And second is the idea that both Microsoft and Sony are approaching the next generation with trepidation. It is not uncommon for hardware makers to initially lose money on gaming consoles but perhaps more important is the question of, who will move first into the next-gen arena? Microsoft was a year ahead of Sony last time and it proved to make a big difference in customer adoption rate. Will Sony want to release a console first this time or will it wait again in hopes of upstaging Microsoft? Only time will tell.
What is clear is that this long gestation period for the much-anticipated next generation consoles is taking a toll on the third-party developers. It has resulted in a massive slowdown of hardware sales as well as an increasingly heavy reliance on franchised releases with little to no innovation; something most gamers don't want to see. With the next-gen slowly but surely approaching, third-party developers could be getting ready to start making bold moves again in terms of new content. I expect the next two/three years could be very bullish for most third-party video game publishers.
Disclosure: I have no positions in any stocks mentioned, and no plans to initiate any positions within the next 72 hours. I wrote this article myself, and it expresses my own opinions. I am not receiving compensation for it (other than from Seeking Alpha). I have no business relationship with any company whose stock is mentioned in this article.