Walker & Dunlop (NYSE:WD) recently closed a $234 million acquisition of CW Capital LLC, which gave the company a substantial rise in loan originations. And before the acquisition, the company had significant growth in past years, weathering the financial crisis very well and taking share of the market. They moved from the number 45 to number 8 over the past five years in the commercial real estate lender lead tables, and they look to gain more market share and expand lending beyond multifamily, as it was said in the latest conference call.
Loan origination volume in Q3 was $2.2 billion, up 141% compared with a year ago quarter, however $1 billion was from acquisition of CW Capital, so standalone origination was $1.2 billion, up 27% over Q3 '11. Origination related fees were $27.7 million, up 187% from Q3 '11. Servicing portfolio grew to $33.9 billion, up 113% over Q3 '11, and that sum includes $14.5 billion from CW Capital acquisition.
The most important things I look at are revenue and EPS growth. The most recent quarter showed a 110% increase in revenue to $70.1 million, and increase in adjusted income of 135% to $0.56 per share. And with this compelling growth, the key valuation metrics are quite low, with the trailing PE of 11.28, forward PE of 7.5, and a PEG ratio of 0.75 (according to information from finviz.com).
The company provided origination guidance for 2013 of $8 to $10 billion, which would be a 13% to 42% year-over-year growth based on the midpoint of the updated 2012 guidance ($6.7-$7.4 billion). EPS is slated to grow 24% in 2013. So, we have a value and growth metrics that are quite good.
Management team remains confident of future prospects, and said they executed their 5 year strategy very well, as they celebrated the company's 75th anniversary on the November conference call. In their "Drive to 75", which was a five year plan in 2007, the company planned 5x rise in revenue, operating income and net income. In the next quarter it will be five years since the plan has been initiated, and it will be a success as Chairman, President and CEO Willy Walker said in the conference call. He also said that $1 billion revenue five years from now is not at all unrealistic: "If we continue to scale our multifamily business and expand our lending operations to broader commercial real estate market".
Now, let us take a look at the price action. The company came public in mid December 2010 at $10. Current price is $16.35 (close price on 13th December, time of writing), so it has grown about 65% since it debuted on the open market. After an initial rise, the stock traded sideways for about 21 months. Finally, it broke out of the consolidation in September, and produced a nice gain. As the market turned for the worse in October, the stock went into a new consolidation, a flat base since the corrective move is just about 13% deep, and it is recently getting support from the 50 day moving average line. You can see this on a annotated weekly and daily chart.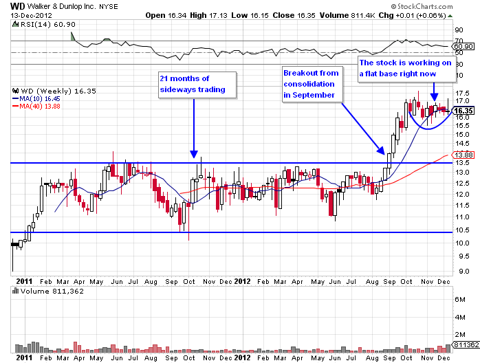 Click to enlarge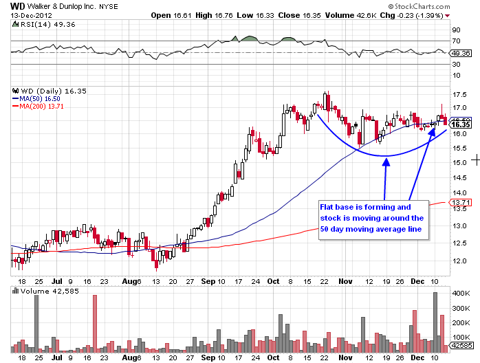 Click to enlarge
Summary
Walker & Dunlop is still at an early stage of growth. The company had an IPO two years ago, and used the proceeds to grow organically and expand via acquisitions. Future gain in market share and expanding the business beyond multifamily lending should provide new catalysts for the key company metrics to expand significantly. Price action was very constructive recently, and the stock could continue to build on mentioned fundamental and technical momentum.
Disclosure: I have no positions in any stocks mentioned, but may initiate a long position in WD over the next 72 hours. I wrote this article myself, and it expresses my own opinions. I am not receiving compensation for it (other than from Seeking Alpha). I have no business relationship with any company whose stock is mentioned in this article.