Commodity Chart Of The Day
Daily Natural Gas
(click image to enlarge)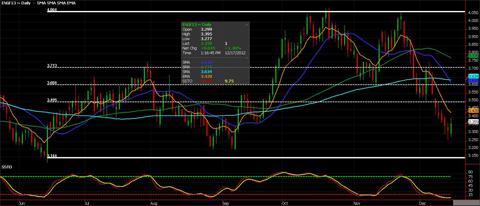 In just over three weeks, prices of natural gas futures have lost 20%, dragging prices to three month lows. With prices at oversold levels and relatively close to what I view as support -- the lows from June and then again in September -- I have bullish trades on my radar.
Since I want to allow my clients enough time to potentially benefit from colder weather in the coming months and increased demand, I've opted to go out to the April contracts. Aggressive traders could start scaling into long futures, but my recommended play is to get creative with options. My two suggested trades for clients today were bull call spreads, and also back ratio spreads. Assuming we are close to a turning point, use the Fibonacci levels on the chart above as your upside targets. As one can see, a 50% retracement puts this contract back near $3.60, which would likely mean April futures are near $3.70. That move should be enough to provide a window for long option traders to be in and out with a profit. When purchasing an option, the risk is limited to the premium paid. As for the back ratio spread in April, I am looking for a move in the coming weeks and would caution overstaying your welcome, as held until expiration, that trade could get ugly. In other words, the lower strike sold to finance the multiple upside calls could be intrinsic and would turn into a short futures position, which would not be good.
When implementing complex option strategies, unless well-informed on the approach, my advice would be to use a professional.
Risk Disclaimer: The opinions contained herein are for general information only and not tailored to any specific investor's needs or investment goals. Any opinions expressed in this article are as of the date indicated. Trading futures, options, and Forex involves substantial risk of loss and is not suitable for all investors. Past performance is not necessarily indicative of future results.
Disclosure: I have no positions in any stocks mentioned, and no plans to initiate any positions within the next 72 hours. I wrote this article myself, and it expresses my own opinions. I am not receiving compensation for it. I have no business relationship with any company whose stock is mentioned in this article.