Petrobakken (PBKEF.PK) is a pure play on unconventional oil production. That fact (and an attractive valuation) is precisely why I own the company.
Why do I want exposure to a pure play unconventional player? Let me count the ways:
1) For several years I have been gathering exposure to light oil production with a plan to profit from high oil prices. My belief was that $70 oil prices are here to stay and the unconventional players I've been buying do just fine at $70 per barrel oil. It is hard to believe that just 5 years ago $70 oil seem shockingly (and frighteningly) high.
2) I love the repeatable nature of these unconventional resource plays. There is little to know about exploration risk, and these companies are more like widget factories that crank statistically similar plays year after year. No offshore deepwater exploration drilling for me, thank you.
3) I'm happy to have my investments in North American where political and physical/security risks are greatly reduced. No Nigeria or Iraq for me, thank you.
4) With their resource play acreage these unconventional players have locked up the rights to enormous amounts of oil in the ground. When you are sitting on hundreds of millions of barrels of oil in the ground small increases to the amount of that oil that can be recovered results in step changes in reserve bookings. With the technology used to exploit these plays still being improved upon I believe that over the long term the big winners are going to be the oil producers that have secured the most real estate. In my mind these are very long-term investments where time is going to be my friend through both increasing oil prices and increased recoveries.
Petrobakken management has been busy on my behalf building up a very impressive real estate portfolio in unconventional Canadian oil plays. They have seven of them in total:
- The Bakken - Producing 20,000 boe per day with 900 remaining drilling locations
- The Cardium - Producing 25,000 boe per day with 580 remaining drilling locations
- Swan Hills - Drilling in earnest just began, the company estimates it has 175 drilling locations
- The Montney (NYSEARCA:OIL) - Only two test wells have been drilling, though offsetting competitor drilling the company has identified 150 drilling locations
- Nordegg - Like the Montney two test wells have been drilling, though offsetting competitor drilling the company has identified 150 drilling locations
- Duvernay - Again two test wells have been drilled, the company believes it has 200 to 300 drilling locations
- Mystery Play - In a play yet to be named Petrobakken has assembled (and is likely still adding to) 218 net sections and up to 500 drilling locations
When looking at an unconventional producer it isn't all that hard to come up with a reasonable valuation of current production. There are regular transactions involving similar producing properties between arm's length parties from which to draw intelligent conclusions. For example in valuing Petrobakken's Cardium acreage we can utilize a recent asset sale by Equal Energy which was done at $118,000 per flowing barrel, and for valuing the Bakken we can look to some assets Petrobakken itself sold for $147,000 per flowing barrel early in 2012.
The tricky part in valuing an unconventional producer is determining what its inventory of drilling locations, or its undeveloped land, is worth.
Petrobakken obviously (as can be noted in my list of seven resource plays) has a lot of undeveloped land. Last week we received a data point to help us value one of those resource plays as Encana (NYSE:ECA) and PetroChina (NYSE:PTR) agreed on a Joint Venture in the Duvernay.
The details of the deal are as follows:
Encana Corporation (Encana) has entered into a joint venture arrangement with Phoenix Duvernay Gas (Phoenix), a wholly owned subsidiary of PetroChina, to explore and develop Encana's extensive undeveloped Duvernay land holdings in west-central Alberta. Under the terms of the agreement, Phoenix will gain a non-controlling 49.9% interest in Encana's approximately 445,000 acres in theDuvernay play for total consideration of C$2.18 billion.
That is $2.18 billion for 222,500 acres (half of 445,000 acres) or roughly $10,000 per acre.
Petrobakken has 131 net sections of Duvernay rights which is 84,000 acres. At $10,000 per acre that would be 84,000 x $10,000 = $840 million
On a per share basis for Petrobakken that would be:
Estimated Value of Duvernay acreage - $840 million
Petrobakken shares outstanding - 190 million
Value per Petrobakken share - $4.42 per share
That is pretty significant for a company with a share price of $10.50.
The question we have to ask of course is whether Petrobakken's land in the Duvernay is worth what Encana's land is worth. The slide below shows the location of Petrobakken's Duvernay acreage: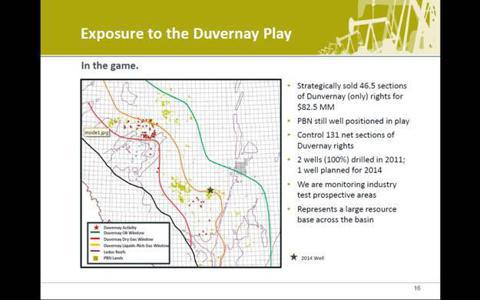 The slide shows that Petrobakken's land is split between the oil window and the liquids rich gas window. Almost all of what Encana Joint Ventured with PetroChina was in the liquids rich gas window which is desired because of its high condensate content.
At a high level it would seem that at least half of Petrobakken's acreage might be of similar value to the Encana Joint Venture acreage. The other half is in the oil window the value of which is a little less known as there has been less industry activity.
Perhaps to be conservative a more appropriate value of Petrobakken's acreage would be to assume $10,000 per acre for the liquids rich portion and half of that for the land in the oil window. That would reduce my estimate of value for Petrobakken's Duvernay to $3.30 per share from $4.40 per share.
Either way, it does seem to be a noteworthy amount relative to the company share price.
That means that the 200 to 300 drilling locations in the Duvernay could be worth over $3 per share in an undeveloped state. What then about the other undeveloped lands (175 locations in Swan Hills, 150 in each of the Montney and Nordegg and up to 500 in the mystery play)?
I don't know what all of that acreage is worth, but I believe it is worth a significant amount. And I also believe that none of that value is given a penny of credit in the current share price.
I've believed that for quite some time though, and so far that hasn't made me any money.
Disclosure: I am long PBKEF.PK. I wrote this article myself, and it expresses my own opinions. I am not receiving compensation for it (other than from Seeking Alpha). I have no business relationship with any company whose stock is mentioned in this article.