As one of the few remaining Intel (NASDAQ:INTC) bulls these days, it has been interesting to see the smear campaign that the sell-side has been running against shares of the company. During the first half of the year, the sell-side was extremely positive on the stock, with price targets in the $30+ range all over the place. After the stock peaked in May, testing 5 year highs (while at the same time trading at a reasonable valuation), it seemed that any and all negative news was baked in time-and-time again. Support levels were broken, the PC was slowly growing after Q2, and by Q3 it was supposedly coughing up blood after everybody got it into their heads that everyone would be throwing away their PCs for underpowered tablets.
Of course, with the PC "dying," and with Intel having "missed the boat" on mobile (which seems silly since the "boat" is always coming back every year or two depending on your contract with your carrier), shares of the chip giant are at a mind-boggling bargain. Intel bears will point to the share price's stagnation over the last 10 years while conveniently ignoring the fact that Intel's EPS has been very rapidly growing due to substantial increases in net income as well as a dramatic reduction of share count.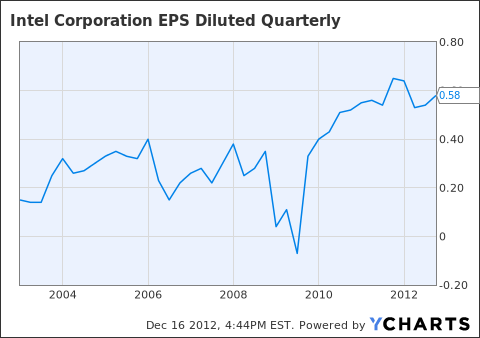 INTC EPS Diluted Quarterly data by YCharts
However, I'm not here to talk about how ridiculously cheap Intel is. I am, instead, here to talk a little bit more about the recently announced debt offering in order to fund a massive share buyback and how investors (and traders) should use this information.
We've Seen This Before - It Works
Much of the time, stock buybacks by companies (especially tech companies) are not done particularly opportunistically. In fact, the majority of the time, investors are left scratching their heads wondering why the firm decided to spend their cash buying back stock at obscenely high levels.
Intel is slightly different. The firm is very opportunistic about its purchases and is shameless about letting Wall Street know when it believes that shares are substantially undervalued by borrowing money to buy back shares. The firm first did this in September of last year, issuing $5B worth of non-convertible bonds for use in buybacks. This strategy made perfect sense: the share price was at ridiculously low levels, borrowing costs at even more mindblowingly low levels, so it was a no brainer for a successful company that is confident about its own future.
Sure enough, a view of the price action in the stock following the previous debt offering to buy back shares shows that it was indeed well timed and successful, having risen 37% following the initial announcement:

So, We're Here Again
The stock is now at around the levels that they were at last year, so it is no surprise that Intel once again decided to take advantage of low borrowing costs to pull the same trick. While there are now concerns over the PC dying, a more objective view sees the following positive developments since last year that make the long-term case more compelling:
Stronger Competitive Position Within PCs: Over the last year, a combination of strong execution, a widening process technology lead, and even better micro-architectures, Intel has managed to extend its lead over its only rival in the PC processor space, Advanced Micro Devices (NYSE:AMD),

from

both the product side and market share. The most recent market data tells us that Intel's market share in PCs rose from 80.6% in FQ3 2011 to 83.3% in FQ3 2012 at the expense of AMD. The lead should widen further as "Haswell" brings significantly improved performance, connected standby, better idle power characteristics, and much stronger graphics (typically AMD's stronghold).
Continued Server Dominance: In addition to owning the traditional workstation,

server

and HPC markets with its "Xeon" products with no real competition in anything that requires efficient high performing parts, Intel is now extending its lead by aggressively focusing on both the HPC accelerator space dominated by Nvidia (NASDAQ:NVDA) and on the micro-server segment that Intel actually owns but is coveted by the ARM (NASDAQ:ARMH) camp. With a process technology lead, the purchase of interconnect technologies from a number of companies, and the best micro-architectures in

the CPU

space, Intel should have no problem aggressively expanding in both of these areas.
Mobile System On Chip Lead Coming: Intel released its very first ultra low power Atom system-on-chip products and they're actually quite good. Chips based on the 5 year old Atom design are extremely competitive with the very best and sophisticated ARM based designs. Generally speaking a single core "Medfield" Atom performs about in line on the CPU side as a dual core Qualcomm (NASDAQ:QCOM) Snapdragon S4 (in programs that use mutliple cores, too). Intel's ground-up redesign - "Silvermont" - will make a showing in late 2013 and/or early 2014, built from the ground up on Intel's new 22nm low power SoC process. Intel will lead on performance per watt within a generation or two, and this will lead to mobile device vendors adopting Intel's products.
Dividend Is Higher: At this time last year, Intel's dividend was $0.84/share on an annualized basis. Today it is $0.90/share. I expect that as the share count gets nuked, the macro environment improves, and growth from new areas becomes visible, the dividend will continue on a path of strong, consistent growth.
So this is really a no-brainer. The dividend is higher, the product lineup is expanding, the manufacturing technology lead is widening, and the share count is disappearing.
Intel bears, you're going to need a whole heck of a better argument than "INTEL MISSED MOBILE" to substantiate a short position. Why? Because there is still plenty of room for growth in these areas and the product cycles are short. Intel and Google (NASDAQ:GOOG) now have Android running on Intel architecture, so the software compatibility thing is not really an issue. It really is all about designing the best chip on a performance per watt and a performance per dollar perspective. The pundits have now changed their tune from "Intel missed mobile" to "mobile will kill Intel's margins," but I have a feeling that the tune isn't quite done changing.
Disclosure: I am long INTC, NVDA, QCOM, MSFT. I wrote this article myself, and it expresses my own opinions. I am not receiving compensation for it (other than from Seeking Alpha). I have no business relationship with any company whose stock is mentioned in this article.
Additional disclosure: I am short ARMH