There has been a lot of debate about whether Seadrill (NYSE:SDRL) is a good stock to currently be long. From an income investor's standpoint, Seadrill just paid out two regular dividends in December, in which one was on time and the other was early. The early payment would have typically been made in March of 2013, but was paid ahead of time due to the potential tax hike from the 'Fiscal Cliff.' In many investor's minds, why hold Seadrill for that fantastic dividend yield, if it won't have another payout until June of 2013, pending any special dividends? There's a lot more to think about than just the early dividend payout however.
From a technician's standpoint, Seadrill currently rests below the 200-day simple moving average at $36.91. This could be seen as either bullish or bearish. The bearish case could be made that Seadrill has lost upward momentum and will continue downward back into the mid- to lower-$30 price range. On the other hand, Seadrill trading under the 200-day simple moving average could be seen as short-term weakness, with an impending bounce soon to come. The 50-day simple moving average is still above the 200-day, which implies the overall trend is still up, but perhaps waning a bit. Here's a look at the chart and you can decide which one you think it is, there's not really a right or wrong: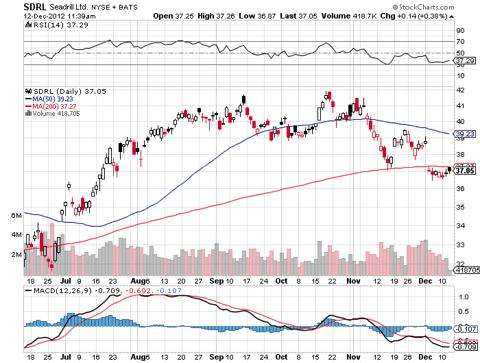 Source: Stockcharts.com
For what its worth, I chose the bullish case on the charts. I like Seadrill because of many things -- the yield being one of them. Though it's been questioned whether it can sustain that dividend, Seadrill does have an impressive list of current contracts. The contract backlog is deep -- which is very good for locking in future revenues. Below is a look at the current contract backlog, which was provided during the third quarter earnings report: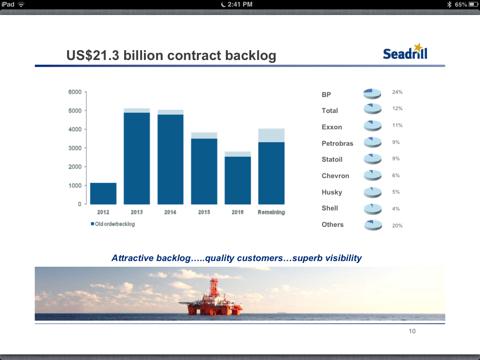 Source: Seadrill
With a backlog of $21.3 billion, Seadrill has locked in some serious future cash. This is something that should help investors sleep at night, knowing that future revenues are locked in and at least some form of future cash flow will continue to flow onto Seadrill's balance sheet. Of the $21.3 billion, $15.7 billion is from its floaters division. Here's a look at the floaters contract backlog: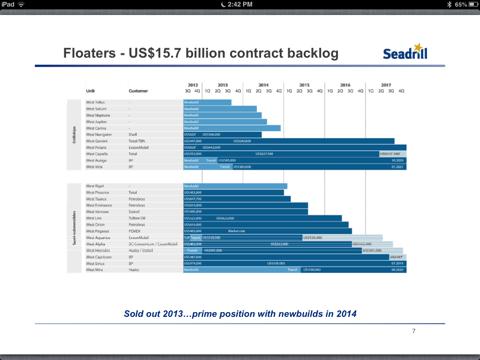 Source: Seadrill
With such a strong contract backlog for the floaters, Seadrill has sold out its most profitable division in drilling. Recently in November, Seadrill secured a contract with Husky from June 2015 to June 2020 with a current day rate of $590,000. The rig, West Mira, is currently under construction. With a sold out 2013, Seadrill will continue to collect juicy revenues, and as the caption in the picture above states, it's in a "prime position with new-builds in 2014."
The jack-ups and tender rigs have contributed a total of $5.6 billion of the $21.3 billion in contract backlogs, with $3.3 billion and $2.3 billion, respectively. While these are not as big as the floaters contract backlogs, they do contribute roughly 25%. The binding agreement to sell the tender rigs division to SapuraKencana for $2.9 billion would be included in the sale, obviously, and more about the sale can be read here. Below are the current contract backlogs for the jack-ups and tender rigs: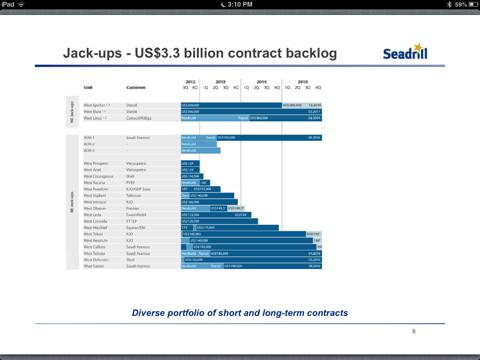 Source: Seadrill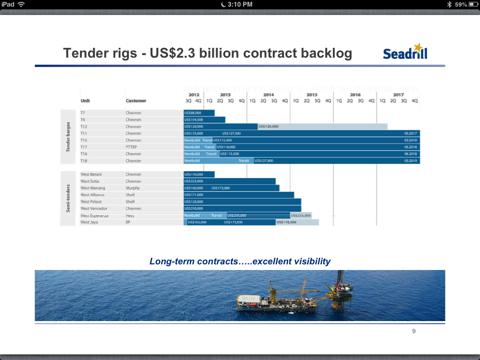 Source: Seadrill
With secured future contracts, shareholders are hoping this can secure the dividend, which currently yields 9%. While the dividend has shown strength, the pending sale of the tender rigs could make it hard to continue with such a lofty payout -- even though Seadrill doesn't have a dividend payment scheduled until June 2013, pending any special dividends -- as it has in the past. The plan is for Seadrill to sell its tender rigs and focus on growing its jack-ups and ultra-deepwater divisions, where the big money is made. If Seadrill can continue to secure future contracts, while growing its fleet size, it should be able to remain paying out its dividend. Whether this will happen or not has yet to be seen, but investors and insiders have remained optimistic.
Fredrik Halvorsen, the CEO of Seadrill, had this to say on the future outlook regarding the dividend and future contracts in Seadrill's most recent conference call:
"Since our second quarter report we have entered into new contracts with a total revenue potential of some $2 billion as of November 23, 2012. The majority of this backlog is with large independent oil and gas companies with excellent credit quality and this of course provides greater visibility of future earnings with significant EBITDA margin. This makes us comfortable that this will enhance our dividend capacity in the years to come."
Despite Seadrill taking a pinch in revenues from its sale of tender rigs and possible dividend reduction in the future, I think the long-term prospects still look bright. With the 2013 contract backlogs being sold out for its biggest money maker, I think Seadrill is still on the forefront of drilling rigs and will continue to secure high daily rate contracts in the future. With the expansion of the jack-ups and ultra-deepwater fleets, Seadrill is setting itself up to be in prime position in a high growth area.
Disclosure: I am long SDRL. I wrote this article myself, and it expresses my own opinions. I am not receiving compensation for it (other than from Seeking Alpha). I have no business relationship with any company whose stock is mentioned in this article.