When trying to find the right investment, one of the first things investors need to look at is how much cash a company is generating. If a company is generating significant cash flow, then it means that shareholders are in a position to get rewarded. Many of these companies will use cash to buyback shares or increase their dividends. Finding a small cap companies with strong cash flow is a strategy that can assist investors with achieving strong returns. Small caps with significant cash flow can reinvest and expand their business, which will ultimately contribute to shareholder value. The following four companies have a market cap under $2 billion and generate strong cash flow. These companies are well positioned to reward shareholders going forward.
Interdigital (NASDAQ:IDCC) develops and licenses technology that is used in various wireless devices. The company's market cap is around $1.8 billion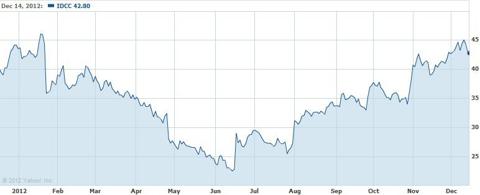 Interdigital has been experiencing strong revenue growth due to royalties. The company announced that they see Q4 revenue between $62 million and $64 million, which is above the street's estimates of $58.7 million. Last quarter, the company generated nearly $340 million in FCF. The company has been raking in so much cash that they are paying a special dividend of a $1.50. The company's balance sheet is very strong as well. They have $780 million in cash and only $200 million in debt.
Coinstar (NASDAQ:CSTR) provides self service retail outlets such as video rentals and coin counting services.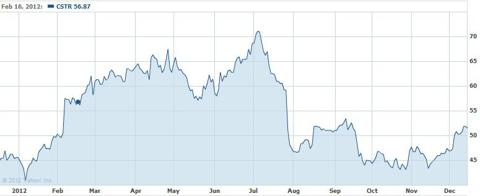 Last year, Coinstar generated $227 million in FCF. The company is expected to do well going forward as they are making a move into online streaming. The addition of online streaming will allow it to grab market share from competitors such as Netflix. In addition to this, Redbox is continuing to add more kiosks. The company plans to add 9000 more kiosks or one every hour. All of this will continue to grow Coinstar's cash flow.
Privatebancorp (NASDAQ:PVTB) is a regional mid-west bank with branches in Chicago, Detroit, Atlanta, St. Louis, and various other markets. The company's market cap is $1.14 billion.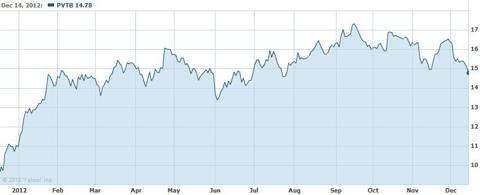 Last year, the company generated $264 million in FCF. The company is in a great position now that it has paid of the U.S. Treasury's equity stake related to TARP. PrivateBancorp was also upgraded by The Street from hold to buy. TheStreet believes that margins will expand and revenue will continue to grow. Raymond James has placed an $18 price target going forward. PrivateBancorp will do well now that it can focus more on operations rather than the government's stake.
Atlas Air Worldwide Holdings (NASDAQ:AAWW) provides outsourced aircraft and aviation services. The company's market cap is $1.1 billion.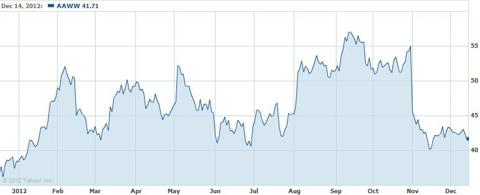 Last year, Atlas Air generated $105 million in FCF. Atlas recently acquired its seventh Boeing 747-8. The aircraft has already been leased to DHL. Atlas has done a fantastic job of growing its fleet and leasing aircrafts. DHL has seen strong growth in Asia and will require more aircrafts to keep up with demand. Atlas will have two more 747-8s added to its fleet in 2013. Atlas has also cleared up union issues by finalizing a new collective bargaining agreement. This helps to remove a major overhang that many in the airline industry continue to face. Atlas will see strong growth as the global economy continues to recover.
Disclosure: I have no positions in any stocks mentioned, and no plans to initiate any positions within the next 72 hours. I wrote this article myself, and it expresses my own opinions. I am not receiving compensation for it (other than from Seeking Alpha). I have no business relationship with any company whose stock is mentioned in this article.