Why would one consider selling Apple (NASDAQ:AAPL) stock, one of the hottest stocks on the street, at this time? Is it because of the recent large (25 % from peak) decline in the Apple's stock price, or is it because the company lost its iconic CEO - Steve Jobs? We need to look beyond these two factors to make this decision. Apple investors should ask whether the company's fundamentals have changed in the last two quarters. Is Apple now a different company from what it was at the start of the year? Who are the Apple's biggest competitors, and how have their products fared against Apple's products? How has the Apple's management responded to the recent changes in the tablet and phone market - two biggest product markets of Apple? The recent decline in Apple's stock price can be considered as an opportunity; however, I would warn investors before buying stock. Unless Apple comes up with new products, I believe that Apple's stock would continue to decline.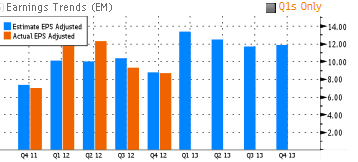 Fig. 1 - Apple's Earnings Trends
The company has a long history of beating analyst's estimates, but the company missed the analyst's estimates and forecasts in the last two quarters (shown in the Figure 1). On October 25, 2012, Apple missed analysts' estimates for the fiscal fourth quarter (July-September of 2012); the analysts had expected $8.75 per share, but Apple reported $8.67 a share. This happened despite Apple's record-setting launch of iPhone 5. In the third quarter (April - June 2012), the company missed the analysts estimates by 10 % - EPS of $10.37 estimated, versus $9.32 actual. The Figure 2 indicates decline in the earnings estimates of Apple. If the company continues to disappoint investors, then its investors would lose faith in the company's ability to reward shareholders.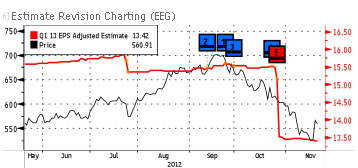 Fig. 2 - Downward Revision of Apple's Earnings Estimates
According to the Forbes article, there has been little management turnover since Steve Jobs joined the company in 1997. On October, 29, 2012, Tim Cook announced several management changes. Scott Forstall, who ran the iOS software division, will depart from his current role, and act as an advisor. The iOS software, which powers iPhone and iPad, is the key to the success of the Apple's strategy. Apple did not release half-baked features, but it did that with the launch of iPhone 5. The new Map feature simply did not work; there were numerous complaints about this application. There were rumors that Forstall refused to sign the apology letter about the Maps Application. It seems that he was at odds with Tim Cook, and the company's strategy. That's why Time Cook asked him to leave. John Browett, who ran the company's retail division, is out, and Tim Cook will run this division for a while. Browett tried to cut costs by firing retail employees and cutting overtime. These recent management changes depressed morale of Apple's employees, especially the retails store employees; these changes could have a big impact in both the short-term stock price, and long-term vision and strategy of the company.
With the launch of iPad Mini at $325, it seems that Apple lost its pricing power. Apple is the market leader in the tablet market. Did Apple need to launch iPad Mini? If it needed to launch iPad Mini, then what should be its price? A regular customer would either spend $500 and buy iPad, or spend $200 and buy Kindle Fire or Samsung Galaxy. On the launch date of iPad Mini, the company's stock went down by 3.5%; Apple's investors were clearly disappointed.
Apple is no more the cool company that it was few years ago. Its latest product offerings - iPad Mini and iPhone 5 - are not considered cool. Most analysts felt that Apple introduced iPad Mini to compete against Kindle Fire, and Nexus tablets. Apple was considered a leader in technology, not a follower. Instead of introducing iPad Mini at a whopping $325, Apple should have focused its energy on iPad, or the next generation tablet. Steve Jobs would have focused his efforts on introducing the next iGadget, not on the competitors' products and their pricing. The new phone, iPhone 5, supports 4G networks, but there are no "wow" factors. Some of my friends told me that they plan to buy the Microsoft (NASDAQ:MSFT) Windows 8 and Samsung Galaxy phones - the new cool phones on the market.
Apple is a great company, and it has introduced great products. I believe that Apple's stock can reach $1,000 if Apple can change the industry again. It can do that by introducing Apple Television that we all would love to have. Some of its biggest strategic advantages are its loyal customers, market share, and content. iPad still has the largest market share in the tablet market. There are more apps\programs for iPhone\iPad than that for Android phones\tablets. Apple has the largest music library, and it sells more songs than its closest competitors - Wal-Mart (NYSE:WMT) and Amazon (NASDAQ:AMZN). The company plans to increase its market share in the corporate computer and tablet markets. It has a strong balance sheet - nearly $100 billion in cash and no debt.
I hope that the Apple's history does not repeat itself. In the '90s, it lost the computer battle to Microsoft and Intel. In this decade, Apple's biggest rivals are Google (NASDAQ:GOOG), Samsung, and Amazon. Samsung's Galaxy phone is considered on par with the Apple's iPhone. On the other hand, Apple is losing its tablet market share to Amazon's Kindle, and Google's Nexus. Like the Microsoft's Windows operating system, the Google's Android operating system had numerous issues in the beginning. Both Microsoft and Google resolved those issues, and successfully convinced household consumers and corporations to purchase their products.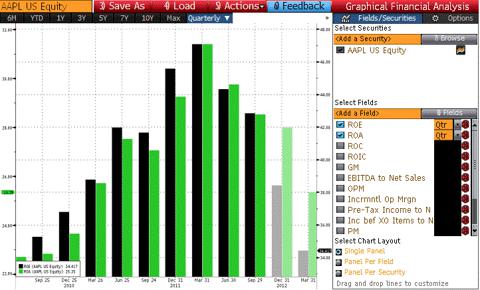 Figure 3 - Recent Decline in Apple's ROE and ROA
Apple is now trading below its 14-day and 50-day averages - sign of weakness in its stock price. It has missed the last two quarters' earnings estimates, and lowered its next quarter's earnings estimates. As shown in the Figure 3, the company's Return on Equity and Returns on Assets have declined recently, and the analysts predict that these ratios would continue to decline. For the last three years, the company has not bought a new product, such as iPad or iPhone, to the market. The company's new product launch, iPad Mini, is considered a failure. I own Macbook, and iPod, and I like Apple's products; however, I would not pay premium for Apple's products if there are comparable products in the market. Unless you have inside knowledge about upcoming Apple products, or you have a feeling that Apple would positively surprise (wow) the market with its new iGadget, I suggest that you want to consider selling Apple's stock, as the company has been on decline for the past six months.
Disclosure: I have no positions in any stocks mentioned, and no plans to initiate any positions within the next 72 hours. I wrote this article myself, and it expresses my own opinions. I am not receiving compensation for it. I have no business relationship with any company whose stock is mentioned in this article.