I find it interesting if not very surprising the enthusiasm that has accompanied the Fed's recent acknowledgement of more QE. I know that much of it is of a practical assumption; additional Fed action suggests to many that stocks and commodities will rise. Whether or not this is ultimately a good thing is secondary.
As long as our clients have increasing balances on their statements, even if those bigger numbers are fleeting, everybody is going to be happy for a while. It is that kind of thinking that should propel assets of many stripes higher, for a while....maybe.
Here the iShares Silver Trust ETF (NYSE: SLV) is poised to move higher.
Granted, SLV is pushing the lower limits of its range of the past three months, but that is reflective of the insecurity of the markets. If the "experts" who say asset prices will rise next year are right, then silver should as well. But it is the duplicitous nature of silver, in contrast with gold, that provides the conundrum.
Silver should benefit from excess liquidity. But it will be hindered by a flailing global economy because of its industrial use. If the activities of central banks worldwide have the intended effect, stimulating economies to greater levels of productivity, then silver might benefit. But even if the global economy remains un-stimulated silver should benefit, like gold, which I addressed on Saturday.
Long term SLV is showing a bit more conviction to limit the downside and resume a healthy climb higher.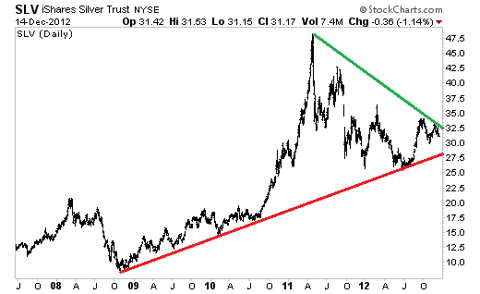 Still well off its highs from 2011 SLV is trading near resistance.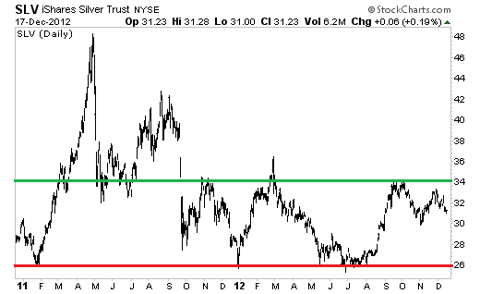 Specifically I see the downside at about $26.00 per share while the breakout will occur once the ETF breaches $34.00 per share.
I am not convinced that additional QE or any external force will have meaningful or long-lasting impact on the economy. However, further extension of low interest rates and excess liquidity will drive some asset prices higher and maybe even permanently.
The sole dissenter of the recent vote for extending QE, Fed Governor Jeffrey Lacker, stated that more QE is unlikely to boost jobs but could stir inflation. In a CNBC interview he added that this environment would continue for another three years. That would put the US economy on the far end of a decade of 0% interest rates. Obviously I agree with much of what Mr. Lacker stated. And with the Fed targeting 6.5% unemployment, still much higher than at this point in the last recession and not a very optimistic target, I must think if that implies success failure must look ugly.
Unless there is another total collapse I see higher prices for SLV. Growing economy, stagnant economy, recessionary economy - investors must own silver (and gold).
Disclosure: I have no positions in any stocks mentioned, and no plans to initiate any positions within the next 72 hours. I wrote this article myself, and it expresses my own opinions. I am not receiving compensation for it (other than from Seeking Alpha). I have no business relationship with any company whose stock is mentioned in this article.