Alcatel-Lucent (ALU) today was up as much as 12% intraday. The only real news worthy of reporting is that French financial firm Natixis upgraded the stock from a hold to a buy.
The real reason for the jump in the stock probably has to do with the fact that the market has digested positively the news of the company's $2.1 billion financing deal a few days ago.
Like I said in my previous article on the company (please consider: Alcatel-Lucent Solves Liquidity Issues - Should Dissolve Bankruptcy Fears), the $2.1 billion in financing the company got from Credit Suisse Group and Goldman Sachs "is positive anyway one looks at it." As such, the market has digest the numbers and the ruling is that the deal dissolves any bankruptcy fears the market might have had.
Aside from that, there is not much else to report. As the saying goes, no news is good news and that applies to Alcatel-Lucent's case today. And from my experience, when a stock jumps on no real time news, it makes the bullish case stronger, for it means that the market wants in on the stock and is not waiting for news as a signal to jump on board.
One problem when using fundamental analysis to buy any stock is that you don't know when (assuming your logic is sound) the stock will go higher. So you might buy a stock, but wait months for a move.
And because investing also has a lot to do with timing, it is wise (as far as I'm concerned) to use the charts to try to find entry points after your fundamental analysis is complete (or exit points if you want to go short or sell).
So on a pure technical follow-up note: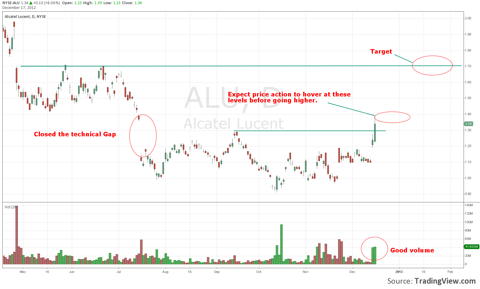 Today Alcatel-Lucent broke multi-month resistance levels to the upside, on relatively good volume. The previous resistance level of ~$1,29 was taken out easily and the stock touched as high as $1,39 as of this writing.
The stock closed a technical gap from back in July which is positive and the next technical target is $1.70. Assuming the news continues to be good and other sell side analysts upgrade the stock also, I think $1.70 is probably achievable within the next 2-3 months. I also expect the stock to hover around these levels for a while ($1.30 - $1.40), before moving higher.
So if you have the stock, hold on to it. If you don't, the current price level is as good an entry point as any.
So do your homework and due diligence, never bit of more than you can chew (AKA don't over do it with margin), make money, not war, and buy Alcatel-Lucent and be happy. If my logic is correct, this stock might turn out to be one of the biggest surprises of 2013.
May the Alcatel-Lucent force be with you!
Disclosure: I have no positions in any stocks mentioned, and no plans to initiate any positions within the next 72 hours. I wrote this article myself, and it expresses my own opinions. I am not receiving compensation for it (other than from Seeking Alpha). I have no business relationship with any company whose stock is mentioned in this article.