The price of silver has been corroding for much of the past year. But a variety of signals in recent months suggest that it may not be long before silver begins to shine once again.
Silver has been a most rewarding investment over the past decade. Since the start of the secular bear market in stocks (NYSEARCA:SPY) at the turn of the millennium, silver has provided investors with a return in excess of +540% during a time when the stock market has effectively been flat. This represents an annualized rate of return of roughly +17% over this time period. Not coincidentally, the bull market in silver began not long after U.S. fiscal and monetary policy makers shifted to a weak dollar policy in early 2002, and dramatically picked up steam once policy makers began flooding the financial system with liquidity following the outbreak of the financial crisis in 2008.
Looking forward, the fundamental case for owning silver is as strong as ever. Silver continues to serve as an alternative currency in that it provides a hard asset store of value for those investors seeking protection against the inflationary effects of currency debasement as well as the threat of crisis. And given the fact that the U.S. Federal Reserve stands ready to explode their balance sheet by more than $1 trillion in the coming year alone in an environment where the economic and geopolitical environment remains highly unstable, the appeal of owning silver should be as strong as ever.
Of course, silver's performance since spring 2011 has been lackluster at best and disappointing at worst. Overall, silver has lost -34% of its value since peaking at the very end of April 2011. While this recent performance has been trying for those that remain positive on owning the white metal in the current environment, the good news is that this recent pullback represents a healthy consolidation in an ongoing uptrend. And a variety of forces that should help propel the next move higher in silver continue to build.
(click images to enlarge)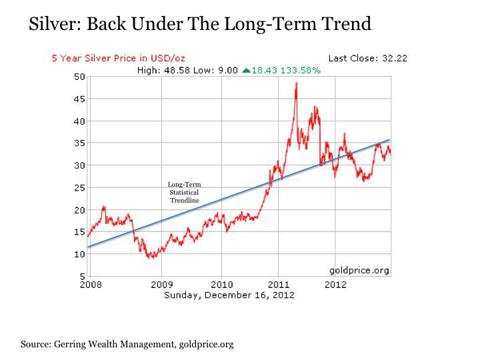 First, the silver price is now starting from a sounder base. When silver spiked toward $50 per ounce back in April 2011, it soared well beyond its long-term trendline dating back to the beginning of its current bull market. But following its recent price consolidation, it is trading at levels that are now below this same trendline.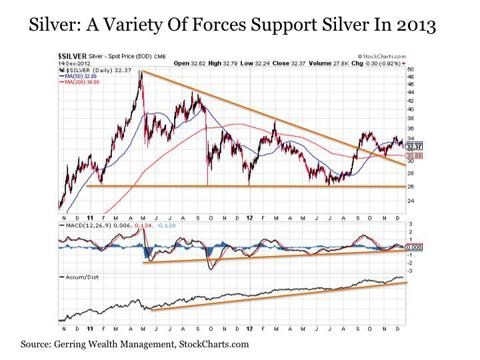 Silver is also setting up increasingly well from a technical perspective as we enter the new year. Starting in early September 2012, not long after breaking out above its 200-day moving average and just ahead of the Fed's launch of QE3, silver broke decisively above the downward sloping trendline that began at its peak in April 2011. Since that time, silver has successfully held support both at the same downward sloping trendline as well as the 200-day moving average. It is also worth noting that since the initial sell-off following the April 2011 peak, the momentum behind the silver price has been gradually building, as we have seen higher lows in momentum readings since May 2011, with the sole exception being the sharp Operation Twist induced sell-off in September 2011. Adding further support is the steady increase in the cumulative flow of money into silver over the past two years, suggesting that upward pressure on the silver price continues to build despite the recent consolidation phase.
For all of these reasons, I am bullish on silver for the coming year. While silver's price performance has been somewhat disappointing since the Fed's QE3 announcement on Wednesday of an additional $45 billion per month in outright Treasury purchases to go with $40 billion per month in MBS purchases, it is not entirely surprising given the fact that supplemental Fed program is not set to begin until the New Year and the settlement of MBS purchases has been spotty to this point. But with over $1 trillion set to come off of the Fed printing presses next year, silver has shown itself to be a favorite final destination for these liquidity flows and is set up well for it again in the future.
Before closing, it is important to highlight a key point about silver. While it can be a rewarding investment over time, it is one that must be handled with great care and is not necessarily for the more conservative, risk-averse investor. This is due to the fact that silver by its nature is highly volatile. For example, over the last five years, silver has experienced daily price swings of +/-2% or more in 34% of all trading days, including a single day move of -18% along the way. While such risk can prove most rewarding, it can prove equally unforgiving at times. Thus, investors should carefully consider the price volatility associated with owning silver when incorporating it into a broader portfolio strategy.
In terms of allocating to silver, for those that would rather not take delivery of the physical metal and instead would like to establish exposure through exchange-traded securities, the Sprott Physical Silver Trust (NYSEARCA:PSLV) is an ideal option. And for those investors that wish to own gold (NYSEARCA:GLD) and silver as part of a broader precious metals allocation, the Central Fund of Canada (NYSEMKT:CEF) is also an excellent choice, as it is allocated 53% to gold and 46% to silver, with the remaining 1% in cash.
This post is for information purposes only. There are risks involved with investing including loss of principal. Gerring Wealth Management (GWM) makes no explicit or implicit guarantee with respect to performance or the outcome of any investment or projections made by GWM. There is no guarantee that the goals of the strategies discussed by GWM will be met.
Disclosure: I am long CEF, PSLV. I wrote this article myself, and it expresses my own opinions. I am not receiving compensation for it (other than from Seeking Alpha). I have no business relationship with any company whose stock is mentioned in this article.