Under Armour, Inc. (NYSE:UA) is an athletic apparel company based in the U.S. with a majority of its sales generated in the U.S. Founded in 1996, the company has 1,800 full-time employees and is already a premium brand poised to take market share from its larger competitors. Given the current technical picture, we expect a short-term pullback to the $40 range before shares climb to our target price of $66.50 by year end 2013.
Strengths
UA has never been more popular. Apparel revenue grew 31.5% to $1.1B in 2011, an amazing achievement, considering it already represented 75.5% of the revenues for the company overall. Footwear grew even quicker at a rate of 42.9% to $182M, but is less impressive overall compared to the apparel revenue growth.
Year to date, North American (NA) revenues are $1.25B out of $1.33B total, or 94%. Foreign sales have gone from $63.3M in 2011 to $74.5M in 2012 (+17.7%). For the quarter ending September 30, 2012, foreign sales are up only 0.7%, while North America is up 25.2%. The NA business is an obvious strength, but is the foreign business also a strength, and how? One word: POTENTIAL. Under Armour has decided to prove itself on its home court, and it has done a fantastic job doing so. While NA sales aren't expected to slump by any means, foreign sales growth is where the truly untapped gains lie. With investments in MLB and the NBA, UA is positioning itself for continued dominance in the U.S. We predict this will lead to market share gains abroad when the company starts driving international growth in 2014.
In China we're still in investment mode and we're building there. And then frankly on a global stage we've got a couple of other places that are some really nice opportunities for us that are our making a difference that you wouldn't think about such as Latin America and places we've been investing for 3 or 4 and 5 years that are beginning to come back for us. So we've always talked about international being more of a 2014, 2015 story for us. We feel really good about that.
Kevin A. Plank - Founder, CEO on most recent conference call
Weaknesses
Mostly all of the income UA makes is made right here in the U.S. The ColdGear® line is where margins are the fattest, but is declining in popularity as of the writing of this article.

In 2011, approximately 26% of revenues came from UA's largest customer, Dick's Sporting Goods (NYSE:DKS), and The Sports Authority. The good news is that ending 2012Q3, this is down to 23.5% of revenues. Under Armour is now in 250 out of 4,000 Foot Locker (NYSE:FL) locations ($4.8B in footwear sales in 2010) and in 300 Macy's (NYSE:M) and 150 Dillard's (NYSE:DDS).
Opportunities
UA is at an all-time high in popularity in France, Germany and the UK, according to Google Trends.
Footwear is where another great opportunity lies. $181.7M out of $1,473B of the company's total revenues is from footwear (12.3%). UA has established itself as one of the premier makers of athletic shoes in the U.S. If UA can leverage that popularity, the sky is the limit as it takes a larger slice of the $14.4B athletic shoe industry than it currently has (1.6%).
In 2011, direct-to-consumer sales grew 62.2% to $152.7M. This was impressive partly because UA added only 26 stores in achieving this growth. In 2010, the direct-to-consumer segment was making $1.74M per store and now with the 26 new stores is making $1.9M per store. UA's management is doing a fantastic job finding locations for new stores and driving existing ones to generate more revenue, but according to the call, the company is expecting to open fewer stores (10) in 2013.
Threats
UA has no patents on the actual production or makeup of the clothing it sells. Therefore, a competitor can easily replicate many of UA's offerings. It is competing purely on marketing and has done so successfully, growing revenues at an annual clip of 27.9% for the past five years. Selling costs have increased 46.7% in 2011 when compared to 2010, and represented a larger share of revenues (9.4%) in 2011 than in 2010 (8.9%). The good news is that marketing costs as a percentage of revenues have actually decreased to 11.4% from 12% in 2010, indicating the company is using its marketing dollars more efficiently.
Competition for "her" dollars. Companies like Athleta (NYSE:GPS) and Victoria's Secret (LTD) see the margins being made in the athletic apparel segment, and are fierce competitors in the athletic apparel segment. Generally speaking, if a woman is in the mall shopping for everyday pleasure, then she will have easier access to competitors' stores. The Sports Authority and Dick's Sporting Goods, which often may be anchors in a mall, do not cater to women as much as the general mall does. UA must increase the products and rate in which it enters those 4,000 Foot Locker locations.
Technical Analysis
There are some potential bearish developments in UA's technical picture. The monthly, weekly and daily charts all display different chart patterns and all signal some potential downside. This includes a trend line break on the monthly charts, as well as an impending death cross in both the daily and weekly charts. It's important that we not anticipate these patterns, but allow for them to develop while positioning ourselves to benefit from their ultimate outcomes.
The monthly chart shows UA in a strong multi-year uptrend… which may be beginning to sour. December's activity to date is almost entirely beneath the existing trend line. The RSI recently turned down from overbought levels, volume has been fading and the MACD is also crossing bearishly from an elevated level. Looking at the Fibonacci levels, as well as the high of August 2007, a support level centered on the $35 range seems well defined and coincides with our worst case scenario.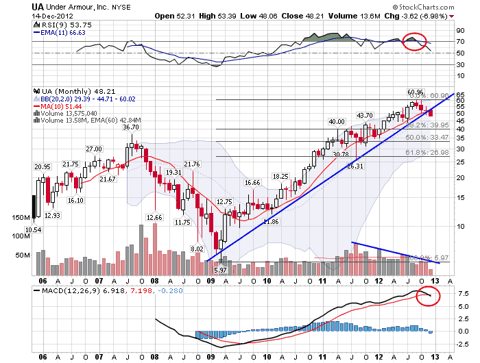 Weekly price action may be breaking down from the channel established over a year ago, as price has closed convincingly below the lower trend line. The impending "death cross" of the moving averages may inform the intermediate term direction of price, which we believe to be lower.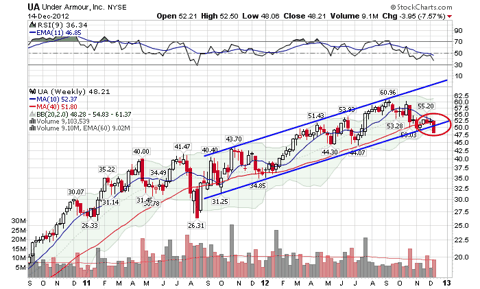 The daily chart has broken down from a loosely defined symmetrical triangle on decent volume, but with the RSI approaching oversold levels, the depth and duration of any pull back may be short lived. The $44 level could ultimately serve as support, if the pullback is deep enough.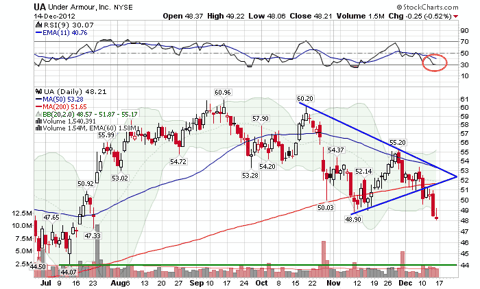 It's important to not anticipate these patterns, but allow them to develop and take appropriate precautions. The upside is, with promising fundamentals, these forecast lower prices should allow for some sustainable momentum to develop and create opportunity for potential outsized gains.
Worst Case Scenario: $35 per share
In 2006, UA's P/E was above 100. During the credit crisis, it sat barely above 20, while it now sits around 50. Past earnings multiples have little to do with future earnings, but do provide context into how volatile the markets have been regarding the fortunes of UA. Our earnings expectations are based on numbers given in the latest conference call. Expectations are for earnings to be $1.20 in 2012 and $1.44-$1.50 for 2013. Assuming UA can grow earnings again in 2014 at a 20% clip, a very conservative assumption in our opinion, we are left with $1.75 EPS with an earnings multiple similar to Nike's (20). We see this price level to be the ultimate buying opportunity for the stock.
Best Case Scenario: $80 per share
Earlier in this article, we provided evidence from the conference call that 2014 will be the year UA finally focuses on growth abroad. Using this assumption, we would like to attach 35% EPS growth to the shares for 2014 and a premium multiple of 40.
End of 2013 Target Price: $66.50
Balancing expectations for the worst and best case scenarios mentioned above, we believe EPS should be around $1.90 per share in 2014, and that the company will continue to trade at a forward multiple of 35x. An investment in UA at $50 per share will provide a 33% gain.
Conclusion
The market potential in footwear and international sales, UA's proven ability to launch direct-to-consumer stores successfully, and the current technical setup offer opportunities for profits on both sides of the market. Traders can capitalize on the short-term bearishness surrounding the stock by shorting or buying puts, while long term investors can sell puts and use the proceeds to lower their average price when they enter into positions around $40 per share.
Disclosure: I have no positions in any stocks mentioned, and no plans to initiate any positions within the next 72 hours. I wrote this article myself, and it expresses my own opinions. I am not receiving compensation for it (other than from Seeking Alpha). I have no business relationship with any company whose stock is mentioned in this article.
Additional disclosure: Furbonacci is an equity research collaborative in Cranston, RI. We run fundamental value screens followed by technical screens to identify equities that may be at significant turning points. Fundamental research is primarily done by reading past annual reports and quarterly statements. Technical analysis is performed on multiple time frames to identify key support and resistance levels, trends and potential turning points. Co-founder Joseph Agresti graduated with a degree in Finance from the University of Connecticut and was employed in 2007-2008 as a prop trader for Chimera Securities in Boston, MA. Co-founder Carl Jetty has an undergraduate degree in Applied Economics from the University of Rhode Island, where his passion for Technical Analysis was first discovered and developed.