Shares of Research in Motion (RIMM) have skyrocketed upward by over 100% since September 27th when RIMM reported losses that were milder than analyst expectations and because RIMM announced it would meet its January 30th, 2013 launch date target for its BlackBerry 10 smartphone product line. We're surprised that RIMM's shares have seen such an upward climb in the last three months because BlackBerry 10 has not even come out yet and we believe that the long lead time between the official confirmation of the launch and when the BlackBerry 10 goes on sale will result in an Osborne Effect because it is not like anyone is running out to buy a BlackBerry right now. During the last eight quarters, Research in Motion's BlackBerry smartphone shipments declined from 13.4M in Q3 2011 to 7.4M in Q2 2013 and we don't believe that it will ship much more than the 6.4M shipments estimated by William Blair analyst Anil Doradla. The question remains will BlackBerry 10 live up to the hype that the investment community has given it?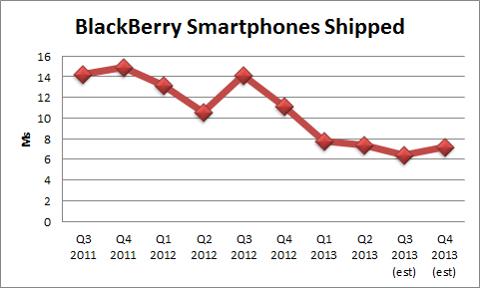 Source: Forbes and Our November Report on Research in Motion
RIMM recently announced it has begun "beta testing" with 120 companies and government departments to try out its new BlackBerry 10 smartphone devices before the official launch of January 30th, 2013. RIMM is providing the software and smartphones to its institutional clients at no charge and the clients are not obligated to buy anything once the trial is complete. RIMM said the BB10 testers were from financial, insurance, healthcare, manufacturing, media, and distribution industries and include 64 Fortune 500 companies, as well as government departments. RIMM would not identify any of the entities, beyond Integris Health and the U.S. Immigration and Customs Enforcement agency, which have both said they are testing the new devices.
RIMM previously announced that it will release its Q3 2013 results on December 20th, 2012. Analysts are expecting RIMM to lose $.35/share on revenue of $2.63B. It is obvious that RIMM's Q3 2013 results are not as important as its future outlook because all hopes have been pinned on RIMM's January 30th, 2013 launch of BlackBerry 10. We think RIMM's investors may have gotten ahead of themselves because although consensus analyst losses for FY 2014 have narrowed by 37%, RIMM is still expected to lose $.46/share in FY 2014. In addition to forecasting 6.4M BlackBerry smartphone device shipments in Q3 2013 with an average selling price of $216, William Blair analyst Anil Doradla is forecasting 120K Blackberry Playbook tablet computer shipments for the quarter. In the Q4 2013 period, Doradla is forecasting 7.2M BlackBerry smartphone shipments with an average selling price of $235.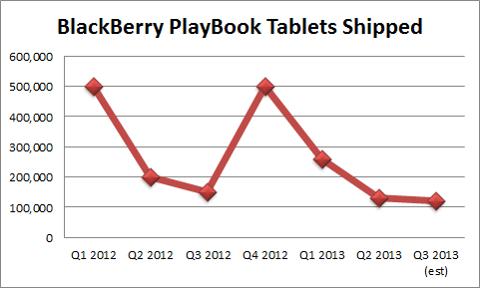 Source: Toronto Star and Our September RIMM Report
Research in Motion might have been a decent, albeit speculative value in September when it was trading at $6.75 a share as its net cash position represented 60% of its market capitalization. Now that it reached $14/share on Friday December 14th, its net cash represents 29% of its market capitalization. Although the company is still free cash flow positive, its free cash flow has declined by 50% in Q2 2013 ($84M) versus Q1 2013 levels ($169M). RIMM generated $253M in free cash flows during H1 2013 and its three largest accounting ledger sources of cash inflows included Depreciation/Amortization ($1B), change in Working Capital items ($483M) and Goodwill Impairments ($335M). RIMM spent $882M on capital investment expenditures for tangible assets, intangible assets and acquisitions in H1 2013, which was $561M less than H1 2012 levels ($1.44B) and contributed to RIMM's meager but positive free cash flows in H1 2013.
In conclusion, we were amazed that RIMM's stock has more than doubled since September despite the long wait that investors and consumers have to deal with relating to BlackBerry 10. The good news for RIMM's investors is that the company has recently begun sending out media invitations for its BlackBerry 10 device. However, even if RIMM releases BlackBerry 10 on January 30th, it will still be competing with Apple's (NASDAQ:AAPL) iPhone 5 and Nokia's (NYSE:NOK) Lumia smartphone devices on Windows Phone 8. Apple's iPhone 5 was released on September 21st, 2012 and Nokia's Lumia WP8 devices have been available for sale since November and these devices will have had more months to gain a foothold in the market. We think that RIMM's stakeholders fail to grasp the difficult task RIMM faces in winning back smartphone customers because all the work RIMM expended to build its brand and image over its first 25+ years has basically been destroyed over the last two years. Other than the BlackBerry Balance feature that divided the phone into a work phone and a personal phone, we don't see anything really exciting about the BlackBerry 10 device.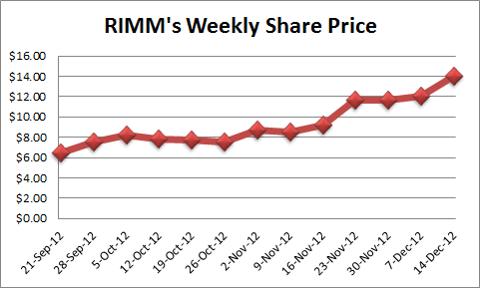 Source: Morningstar Direct
Disclosure: I am long AAPL. I wrote this article myself, and it expresses my own opinions. I am not receiving compensation for it (other than from Seeking Alpha). I have no business relationship with any company whose stock is mentioned in this article.
Additional disclosure: This article was written by an analyst at Saibus Research. Saibus Research has not received compensation directly or indirectly for expressing the recommendation in this article. We have no business relationship with any company whose stock is mentioned in this article. Under no circumstances must this report be considered an offer to buy, sell, subscribe for or trade securities or other instruments.