When it comes to the biotech sector, many stocks that trade under $5/share are considered to be very speculative. As a result, I wanted to focus on companies that could benefit from developments within their specific markets. In this article I've chosen two companies that have met the follow criteria:
Each company must trade below $2/share
Each company must have a Market Cap under $100 million
Each company must have announced significant developments in the last 24 hours
Cell Therapeutics (NASDAQ:CTIC) which is based in Seattle, Washington engages "in the development, acquisition, and commercialization of drugs for the treatment of cancer. It is also in the process of developing Pixuvri, a novel anthracycline derivative intended for the treatment of hematologic malignancies and solid tumors". (Yahoo! Finance)
From a fundamental perspective, shares of CTIC currently carry a market cap of $70 million, have traded down 50.13% since July 1st and are currently trading in-line with their 50 DMA and at a 43.83% discount to their 200 DMA.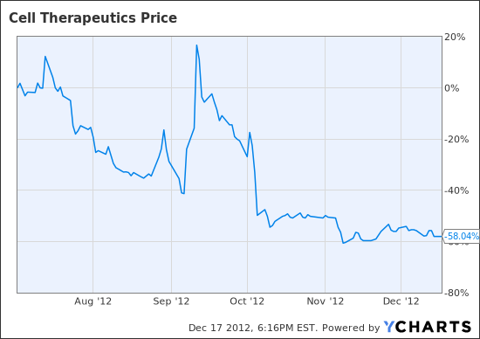 CTIC data by YCharts
On December 17th it was announced that Cell Therapeutics published positive results from a pre-clinical study of Pixuvri in The Journal of Pharmacology and Experimental Therapeutics. The study showed that a human cardiac tissue model treated with Pixuvri did not form reactive oxygen species or long lived hydroxymetabolites. If CTIC can continue to establish models that refrain from forming such oxygen-based species, these trials may be a step in the right direction.
GenVac, Inc. (NASDAQ:GNVC) which is based in Gaithersburg, Maryland is "a biopharmaceutical company that uses differentiated and proprietary technologies to create therapeutics and vaccines. The company develops and commercializes its product candidates through collaborations with various companies and organizations, including Novartis (NYSE:NVS), Merial, and the U.S. Government to support a portfolio of product programs that address the prevention and treatment of various human and animal health concerns". (Yahoo! Finance)
Fundamentally speaking, shares of GNVC currently carry a market cap of just $22 million, have traded down 26.41% since July 1st and also trade at a 21.18% premium to their 50 DMA and at a 5.03% discount to their 200 DMA.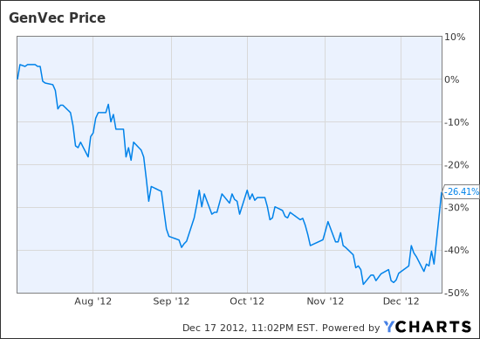 GNVC data by YCharts
On December 17th the company reported that a single dose of its genetic vaccine showed it was effective against Herpes Simplex Virus, or HSV2, in two industry-accepted HSV disease models. The company added that immunization was also shown to reduce viral shedding and the recurrence and severity of lesions.
Final Analysis
Are there any negative catalysts potential investors should consider before establishing a position in either company? As is the case with any biotech company, potential investors need to keep in mind some of the negative catalysts that go hand-in-hand with both Cell Therapeutics and GenVac. On one hand, any negative indication by the FDA with regard to Cell Therapeutics Pixuvri or GenVac's genetic vaccine could result in the sell-off of either stock. On the other hand, weaker than expected earnings at any point over the course of the next 12-18 months could also send shares down an unfavorable path.
For potential investors looking to establish a position in either Cell Therapeutics or GenVac, I'd take a closer look at each company and keep in mind the primary positive and negative catalysts moving forward. Given the fact that both companies are making considerable strides, I'd look to establish a small to medium position at current levels and add to that position once future developments are announced.
Disclosure: I have no positions in any stocks mentioned, and no plans to initiate any positions within the next 72 hours. I wrote this article myself, and it expresses my own opinions. I am not receiving compensation for it (other than from Seeking Alpha). I have no business relationship with any company whose stock is mentioned in this article.