OCZ Technology (NASDAQ:OCZ) has decided to give us an update on just what is going on with its delayed earnings and accounting 'issues' but it does not inspire much confidence. Words like "investigation has been substantially completed" as opposed to fully completed and "there continue to be various matters requiring further investigation" pop up. After all this time OCZ's accounting problems still linger? How far down the rabbit hole do the problems go for OCZ? Will this nightmare ever end for Investors?
The best part though is what we have been preaching for quite a while, a restatement of earnings for not just one quarter.... but several quarters is going to occur. According to OCZ:
The Audit Committee has approved this report and, in consultation with management, concluded that the Company should restate the results for the first quarter of fiscal 2013, as well as the results for certain quarters of fiscal 2012 and for the fiscal year 2012
Credit Crunch
The Company is also negotiating with Wells Fargo and Company (NYSE:WFC) to amend the credit facility to reflect the impact of the current financial situation, as the Company has been in default with the liquidity test and related financial covenants.
What this means for investors is that OCZ is in danger of losing its credit line.
OCZ's CEO Mr. Schmitt has stated in the past that the company will require additional funding.
"We have drained through a lot of cash" and "will need some level of capital infusion post Q3 earnings."
However we suspect that OCZ has tapped enough of the line that Wells Fargo will extend them the remaining credit or even expand it rather than let them sink. A deal would be based around the terms that OCZ will present, how much OCZ can sweeten the pot for Wells Fargo to bite, and how effectively they can present a turn around strategy to Wells Fargo based upon moving the company into the enterprise sector.
Shareholder Lawsuits
OCZ has several shareholder lawsuits surrounding it and its rather questionable actions in the past. Yet OCZ might have just opened up a door for yet more lawsuits or at least provided additional ammo to the current lawsuits.
Concerning the restatement of earnings, Schmitt stated that the restatement is "very focused in a small customer and a small amount of time." Obviously this can not be true or they would not be restating so many quarters.
Progress is being made though as nine shareholder lawsuits are proposing to be consolidated into one under the banner of "The OCZ Investor Group". This should come as some relief to those affected investors to know that the case is moving forward with a motion hearing set for 1/17/2013 01:30 PM in San Francisco.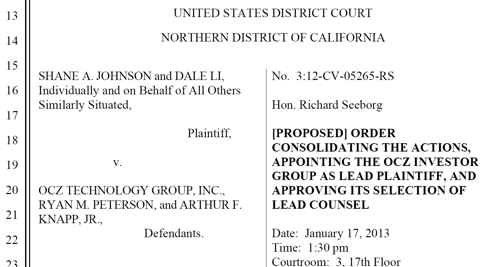 Source (Pacer legal system Case3:12-cv-05381-RS Document 10-1 Filed 12/10/12 Page 1 of 7)
NAND Prices Dropping
While the restatements are very doom and gloom this article would not be very balanced if we did not point out that OCZ will benefit from a recent drop in NAND prices. NAND Flash is the main component cost of a solid state drive and any reduction in NAND costs affects the gross margins of OCZ in a positive way.
DRAMeXchange reports that NAND prices have dropped 1-2% with a mild downtrend to continue until next January. Its positive news that OCZ desperately needs.
1HDec NAND Flash contract prices have dipped by approximately1-2% compared to the amount in 2HNov.

Looking ahead, numerous NAND Flash clients are displaying a bearish attitude towards the sales performance of the Chinese New Year, and plan to remain conservative until the European and US market results are revealed. As market demand gradually weakens following December, even with the NAND Flash vendors' cautious supply control strategies, TrendForce predicts the partially stable, partially mild downtrend associated with NAND Flash prices to remain unchanged.
As we can see in the below figures NAND prices had a pretty large uptick last fall due to NAND producers reducing capacity in order to raise prices, while Apple (OTC:APPL) put in large orders of NAND for its iPhones which dried up some of the supply.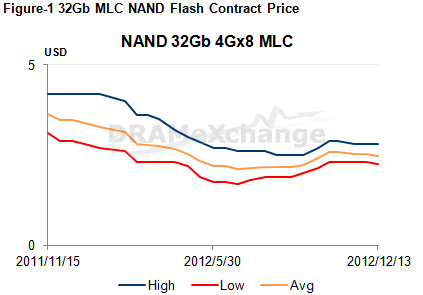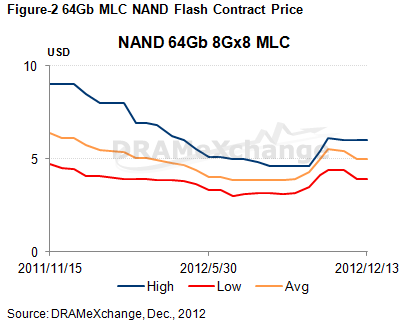 Conclusion
The restatement of earnings is still not complete and we now know that it will cover several quarters. OCZ will require additional funding but possibly Wells Fargo will extend them the credit they require to hang on. NAND prices going down 1-2% is a favorable event for OCZ as it will help cut costs. However its not a material event to the company. The competition such as STEC (NASDAQ:STEC) and Fusion-io (NYSE:FIO) stand to benefit as well. Micron (NASDAQ:MU) will not be effected by the price reductions in the SSD market to the extent that OCZ would be as they are a NAND producer.
We are still taking a hands off approach on OCZ until the numbers are fully disclosed and baked in. We need to see concrete plans on how the company will embrace the enterprise sector. Until the company accomplishes these no reason exists to be in OCZ other that wild speculation.
Disclosure: I am long OCZ. I wrote this article myself, and it expresses my own opinions. I am not receiving compensation for it (other than from Seeking Alpha). I have no business relationship with any company whose stock is mentioned in this article.
Additional disclosure: I have some underwater OCZ Jan 2014 Leaps (5 strike).